Our Story: Launching C&C and Traveling Long-Term
We are Michael and Shannon, a twenty-something (ok… nearly thirty) couple with a passion for travel, adventure and experiencing all this amazing world has to offer. One fine day, after careful consideration and a few glasses of sangria, we did the unthinkable: quit our respectable jobs in NYC to globe trot for six months and launch Camera & Carry On.
"Life doesn't have a pause button…"
Was it risky? Were we scared? Yes, and sort of. Because when you're about to do something that strays from the conventional mold of adulthood and 'better judgement,' it's only natural for nerves and second thoughts to tug anxiously at your pant leg. Excitement winning over hesitation, we kicked those doubts to the curb and took action, because life doesn't have a pause button and we were ready to go.
Find all the video stats here.
We buttoned up things in NYC (said adios to our jobs, terminated the lease, squished all our things in a tiny storage unit) and planned our escape. Alongside brainstorming and budgeting for our adventure, we laid the foundation for our site. Like so many before us, we wanted to document our travels through funny, inspiring, real travel tales and personal photographs. And while travel blogging isn't one-of-a-kind, we are. And so is our journey. In the last year alone we swam with whale sharks, lived off the grid in the Swiss Alps, tasted the worst fruit in the world (spoiler: durian!), popped a bottle o' bubbly under the Eiffel tower on New Year's, and wrestled with a feisty monkey.
"Travel blogging isn't one-of-a-kind, we are."
Do you have the itch to travel, but need a nudge in the right direction? You're in luck! While there is no one-size-fits-all plan for making long term travel a reality, with a little planning and thought, all things are possible. Our "Guide to Long-Term Travel" breaks down the planning process into three stages detailing how to make it one for the the record books.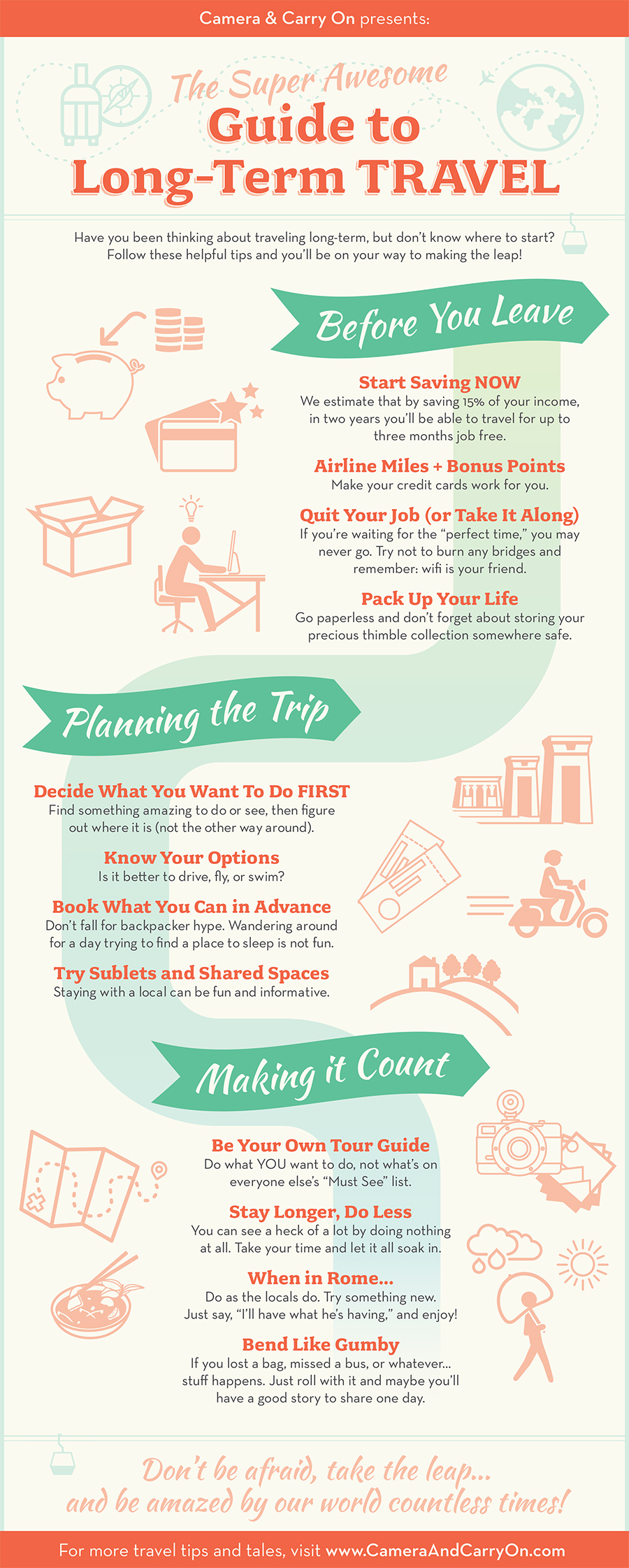 Travel has always been a huge priority for us, and that's really what Camera & Carry On is all about – not traveling on $4 a day, not making a living traveling, and not that one amazing trip on your bucket list – but making travel a part of everyday life. Because not everyone can, or wants, to travel infinitely; just the right amount. And as we navigate the space between backpacking and luxury jet-setting, soaking up culture with crusty bread, we're tapping into this spectacular thing called happiness. We've got lots to share and hope in some small way, we inspire others to live their dreams, too.