60 Second Recap: the Philippines
Donsol, Sorsogon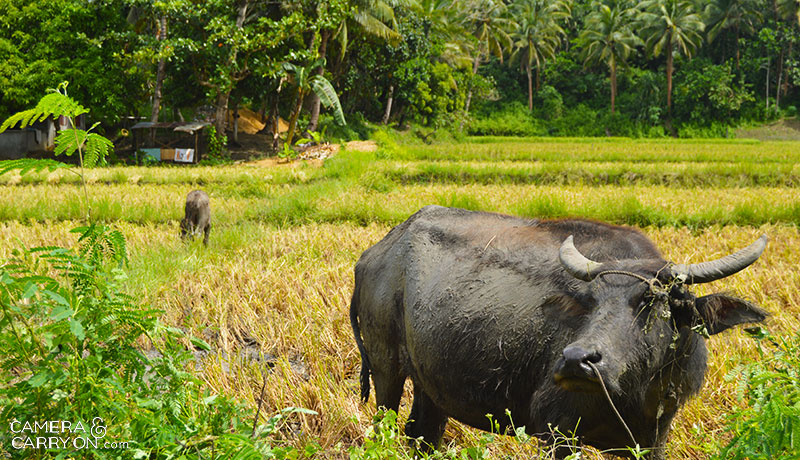 We got here just a few days after Typhoon Yolanda (Haiyan) hit.  Even though the eye touched only 150 miles from Donsol, we were lucky to see little lasting evidence of the Super Typhoon.
The people here are super nice. The children are constantly following us to say hello. They are all very grateful for the typhoon relief the US has provided.
The town is made up of mostly farmers, and the people here don't seem used to having visitors.  This is kind of surprising, even though we got here in off-season; I hear it's quite popular for a solid 3 months out of the year when visitors in search of the whale shark arrive.
Not the nicest beaches, but really great sunsets.
Most houses are really more like huts, and there are few luxuries – including running water.
There are almost no power tools or machinery, lots of oxen work the fields.
We went on 2 boat tours looking for whale sharks, the ocean's biggest fish (technically a sharks, but harmless so normally associated with whales).
I saw one whale shark 15ft long, Shannon saw one closer to 25ft long. It was awesome.
We splurged and spent one night at a nice hotel with a great pool. It was worth it (Vitton Beach Resort).
We were here for 9 nights at the beginning of November, and were often the only people staying at the hotel. Our busiest hotel had 3 rooms filled, including ours.
The food here is pretty good with very fresh seafood.  We tried a local favorite, sizzling pork sisig.  You may not want to look up the ingredients, but just trust me – it's good.
Batanes Islands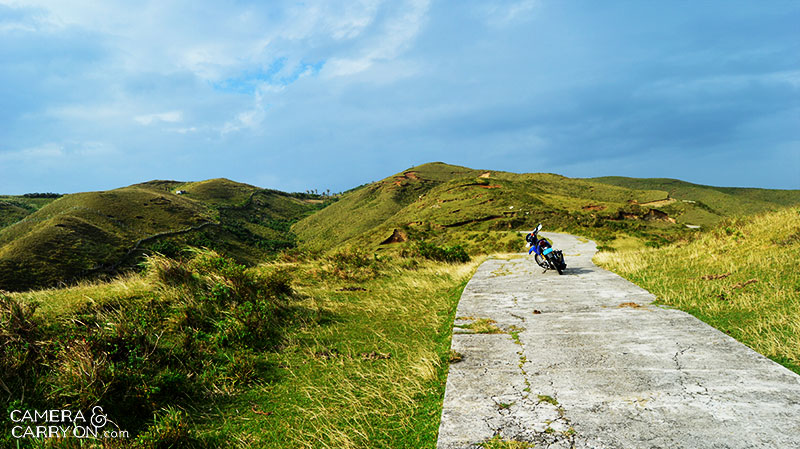 And I thought Donsol was rural…  I bet there are less than a handful Americans here each year.
The ocean here is extremely blue and rough. This is where the Pacific and South China Sea meet.
Since there are so few people, the scenery here is amazingly untouched, really…  A-MAZ-ING!
There are a few "honesty" shops around.  These are unmanned stores where you take what you want, write it down, and put your payment in a box.  (The Honesty Coffee Shop may be the only physical shop, but the system is used in a few other places too.)
We rented a dirt bike for a day to explore Batan Island.  It was great to see the island this way.  There is only one main road that circles the island…  Mostly…  There are several areas where the road is little more than a dirt/mud path.
There is an indescribable feeling of peaceful solitude that I felt on the rural southern tip of Batan.
The coastline is very rocky, and there are a lot of cliffs and bluffs that drop off into the sea.  I've seen it referred to as the "Scotland of the Philippines."  I don't completely agree with that, but I understand the comparison.
The food is ok, but rarely available.  Aside from meat, most everything else has to be shipped in.  You need to get used to having a back up when you order at a restaurant.  I'd say on average 70% of the menu was out of stock.
We took a small boat across the rough sea from Batan to Sabtang island, several people we met barfed over the edge… we did not.
We got a driver to show us around Sabtang on his tricycle.  The tricycle appeared to be falling apart, but was actually quite sturdy.  Although, a few times we had to shift our weight to make it up a hill.
Our tiny plane left late because it weighed too much for the weather, 4 volunteers had to stay behind.
The Philippines is a great place to visit.  Knowing we'd soon visit a few other countries with amazing tropical beaches, we decided to see some of the less traveled areas there – this was a great decision!  I hope over the next few years and decades the places we visited keep their charm.  Feel free to comment below, and check out our other articles on the Philippines here!