Beer + Chocolate Ribs: Kickass or Epic Fail?
Do you love chocolate — the sweet nectar of the Gods? How about beer — the sweet nectar of the Irish? Well if you do, you'd probably enjoy a visit to Belgium. We traveled from Bruges to Ghent to Brussels, and chocolate and beer is everywhere. More affordable and more delicious than most places, you can't get away from the stuff. It seems odd that there aren't more dishes that marry the two; on second thought, maybe not. Either way, if you're in Bruges you may just happen upon the greatest pairing since PB&J! With all the great, traditional Flemish restaurants around, a tiny place called Ribs 'n Beer may not seem like an obvious choice, especially for many patriotic Americans who KNOW the best BBQ is in Kansas City, or Memphis, or that stuff that claims to be BBQ in North Carolina, or…  you get the point. Anyway, Ribs 'n Beer has made me rethink my entire world with it's infamous, all you can eat, slow-cooked, Beer & Chocolate Ribs.  Don't question me on this now, it's abso-freakin-lutely amazing!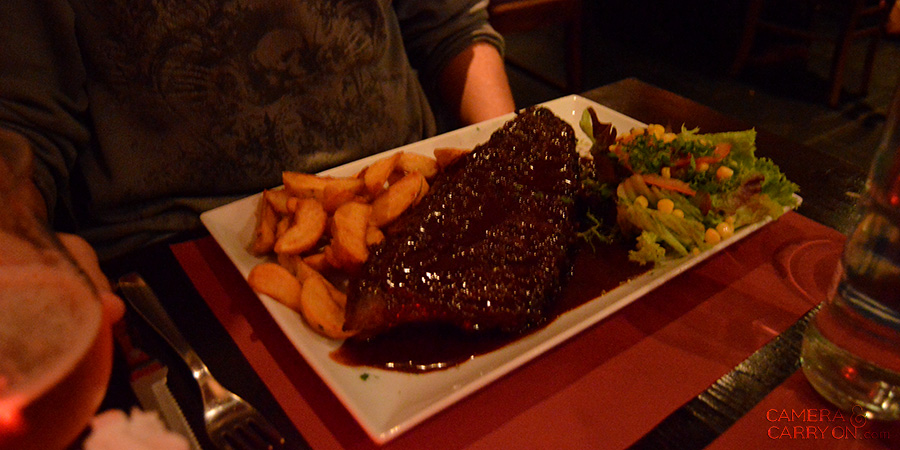 The inspiration: Ribs 'n Beer's stupendous baby backs in their house Beer & Chocolate sauce.
Being back in the U.S., and not unable to make the 4,000+ mile journey as often as I'd like, let alone for this dish, Shannon and I decided we needed to pay homage to this miraculous combination by recreating it in our own home.  Originally, we saw this article as a "how you can make bad ass, beer + chocolate ribs from home," but I have to tell you, that's no longer the case.  I'm just going to be honest and upfront with you… we failed. I was naive enough to think Beer + Chocolate + BBQ = Awesomeness, but there's clearly a secret that Ribs 'n Beer isn't sharing. However, we did make some pretty decent, fall off the bone, ribs that taste nothing like (and admittedly not as good as) the delicacy I crave.  You can use this article as a, "how to make pretty good…"  or "how NOT to make beer and chocolate ribs."  (Recipe below)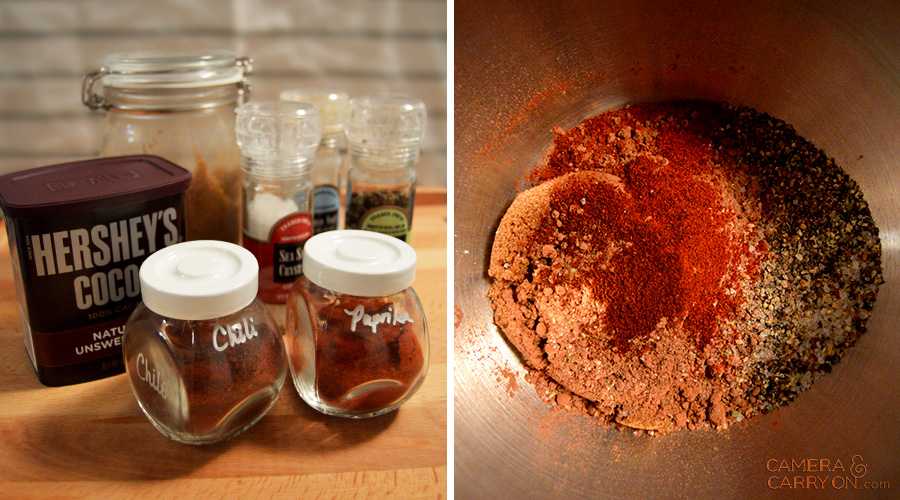 Pantry staples blend together for a sweet and smoky dry rub.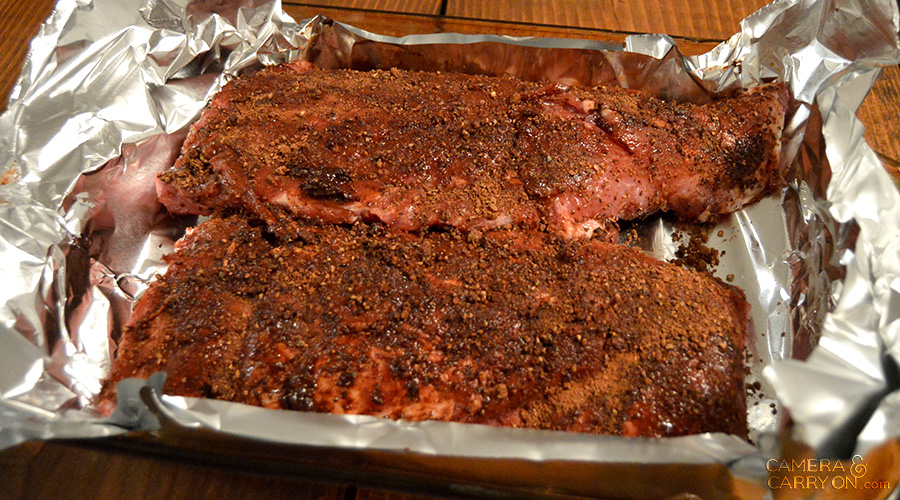 One rack of baby back ribs, divided, rubbed, then refrigerated overnight to marinate.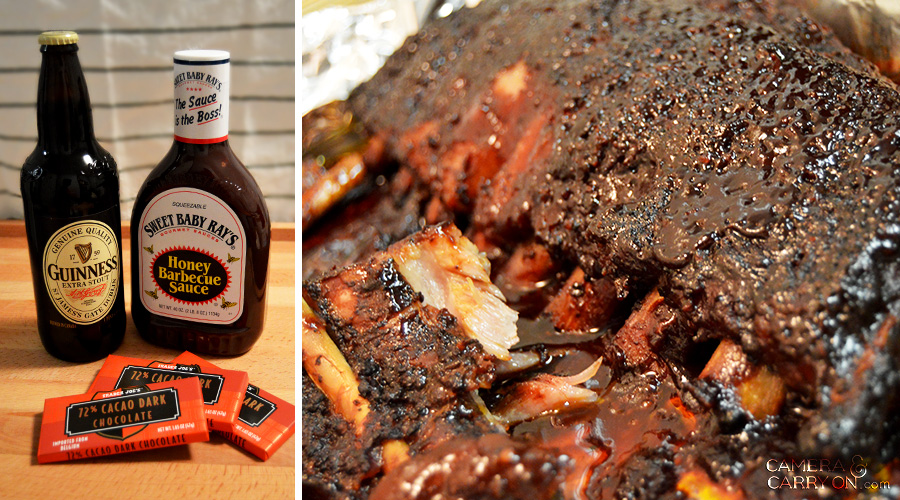 BBQ sauce, beer, and chocolate reduced down to a thick sauce, slathered over cooked ribs.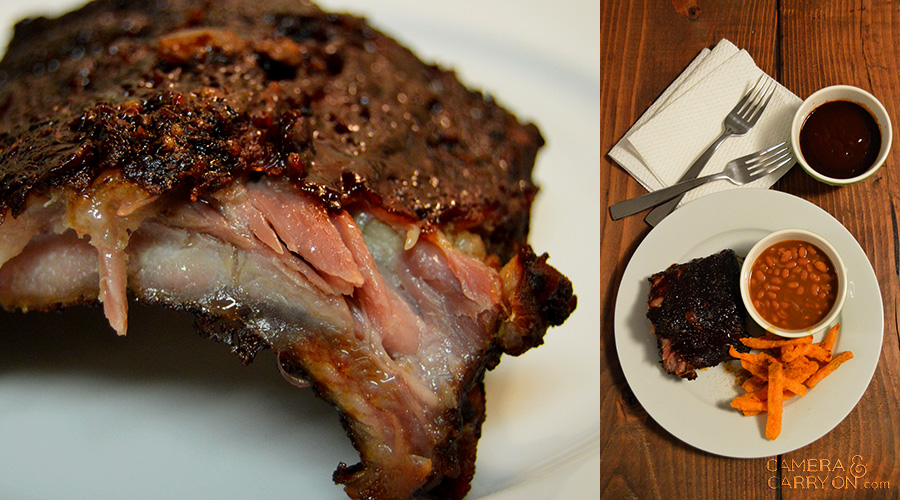 The finished product is fall-off-the-bone tender and rich with a caramelized choco-beer sauce.
Beer + Chocolate Ribs
Dinner for 2 (with leftovers if you're not too ravenous!) • inspired by (but not as good as) Ribs 'n Beer
Ingredients
1 rack baby back ribs
Dry rub:
1 tbsp sea salt
1 tbsp freshly ground pepper
1 tsp garlic salt
1 tbsp cocoa powder
1 tsp smoked paprika
1 tsp chili powder
2 tbsp dark brown sugar
Sauce:
20 oz. BBQ sauce
1/2 pint Guinness
apx. 1 oz dark chocolate
Method
Combine all dry rub ingredients.
Coat baby back ribs in rub on all sides then place on a foil-lined baking sheet or shallow casserole dish.
Cover and refrigerate for at least a few hours, or overnight.
When ready to cook, remove from refrigerator and let come to room temperature.
Preheat oven to 250°F then place ribs in oven.
Bake for 2 – 2 1/2 hours uncovered.
Meanwhile, combine beer and bbq saucein a quart sized pot and simmer until reduced by half or desired consistency. Slowly add in squares of chocolate, allowing each to melt and blend, then checking for taste.
Set finished sauce aside to cool then refrigerate.
Remove ribs and baste with sauce on both sides.
Cover ribs and return to oven for an additional 2 hours, or until meat begins to separate from the bone.
Uncover and broil for a few minutes to crisp up the edges, if you like, and slather with more sauce.
Serve with a bright green salad, or go classic BBQ with baked beans and potatoes.
These ribs were fall-off-the-bone tender, so that was a big win. We found the sauce a touch bitter (I think next time we'd go for milk chocolate, and maybe do the entire BBQ sauce from scratch), and we went a little heavy on the rub which we'd also cut back on. With some minor adjustments, we could have a success story on our hands… just not this time.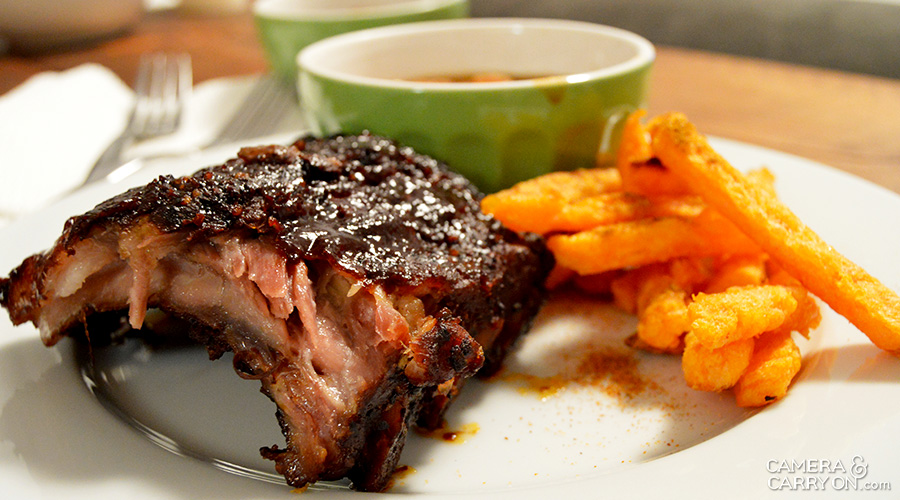 Have you tried this crazy flavor combination? Give it a shot and let us know what you come up with!