All About the Benjamins: Travel Expenses
Yes it's finally that time… budget time!  Last year I started the travel budget convo with F*%# it! Today I quit my job to travel.  Well, here is the long overdue follow up.  For a lot of us, pretty much the first thing that comes into play when planning a trip is money.  In, what I've come to refer to as the F*%# it! article, I explain how I think a lot more people can afford to travel than they may think.  Unfortunately, it's pretty hard to get a realistic idea of how much you'd actually spend on a trip.  Sure I can figure out hotel and airfare pretty quickly, and maybe entrance fees into popular attractions, but I rarely can find anything more than that.  It shouldn't be such a sensitive subject, so I'll just lay it all out here.  Last year, our goal was to travel non-stop for 180 days (6 months), and spend $30k ($166.66/day).  We miraculously came in at $29,630.97 ($164.56/day).  I know, pretty spot on! I couldn't believe it.  That's 2 months in Asia, 3 months in mainland Europe, and 1 month in Ireland.  I break this down into daily expenses (hotel, food, attractions, souvenirs, etc) and transit expenses (planes, trains, and automobiles).  Since the daily expenses are the hardest to plan out, here's a quick visual representation.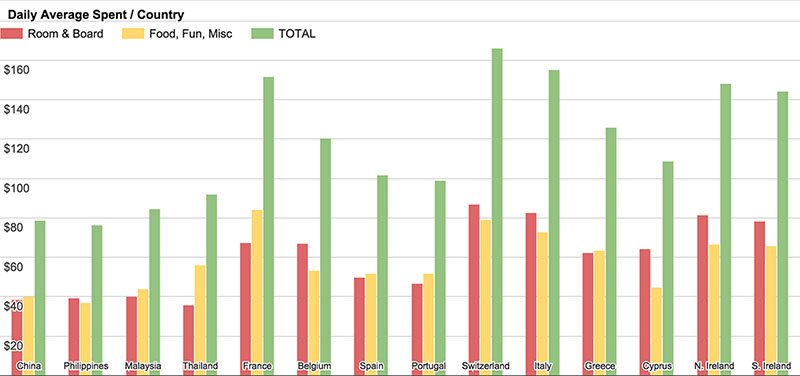 As you can see, we spent the most in Switzerland, but for what many consider extremely expensive, it really didn't spike much higher than France, Italy, or Ireland. Spain and Portugal were our least expensive in Europe, but nothing can beat the value in Asia. The most surprising for me is that Thailand had the overall cheapest accommodations. Our nicest hotel anywhere was in Thailand (Check out 10 Reasons Why I'm Head Over Heels for Koh Yao Yai).  The chart below has all the numbers in it.  If you click the bottom tabs, I added in a few specific prices we incurred for attractions, restaurants, and such.
( ⬆ Click these tabs for more details)
And here, for your viewing pleasure, are all our transit expenses. Although Asia is far cheaper on a daily rate, the cost of hopping from one place to the next is much more expensive than in Europe. Finding a one-way train or flight for under $100 in Europe was really no problem. Car rentals definitely tipped our budget, but for certain places, it really allows you the freedom to see some amazing country side (including a lot of the highlights Shannon mentioned in Out in the Middle of Nowhere), and I'd definitely recommend it.
( ⬆ Click these tabs for more details)
If you're considering getting away for a while, or even just a short time, I hope this helps with your budget planning. Of course, I can't have an article with just a bunch of charts and graphs! So here's my "Woohoo!!! Let's Travel" pose atop the Pena Palace in Sintra, Portugal.