Photo On the Map: London, UK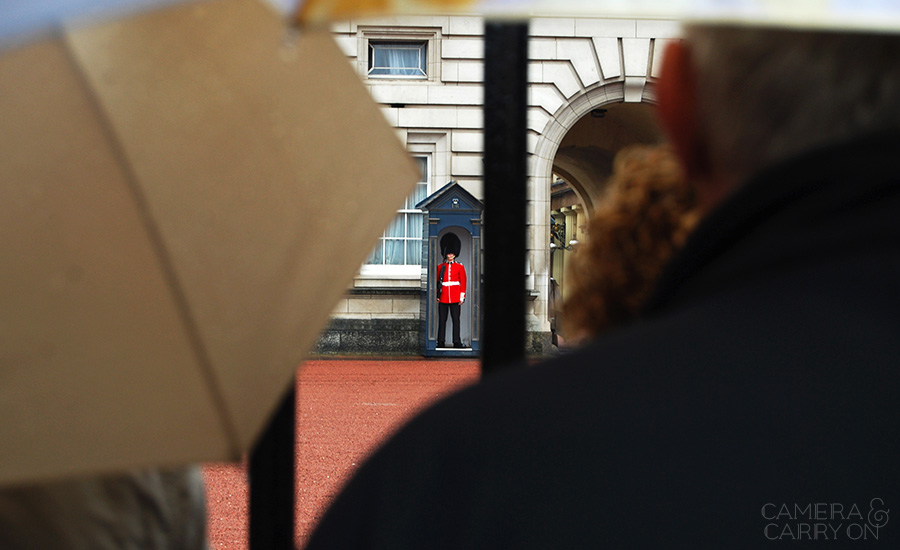 When I look at this image, an archived reel in my memory bank begins to play. Shift your focus. Notice something? An umbrella, perhaps? I recall a torrential downpour, a desperate, soggy attempt to enjoy tea and a stroll at Harrod's, and a tidal wave of epic proportions generated by a swiftly moving double-decker bus. Oh, what a day. The kind that makes you question any goodness in this life, but ends in laughter over one too many tea cakes. Life's like that sometimes. To this day, it goes down as one of my most helpless.
There are a few places that always make the list of top places to visit for London: The Tower Bridge, Big Ben & Parliament, Piccadilly Circus, The Eye, and Buckingham Palace. Three visits to London and I've yet to see the talked about changing of the guard. I was close, oh so close, camera in hand a ready for the big event! I'd seen the horses trot past, had my camera poised, and in perfect synchronization, the raindrops began to fall. A parade of water droplets put an end to the act before it began. Before weather ushered us elsewhere, I stole a few shots, this becoming an instant favorite of mine. Like a tiny, toy soldier, fastidious and sure, poised for duty. On this day, he'd go about his business without the transitional fluff, and waterlogged me would miss out, once again.
You'd think in our two month stint in London I'd have attempted another go. Deflated, jaded, a little less enthusiastic, I never did. I'm okay with that. Another time, perhaps? I've a fondness for London and welcome the thought of returning. On the list it shall stay, to be crossed off one of these days…