My Unicorn: In Search of the Perfect Swimsuit

Farewell, Hello, Yippee!
Goodbye, Old Friends
With my dreamy trip to St. Croix and the summer season just around the corner, I knew it was time to evaluate my swimsuit situation. I opened my top dresser drawer to reveal some uninspired intimates (a challenge for another occasion, I assure you) and two worn, weathered bikinis, bundled tightly in the corner. Sad things. They had seen better days, but sun, sand, and salt water had done them in.
I laid them on the bed for better inspection: frays, loose seams, one cup missing a liner… for shame! Wondering how these survived as long as they did, I let out a weak sigh and faced the music. It was time to find a new swimsuit and say farewell to the oldies, like this one (pictured below) that has been with me for 5+ years!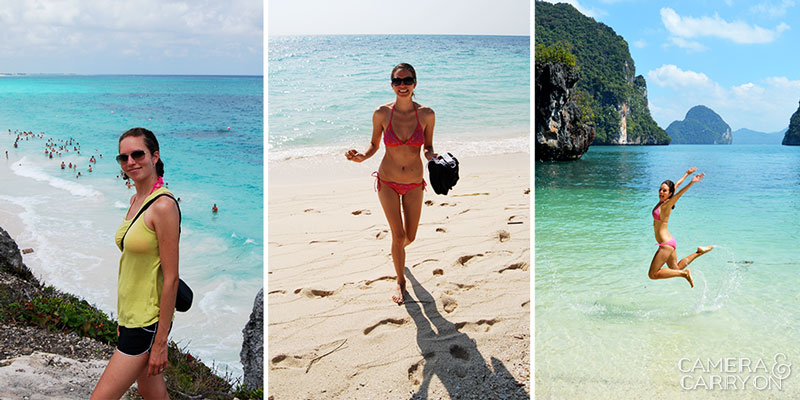 Moving On
Oh, the dread. I've never met a woman that enjoys swimsuit shopping. Even the sveltest, fittest, most confident ladies know the challenge of finding the one, let alone an option that will work. But you gotta do what you gotta do, and a swimsuit will not find itself. Reluctantly, I put on my big girl pants and set out in search of the unicorn (aka the mythical "perfect swimsuit").

I generally shop online (free shipping, baby!) because the whole routine of sorting through endless racks of clothes, waiting for 20 minutes to try them on, then ultimately leaving empty handed is not my favorite past time. This time though I didn't feel like waiting a week to see/feel/try different styles and prints – I wanted to try them in person – and shopping local is always a plus.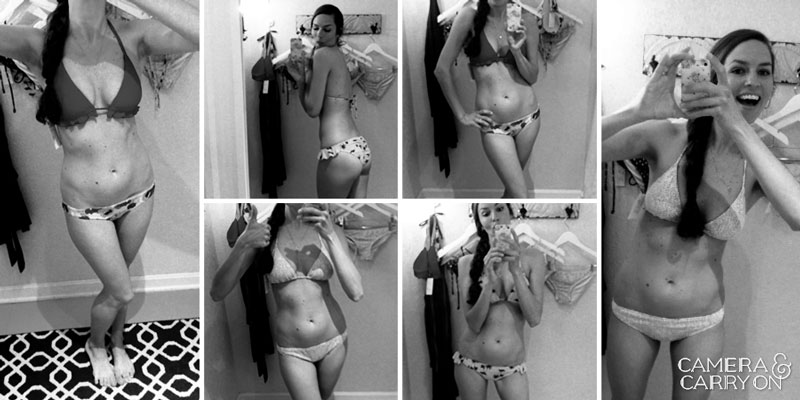 Finding the Unicorn
Forty Winks was just the ticket! A hop, skip and a jump away, I was at the lingerie boutique lickety-split, eager to find my new swimsuit. I did a little pre shopping online and loved what I saw on the website, so I had a feeling what I'd find in their brick & mortar. Warmly welcomed by co-owner Rachel, she took me under her wing and made me feel at ease immediately. Then, we set to work!
After browsing the styles, a few changes in the dressing room, and honest feedback (so crucial!) from the Forty Winks gals, my decision was easy. In my mind I had already made my selection, but their synchronized nods made it official. I left there with a gorgeous swimsuit, pep in my step, and feel-good vibes. I had found my unicorn and an attitude I'd be taking with me to the Caribbean.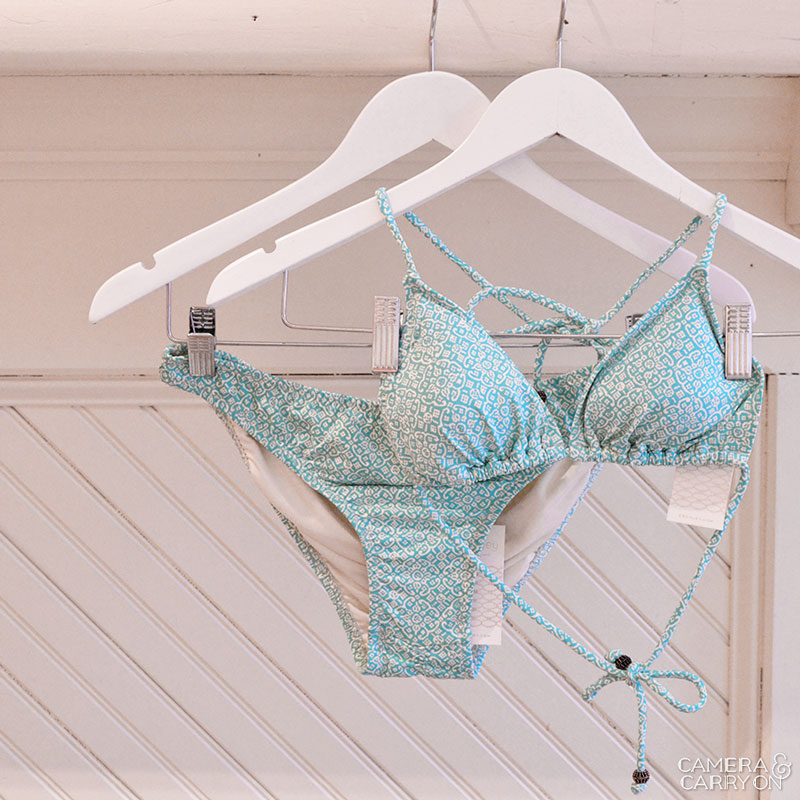 How to Find the Perfect Swimsuit
If you're in same boat, fret not my dear, bikini-needy friends. Intimates expert Rachel, was happy to divulge her tried and true tips, advice, and words of inspiration when it comes to shopping for swimwear. Whether you're surfing the web or visiting your local swim shop, use this guide to help you on your quest to find the right one for you.
Before You Go
Know your budget, size (roughly), best colors, and what you feel comfortable in. Ask yourself a few key questions, and be honest with your answers. Having clear expectations about what you want and can manage will make the whole process a LOT easier. Why go into a store with $300 swimsuits if your max is $50? And having a good sense of your body, what you feel happy wearing (maybe bikinis are too much skin for you), your focus will narrow and make the selection process simpler.
What size, how are you going to be wearing it, what colors do you think looks good on your skin tone, and what cuts you're comfortable (or not comfortable) with. ~ Rachel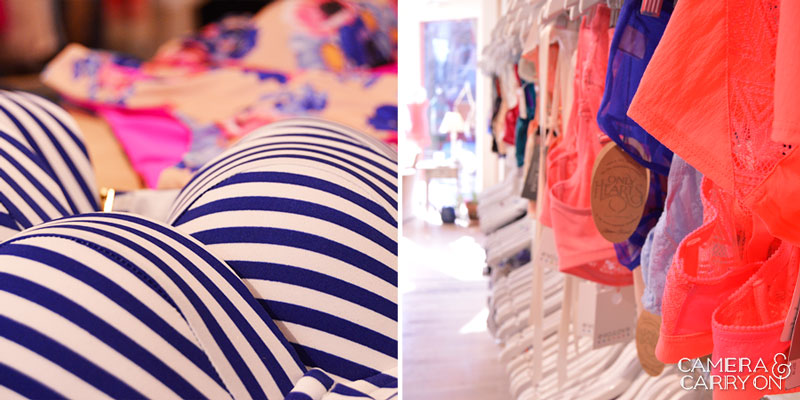 Where Will You Wear It?
Consider the function of your swimsuit. Are you going to be hanging ten off the Costa Rican coast, or sipping Mojitos poolside in Miami? If you're the active girl, you'll want a suit that stays put like a one piece, monokini, or a suit with structure. A tiny triangle top and Brazilian cut bottom may not be the way to go. Similarly, if you're looking to work on your tan and don't want funky/splotchy tan lines, look at where the fabric is covering and decide if you want less of it between you and the sun.
A tight bandeau top with detachable strings offers security while you're swimming while the detachable strings can be easily removed for tanning purposes. ~ Rachel
Show It Off or Play It Down
There are tons of style choices, but no one-style-fits-all for everybody. With so many cuts, colors, and prints out there, the sky is the limit! Plus it means you can emphasize your favorite bits and camouflage your lesser ones. Ruffles, texture, and details create a focal point, so use those in areas you wish to bring attention to. Darker colors generally make shapes look smaller. But don't make the mistake of assuming more coverage = slimming, especially for the derriere, ladies.
Try lots [of styles] and don't assume that more coverage is more flattering. Sometimes a lower cut or cheeky bottom works better than a full coverage style. ~ Rachel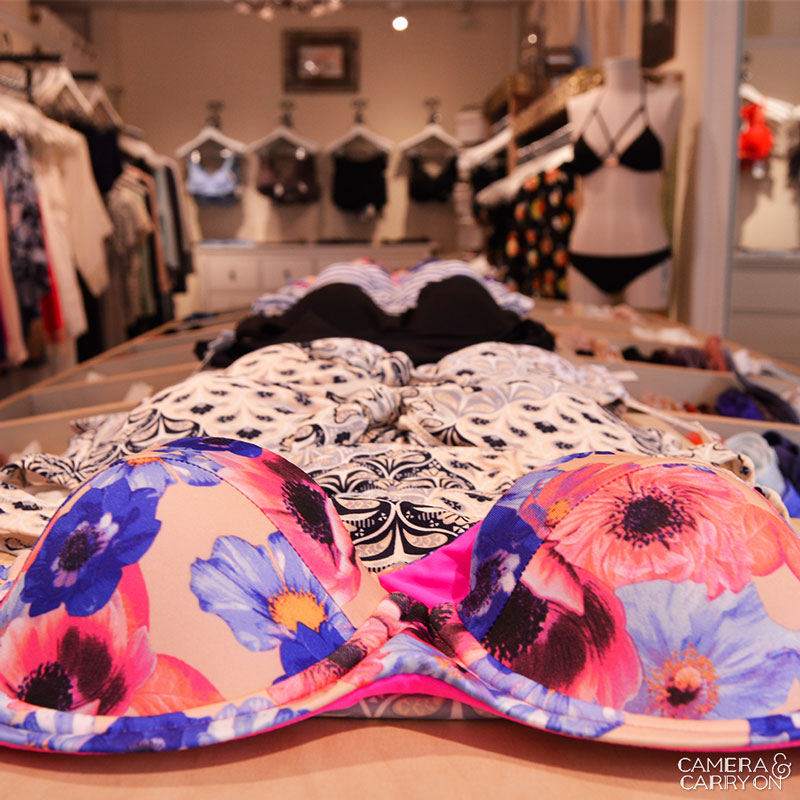 Classic or Trendy?
Why not have it both ways? Depending on your piggy bank, you might be able to swing one from each category. Consider your purchasing history, how often you'll wear the suit, and if you see it as an investment. Some suits when properly cared for can last years and years. If you're in the market for a season-filler, think big brands at discount prices.
If you don't want to buy them a lot or spend a lot on them, buy something classic that you'll wear a ton and that you can mix and match with cheaper separates. ~ Rachel
Be Supportive
You want it to work with you, not against you. Well endowed ladies will want reliable support when it comes to picking a top. Some bandeau styles have removable straps for life and easily convert to tan friendly (best of both worlds!). Halters are also a good bet. Gals with less to manage have a little more freedom to explore.
Just like bras, I think everyone needs a little something different. Some people can wear anything, but most of us need something that flatters OUR particular body. ~ Rachel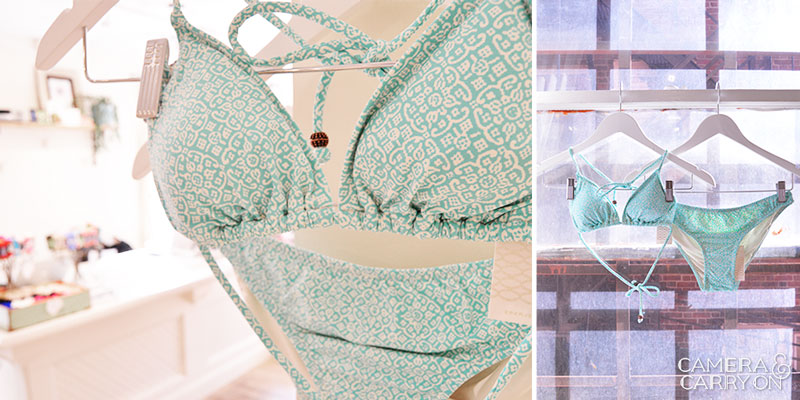 But Most of All…
A swimsuit should reflect your personality, and make you feel comfortable in your skin. Have confidence when you put on that new swimsuit. Sexy is such a personal thing, but I think we all want to have a little extra oomph when we take off the layers and parade around in our near-birthday attire. Are you loving all things retro? Try a high waisted bottom. Surfer girl at heart? Try bright, tropical colors. But whatever you choose, make sure you feel good in it.

When you're baring skin you want to feel confident and a well fitting suit gives you that extra moxie on the beach. Don't hate your body – period. And avoid fluorescent lighting. 😉 ~ Rachel
•••••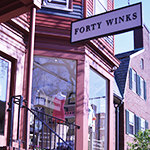 A big thanks to Forty Winks for sponsoring this post. Visit their boutique in Cambridge, MA or their online shop here.
As always, all opinions, text, and images are my own.  See our ethics page for more information. Thank you for supporting the sponsors that make life a little better here at Camera & Carry On.