The Windy City // On My Radar

The Windy City. Second City. Chi-Town.
Whatever you call it, it's one of my absolute faves and one of the greatest metropolises there ever was/is/will be! BTW – I looked that up, and yes, it's "metropolises." Sure, you'll freeze your epidermis off in .04 seconds without a full-face wrap in winter. That bites. But what's a little frost nip if not an excuse to snuggle for body warmth (along with 2 heated blankets, hot chocolate, and fuzzy socks)?
Zip forward a few months to when the sun shines and flowers bloom. SUMMERTIME IN CHICAGO IS THE BEST. Sailboats, fireworks, grilled Chicago-style hot dogs, rollerbladers (like it's 1994), afternoon naps in the park, long walks, giant slices of watermelon, festivals, puppies… Gimme! Gimme! It's "neighborhoody" in a way that makes a big city feel like a small one, with down-to-earth people and scrumptious eats — two biggies in my book.


Chicago is where our love story began.
We vacationed there, fell in love there, moved there, got engaged there, then eventually left there. But a piece of Chicago stuck with me, like a piece of gum wedged in my sole. Heh heh. Only I don't want to scrape it off. I'll keep it forever and ever, so I can turn my foot over anytime I like to admire the smudge. The happy, little smudge that hearkens good times. Have I gotten cheesy enough yet?
I've succumbed to nostalgia with all things Chicago in this On My Radar. And now, for a few highlights…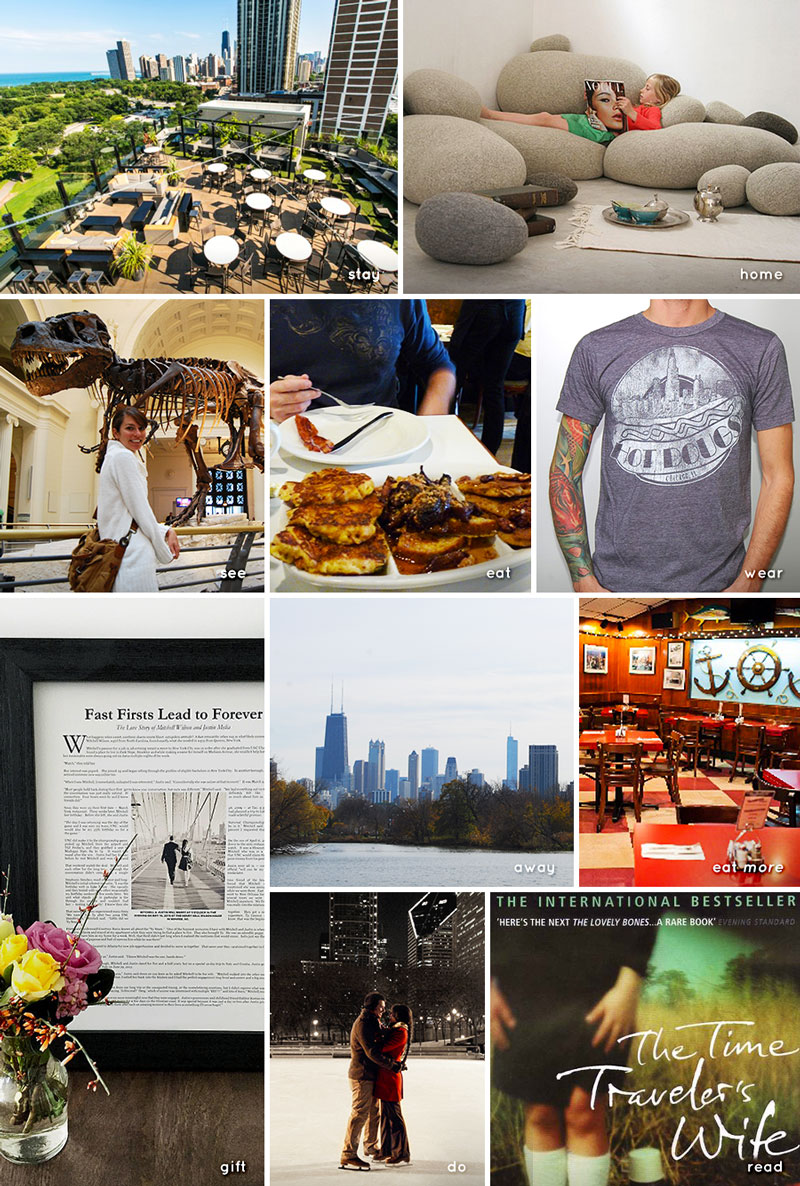 STAY • It's funky, ideally located, and pet friendly – which means we could bring Sumo! – plus it has what our petite apartment lacked… a rooftop deck: just the spot for evening cocktails and watching fireworks over Lake Michigan. The bed also looks suuuper comfy.
HOME • How awesome would a corner piled high with squishy rocks be? I couldn't resist adding these to the lineup in honor of the Cloud Gate sculpture, aka "The Bean," because, well, they kind of look like giant legumes.
SEE • Any Jurassic Park fans? *high five* Meet Sue.
EAT • The best breakfast you will ever put in your face. I'll bet on it.
WEAR • Sadly, the "encased meats emporium" is no more, this tee stands for more than expertly grilled sausages and duck fat fries. The Chicago institution will live on!
GIFT • This is one of those amazing gift ideas would be perfect for just about any couple. I heart a good love story, but have never thought to document mine until Love Notery came along. A one-of-a-kind account of your tale, crafted by a seasoned wordsmith to keep your memories alive, to share, and to pass on. Brilliant! Now if only this was around for all those weddings I attended over the years; keeping this in my permanent bookmarks list.
AWAY • Lincoln Park is my go-to neighborhood, probably because it's where we lived. 🙂 But there's one spot in particular that I always think of and smile. Specifically the middle bench at the end of North Pond around 10am on a Saturday morning, with pastries from Cafe Vienna in hand, warm coffee, and a light breeze. *sigh*
EAT MORE • I'm as picky as it gets when it comes to ribs. Baby back only, and they must be fall off the bone, or else I turn my nose up and slide the plate away. And these… oh, baby [insert ultimate satisfaction face here]. Frequented by Ol' Blue Eyes back in the day, the finger-lickers at Twin Anchors are one of the few reasons I will never be a vegetarian.
DO • Ice skating at the back pond of Millennium Park (Daley Park, actually, though it's since been renovated into something awesome) — it's what the cool kids do (or… because we didn't realize we were at the wrong one that time.) Later, the site of our, "Will you…?" "Yes!"
READ • Keeping on theme with the love story setting, I adored every bit of the Time Traveler's Wife. Not your average boy-meets-girl story. And with all the landmarks and Chicago references, I really felt and extra special connection to this one.
Sources: hotel lincoln | living rocks | field museum | nookies too | hot doug's | love notery | north pond | twin anchors | skating rink | the time traveler's wife
•••••
Have you been to Chicago? Or do you currently live there? Share some of your favorites in the comments below! I can't wait to get back and see what's changed, and more importantly, which of my go-to spots haven't changed a bit. 🙂