ANCHORS AWEIGH! Cruising the Galapagos Islands Aboard the Nemo
If you ask me, boating in the Galapagos is where it's at. The best way to experience the breadth of wildlife, action, and scenery in the Darwin-famous destination is to hit the waves. Obviously, it's one thing to read about it and another to experience it, but take my word for it;  I'm an expert. 😉 To make the most of our Galapagos Islands adventure, it was anchors aweigh as we embarked on a 4 night/5 day cruise aboard the Nemo I Catamaran.
Day Trip vs. Multi-Day Adventure
When Michael and I were doing research for our trip, we considered the option of booking a few day trips and using Santa Cruz as our base. On the map, neighboring islands didn't appear so far, and we'd been successful booking day trips for island hopping on other getaways. It seemed doable enough. Wrooong!
"I'm the king of the worrrld!"said every other passenger from the bow of our CAT.
Now having been/seen for ourselves, I feel like our exposure to the islands would have been very limited with day trips. Not to mention the struggle of shopping around, negotiating price, and the general time suck of making arrangements in person. Ugh, no thanks.
The Basics of the Vessel
Some folks are really into travel by sea and flock to the big boats. J'adore la mer, but we were not keen on wrestling 100+ passengers to get a glimpse of sea lions. High capacity cruises were immediately docked from my list. The Nemo I ticked all the right boxes and had an itinerary that worked perfectly with our schedule.
Personal, low key, and quality topped my wishlist.
First impressions: bright, clean, tidy, lovely outdoor space, tight cabin, friendly captain & crew, ready to show us a good time
Capacity: 14 passengers, 6 crew members
Specs: 83 feet long, 33 feet wide, 2 150-HP engines, sails
Cabins: There are 8 cabins , mostly bunk/twin style
Common Areas: Tons of space on the hanging nets, sun terrace, dining terrace, and  lounge
Additional transport: 3 solo kayaks, 1 zodiac

The Day to Day
Each morning began with an early rise and a full schedule of activities like snorkeling, hiking, and wildlife watching – led by our naturalist/guide – punctuated with plenty of time for breakfast, lunch, and dinner. The idea was keep everyone busy, see as much as possible, and I'm pretty sure to burn calories. Each day was unique, but basically played out something like this… (click thumbnails to open gallery)

6:15 am –
wake up!
7:00 am –
breakfast
8:30 am –
take zodiac to shore for hike
10:00 am –
deep water snorkel off zodiac
11:30 am –
back on board
12:00 pm –
lunch
1:30 pm –
take zodiac to shore for nature trail
3:00 pm –
snorkel off the shore
5:00 pm –
back on board
6:30 pm –
briefing of schedule
7:00 pm –
dinner
8:00 pm –
cruise to next location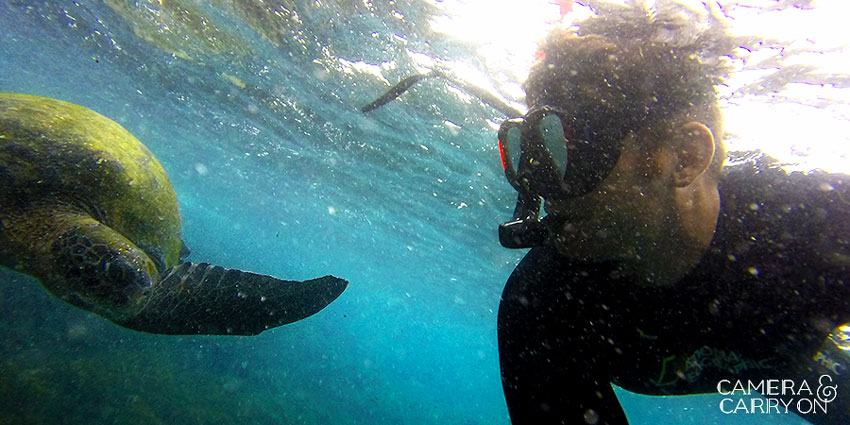 This is just a taste of the wildlife and scenery from our visit.
More photos of the sea lions, sharks, iguanas, and giant tortoises (including one that looks like ET)
over here
.
Highlights & Favorite Bits
On a whole, I had an awesome time on the Nemo I. Being by the water is always satisfying, but this journey was extra special. A couple reasons why:
"Is there more? I'll have seconds, please."
The food was REALLY good. Not just made in a Barbie-sized kitchen on the sea good, but actually, super tasty. I expected basics and was blown away by an impressive spread 3x a day. Aaand now, my clothes are tighter. Thanks, Chef!
Whales and dolphins! I grew up in Florida, so I'm no stranger to porpoise play, but never have I ever been able to follow a pod of dolphins and humpback whales in open water. Amazing!!! Other wildlife encounters: snorkeling with whitetip reef sharks, that time a sea lion pull my kayak, and meeting a 500lb giant tortoise.
The friendly, easy going nature of the crew. Everyone was pleasant, smiling, and courteous.
Other great moments include napping on the nets, catching a few gorgeous sunsets, and embracing the salty wind in my hair. *exhale* Yes, life is good.

Good to Note
Just a few things to be aware of. Some may be obvious, but worth mentioning for clarity. Surprises for birthdays are fun, but when you're shelling out a pretty penny for travel, it's helpful to have a good picture of what you're in for!
The cabins are tiny, make no mistake about it. By design, catamarans make the most of outdoor and common square footage – which I ADORE and means there's plenty of room to spread out – but since the cabins within the hulls of the ship, they are pretty tight. If you have small space/claustrophobia issues you might want to consider one of those larger boats.
Your clothes will be damp. Even if they're "dry."

The water for our trip in August/September was around 60°F. *cue goosebumps* For those of us accustomed to swimming in bath water, a la 80°F or more, you are in for a chill. Perhaps the most disappointing part of the booking was that we had to pay extra to rent wet suits. I guess I'm not sure why they aren't part of the package to begin with.

Along that vein of chilly temps, you may want a jacket/windbreaker for the nighttime. Upside? It's much better this time of year, than during the warmer months, for seeing the greatest number creatures!
The sink/shower would allude to hot and cold settings, but there's really just one. It should read (in very tiny print): "Take a shower quick because this is not going to be pleasant."
Not your typical island getaway, or luxury cruise.

Beach towels are not available. Not a huge deal, but had I known, I probably would have tried cramming one in my carry on.
If you are prone to motion sickness, prepare accordingly… pills, wristbands, hypnosis. We both handled the rocking relatively well, until the last night; a fight to keep our cookies in check (a combination of rough water and too much sun). And make sure to consume/activate your anti-vomit goodies prior to actually feeling sick.
This is not a leisure, luxury cruise. This is for people that want to be active, get up close to nature, learn about the destination and wildlife, and see as much as possible. The naturalist guide not only goes where you go – by regulation of the natural reserve – but his/her job is to basically service as your walking encyclopedia.
What's Included
breakfast, lunch, dinner and snacks
basic beverages (water, hot tea, coffee, fruit juice)
snorkel equipment (mask and fins)

What's NOT Included
wet suit
sodas and alcohol
airfare to/from the Galapagos Islands
Galapagos entry and migration fees
gratuities
Pricing & Booking Info
Itineraries: 4, 5, and 8 day
Pricing: $1900 per person (5 day itinerary) for 2016 (varies by high/low season and availability)
Booking: Andean Travel Company
web — AndeanTC.com
email — info@andeantc.com or sales1@andeantc.com
skype — Andean-travel-company
Nemo I details — CatamaranNemo.com

•••••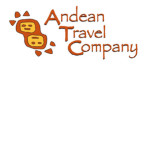 A special thanks to Andean Travel Company for hosting us during our 5 day adventure aboard the Nemo I Catamaran and sponsoring this post. It was a wonderful experience we're so pleased to support.

As always, all opinions, text, and images are truthful and our own. See our ethics page for more information.