Gifts for the Traveler in Your Life
There are just a few weekends left until we're ringing in the new year, guys! While I believe the holiday spirit is about more than just gift giving, it's hard to deny the joy of sharing presents with friends and loved ones. So… if you're like me and you've still got a few people on your list, better hop to it. For the traveler in your life, there are a ton of great options to choose from. You could go with functional gear for the trip, stuff to help them plan and prep, and even post-travel goodies. Happy shopping 🙂
Form and Function
Practical and stylish, these items are actually useful and will be appreciated by even the casual weekender.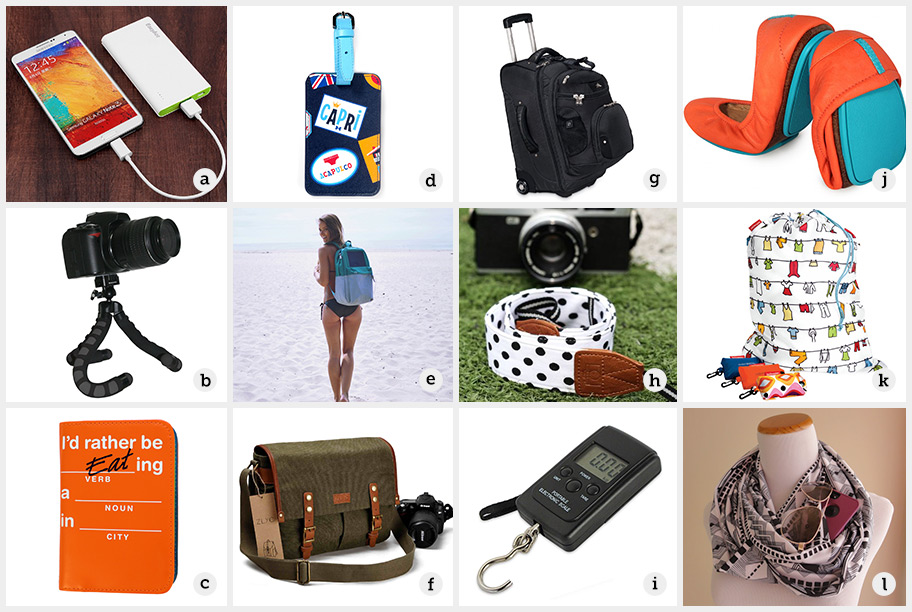 a) External Battery Charger
– slim, lightweight, and ideal for a boost when there's not an outlet in sight // $19.99
b) Flexible Tripod
– strong enough to support your DSLR, this bendy/octopus tripod is light and versatile // $11.99
c) Passport Holder – protect your most important travel document with this bright sleeve // $18.00
d) Luggage Tag – dress up the classic black bag with this super cute tag // $18.99
e) Boost Solar Backpack – let the sun power your gadgets // $100
f) Camera Bag
– classic styling and durable canvas with space for a camera, lens, and other purse basics // $49.90
g) High Sierra Carry On Luggage
– we've each got a very similar set and love, love, love them. // $162.25
h) Camera Strap
– because the standard strap just won't do // $13.50
i) Luggage Scale
– check the weight of your bags to avoid a big surprise and extra fees at the airport // $9.30
j) Tieks flats – they're a bit on the pricey side, but are ideal for travel and if cared for, will last years // $175
k) Laundry Bag – more durable than target bags, separate your dirties from the clean stuff with this cute bag // $4.99
l) Infinity Scarf with Pocket – a beautiful scarf with a hidden spot perfect for storing away your passport and other small essentials // $45
Bonus: Hire a personal travel photographer – if you've got the cash, or have a good friend that is happy tagging along, have someone else handle the photos // price varies
Fun and Fancy
Because not everything has to be for the trip itself.  You're sure to garner some "Oooh"s and "Ahhhs" with these stunners.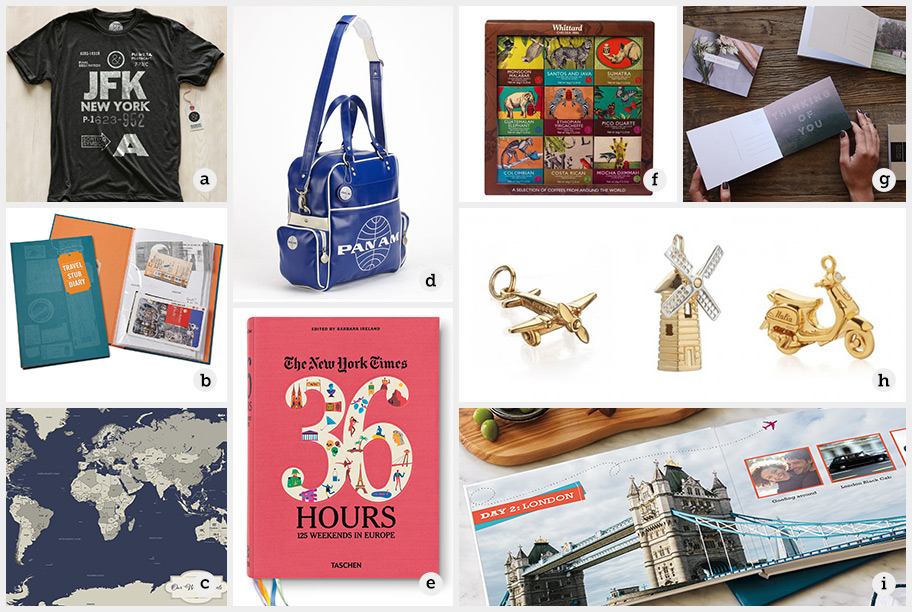 a) Airport T-Shirt – soft, stylish, and super wearable graphic tee // $25.60
b) Travel Stub Diary – for all those tickets, receipts, and paper goods from the trip // $12.00
c) Push pin map – for documenting travels and keeping track of spots on the bucket list // $25.00
d) Pan Am Bag – retro styling carryall for the gal with a soft spot for vintage travel commercial art // $125
e) NYT 36 Hours in Europe
– great inspiration and part of a book series with great weekend destinations // $32.31
f) Coffees of the World – give this sampler to the java connosseur with flavors from around the globe // $29.69
g) Postcards – turn national geographic worthy shots into custom stationery // $29.99
h) Destination Charms – jazz up the jewelry collection with these little, global icons // $198
i) Travel photo book -organize and document travel photos for neat shelf display // price varies
You can follow our Gifts for Travelers Pinterest board for more great gift ideas!