"Bamboo" Boating Down the Li River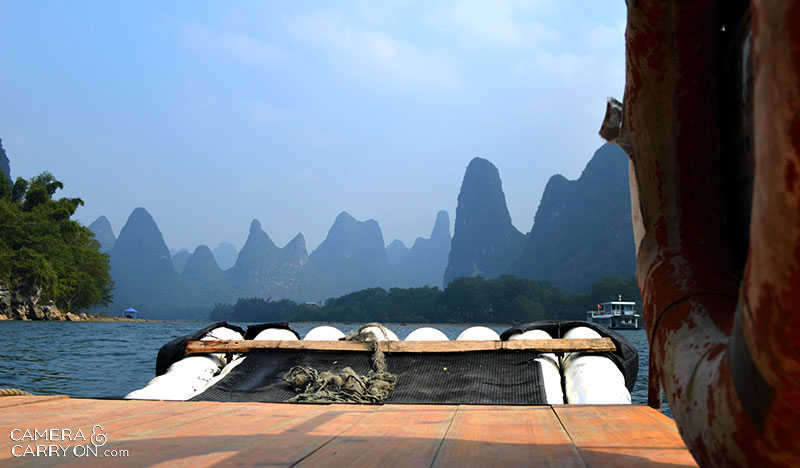 The ride down the Li River in China is truly an amazing site.  The most popular stretch of the river is from the metropolitan Guilin to backpacker friendly Yangshuo, with the most extraordinary bits of scenery being between Yangdi and Xingping.  There are a few larger boats that tourists can enjoy the splendor on, or you can hire a private "bamboo" boat to slowly move you (and possibly your sweetheart) through the feats of nature.
If you're planning ahead, you'll probably only find two tour options; one ferry-like boat that holds approx 60 passengers, and one that holds approx 40 passengers.  These will run you about 350¥ – 450¥ per person ($60 -$75), and consist of a ferry boat and bus transfer.  Like most tours we found in China, it's not the price, but the tour itself that we didn't like.  The traditional way to get down the river is by bamboo raft.  I'm sure you noticed the quote marks I put around bamboo above.  Well… that's because today the boats are actually made of PVC, then painted to look like bamboo, and are always referred to as such. For whatever reason I refuse to not use quotes (or air quotes).  Anyway, Shannon and I wanted to take the small raft, and I would certainly recommend it.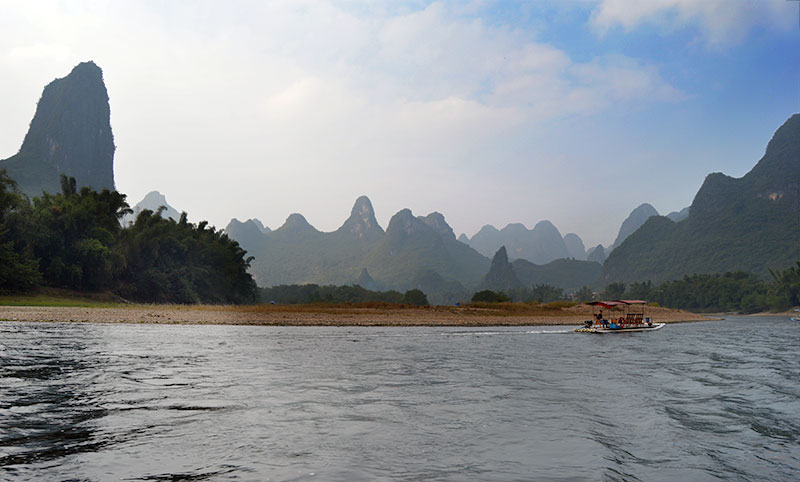 We found it extremely difficult to figure out how to do this.  In Guilin you'll only find the ferry boat options, and all the articles we found online were years old and really not helpful.  We read that you simply can't take a raft down, or that it's possible but illegal. One writer even mentioned having to pay the "Chinese mafia" for passage.  The whole thing was a bit of a process, but actually quite simple if you eliminate the guess work.  Ta Da!  It's guess work elimination time!  The trip takes a full day, so make sure you have the time. Starting in Guilin, boating from Yangdi to Xingping, spending some time in Yangshuo, and then back to Guilin:
Take a taxi or local bus to the Yangdi port  – Starting in Guilin, we took a taxi for 160¥ flat rate (the driver started at 300¥, but we're negotiating masters).  The bus is much cheaper, maybe 10¥ – 15¥/person, but took a lot longer, and we just weren't up for it.
Get a "bamboo" boat at the port – You can get a ticket from the tourist office for 216¥/person, or there are a number of locals trying to buy it for you. Locals are entitled to a massive discount on the tickets, so they'll buy the same ticket, resell it to you, and pocket a profit.  This involves trusting that your new friend won't just run off with your money.  Since I'm not that trusting, I only gave her half upfront, and the rest when she came back with the tickets.  I don't know how much she paid, but after a TON of haggling, we ended up spending 300¥ for the two of us.
Get on your personal raft and enjoy! – It's a 1.5 to 2 hour journey to Xingping.  I think the first half has the best views, so be ready!
Get off the raft in Xingping – At the dock is where you'll find the stunning view illustrated on the back of the 20¥ note, so make sure to bring one along for reference.
Get on a bus in Xingping – Xingping is a great little village, but there's not a ton there.  You can take a taxi to the bus station for 15¥, or walk for 40 minutes.  It's a little confusing where the bus station is.  If I had to do it again, I'd probably take the taxi.
Get off the bus in Yangshuo – The bus costs 7¥/person and takes another 45 minutes.
Explore Yangshou – I have to say, I thought Yangshuo was going to be a bit more… quaint? Guides say this is a backpacker haven. Never the less, get some food, and spend a few hours wandering around.
Get back to Guilin – Take the express bus from Yangshuo for 22¥/person.  It's a straight shot on an air conditioned bus, with no additional stops.
That's it, you made it! – Woohoo!!!