A Complete DIY Traveler's Guide to Reaching MACHU PICCHU!
A complete guide to reaching Machu Picchu in an easy step-by-step list and know before you go tips — all the info I wish I had planning our Machu Picchu adventure!
Want to visit Machu Picchu independently but nauseated by the idea of planning it yourself? Your head is probably spinning from all the tour companies vying for your booking. The plus of going the tourist route? Just follow along and have your camera ready. The con? A micromanaged schedule with little wiggle room for free spirit, and a hefty price tag.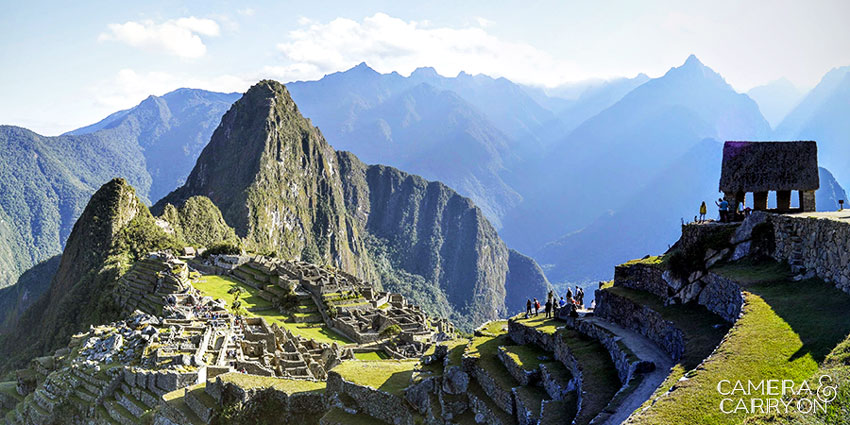 I know it sounds like a mother to organize on your own considering all the nuances and moving parts. But I assure you it's tots doobs (totally doable — try to stick with me here). Know how I know? Because I am a magial, DIY-travel wizardress. I've been there, done that, and have put together a step-by-step guide to reaching Machu Picchu, and other tid bits you'll want to know before you go. Basically, all the stuff I wish I could have found in one place before planning our grand adventure. 🙂
GETTING THERE + BACK // How to Reach Machu Picchu
PLAN AHEAD. I cannot stress this point enough. This is a trip you can't do in a fly-by-the-seat-of-your-pants style. You'll want to have your Machu Picchu tickets (and Inca Trail pass with guide, Huayana Picchu tickets, etc.) or whatever you plan to do BOOKED IN ADVANCE. More on that down the page.
Fly to Cusco and spend the night, unless you manage to get a super early flight and still have time to catch the last train to Machu Picchu. Not likely, though, so rest up!
Leave your bags at the hotel in Cusco and pack your trip essentials in a day/backpack. Most hotels will let you without a charge. 🙂
Ride the train to

Machu Picchu Pueblo

. The train station is actually in Poroy, just outside of Cusco. Plan for 30 minutes to get there by taxi. Then enjoy the passing scenery through the big windows. Note: the photo below is from the Expedition train.
Buy your bus ticket for the next day to Machu Picchu. Unless you'd prefer to hike up the steep and winding path to the citadel (if you ask me, a complete waste of energy and you won't see anything pretty!), you must get your ticket a day ahead of the ride. Make this a priority upon your arrival to Machu Picchu Pueblo.
Wake up bright and early for Machu Picchu! You're going to want to reach the summit before the crowds. Big groups start rolling in around 9 or 10am, then again in a big wave around 1pm. We recommend hopping on the bus up to Machu Picchu around 5:30am. Hop down the page to see more about your actual Machu Picchu ticket. You will need to have purchased this IN ADVANCE!!!
ENJOY! You've been planning this trip for months, and now you're finally there. Enjoy every minute. Don't rush. Stop to smell the llamas. Take a zillion photos. Close your eyes, then open them and soak in every bit of ancient splendor.
Freshen up and eat something. If you've still got your hotel room for a bit, take advantage and shower your stinky self. Then fill your belly! A day walking around Machu Picchu will leave you feeling ravenous or thirsty for a pisco sour.
Catch the train back to Cusco/Poroy around 3:30pm (the earliest departure). You'll be exhausted and ready to move on from Machu Picchu Pueblo by then. It's overpriced, small, and touristy, so get outta there.
Spend some time in Cusco. Now's your chance to savor a really nice meal and stock up on cozy alpaca gear. If you can schedule in a little extra time, you'll be glad you did.
COST BREAKDOWN // Help! How much will it cost?
With the exception of your flights to/from Cusco, here's a pretty good idea of what you can expect to spend on some of the key items of your Machu Picchu journey. The conversion at the time of our visit in August 2015 was about 1 PEN to $0.30 USD. Prices listed per person (unless otherwise noted) in USD.
Taxi from airport to historic center of Cusco, $6/taxi
Taxi from center of Cusco to Poroy station, $10/taxi
PeruRail roundtrip ticket Cusco/Poroy to Machu Picchu Pueblo, $157
Roundtrip bus ride to Machu Picchu site, $24
Machu Picchu ticket, $41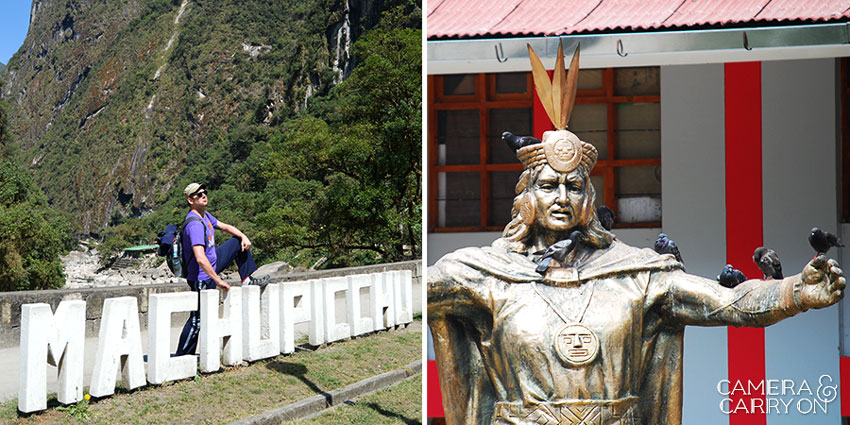 PACKING ESSENTIALS // Don't forget these items
Check back in the near future for the whole kit & caboodle packing list, but there are some standout items you'll absolutely want to bring. Get your list started now with these:
Bug spray
Sunscreen and a hat
Light (but warm) jacket
Hiking/walking shoes
Comfortable, breathable pants
Motion and/or altitude sickness meds (more info below)
PEN, aka Peruvian Nuevo Soles (order ahead from your bank at home to avoid yucky exchange booth fees)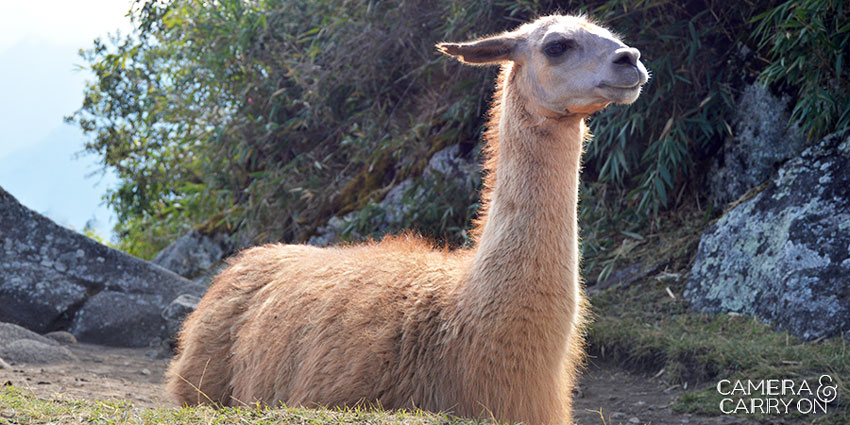 BEFORE YOU GO // Need to know stuff…
Know what you want to see before you decide on dates. This is crucial, especially if you're planning on climbing Machu Picchu Mountain or Huayna Picchu. If you don't know what I'm talking about, you're still in the early stages. Do a little more research on what there is to see/do, then come back here. 🙂
Book your Machu Picchu tickets + hikes + climbs in advance. This ties into my first point above. Very limited quantities of visitors are permitted to climb the mountains around Machu Picchu, and those tickets are sold MONTHS in advance. To check availability and book your tickets, visit the official booking site here.
Your train tickets to Cusco are also important to buy ahead of your trip. You can purchase those here.

Tip: Go for the expedition class train. Not worth the cost for the Vistadome (just slightly bigger windows, but the same view!)

. Take into account your flight schedule. If you're able to go straight to Machu Picchu Pueblo upon arrival in Cusco, do it! But don't forget to spend a few days in the gateway city at some point.
Visit your physician to see if you need any vaccinations, and also request altitude sickness meds (like

acetazolamide

). Many visitors suffer from mild symptoms as a result of the dramatic change in altitude. At nearly 8k feet above sea level at the summit, and 12k in Cusco, chances are you'll find yourself taking a little longer to catch your breath and get from A to B. Obviously do what you're comfortable with, but I was only too happy to fill a rx to ensure my body would adjust easier.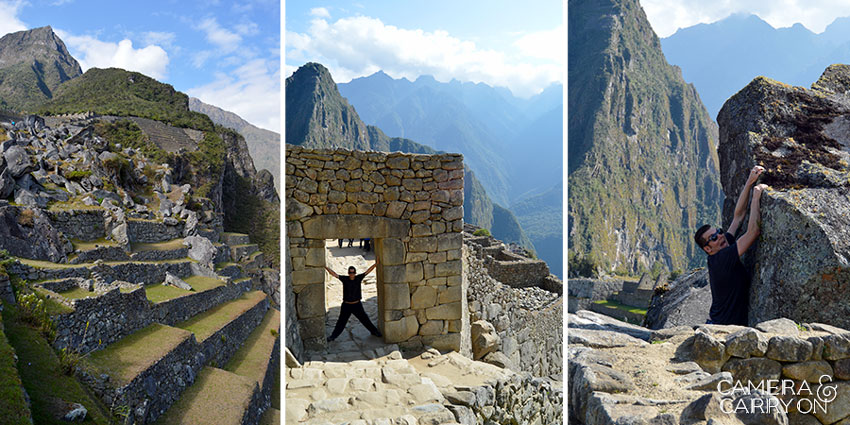 Be practical and avoid anything flashy. Leave the gems and stilettos at home. Peru is a relatively modest country and I assure you, your trip to Machu Picchu is not the appropriate place to show off your hottest fashion finds.
Most likely, your suitcase will not be making the journey to Machu Picchu and

Machu Picchu Pueblo (formerly Aguas Calientes)

with you. There are additional fees on the train for oversized bags (daypacks are suggested), so pack as light as possible OR leave your luggage in your hotel in Cusco for a few days. This is very common and many hotels will store your big bags until you return.
Buy drinks and sandwiches in town before taking the bus to Machu Picchu. Technically, food is not permitted inside the Machu Picchu site. However, many people bring snacks, sandwiches, and beverages. Be smart – don't litter – and you can find a quiet spot to sit down, relax, and enjoy lunch with a gorgeous view of the citadel!
For more on exploring the ancient site, sign up for our newsletters (see sidebar!) and we'll alert you when the new post is up. I'll be talking about how much time you need at the citadel, what to bring for the day, where to snag the quintessential MP shot, sharing gorgeous photos… you get the idea. 🙂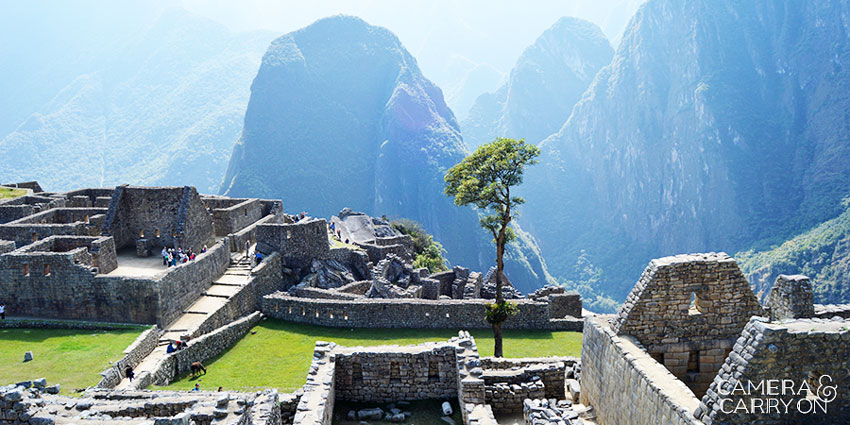 RESOURCES
In case you missed these links above, you will find these sites VERY valuable:
•••••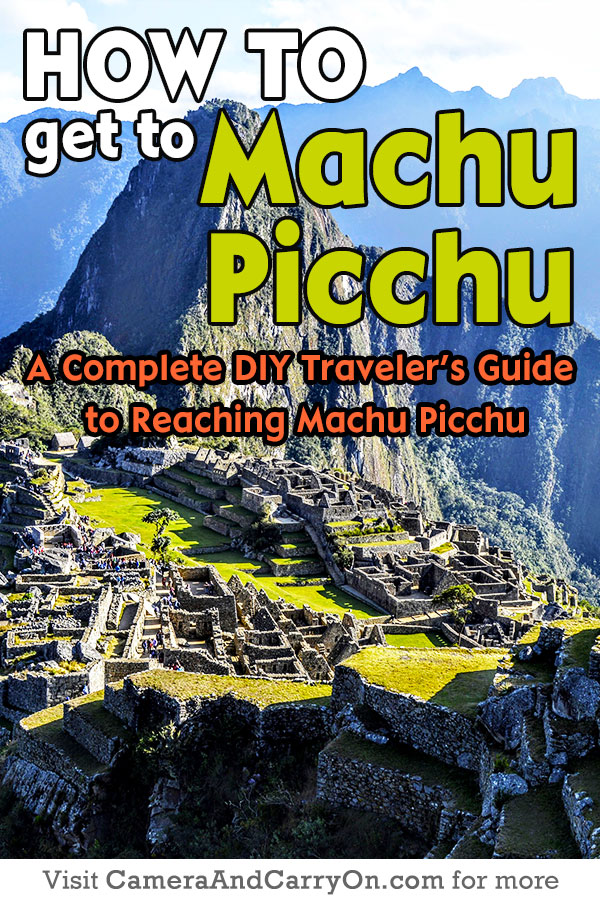 P I N   M E !
Save this "How to Get to Machu Picchu" image to your Pinterest board so you don't lose these awesome tips in the interwebs. Happy Travels!