The Decadent Love Child of France & Italy: Disaronno Crêpe Cake
Wait, did you read that right? Did someone just say "Disaronno Crepe Cake?" Yes… I did… And if I had more room I would have written "16 Layer, Disaronno, Mascarpone, Cream Filled, Crepe Cake." Brace yourself…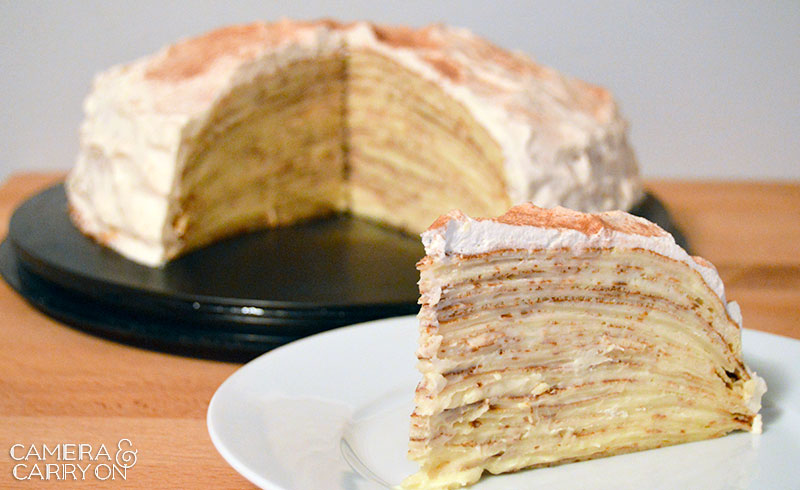 Shannon is the chef in our relationship, but for the holidays this year I really wanted to make something great that would shock and awe her into speechlessness! Not just some no-bake pie, fudge brownies, or box cake. No, I aimed to blow her mind and tingle her taste buds with the culinary magic I knew was hiding deep within me. Now I'm not going to pretend this was easy, but if you're looking to impress your family, friends, or anyone else, this will surely do it! Side note — if you don't care about impressing anyone, and you just want to gorge like a king, this is for you, too. France and Italy are immediate contenders for favorite cuisines in the western world, so why not combine the two? I've seen these amazing looking crepe cakes before, and the idea of incorporating my favorite amaretto liqueur to it just came to me, as if in a dream sent by an angel. Have I piqued your interests? Don't bust out your passport just yet! Here are all the details you'll need, now let's get started!
Know First
Things I wish I would have known before I started:
This takes a while to make, mostly because things have to refrigerate for a while, so make a plan.

The crepe batter needs to be refrigerated for at least 2 hours (or overnight) before cooking.
The filling needs to be refrigerated for at least 4 hours before assembly.
The final cake needs to be refrigerated for an additional 2 hours before serving.

Read the ingredients carefully, apparently a tsp and a tbsp are different.
Milk easily boils over, don't take your eye off of it!
This cream is hard to clean up, so try to avoid flinging it across your kitchen.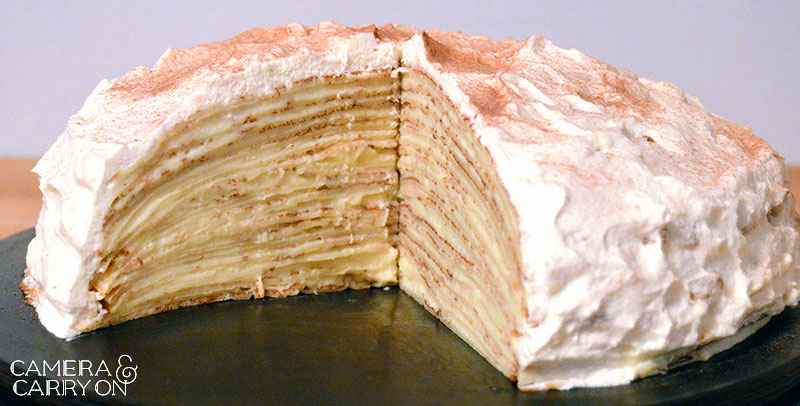 Crepes
Ingredients
6 tbsp butter
3 cups milk
6 eggs
1½ cups all-purpose flour
7 tbsp sugar
⅛ cup Disaronno
1 tsp vanilla extract
Pinch salt
No-stick cooking spray
Instructions
Melt the butter in a pan.
Heat the milk over medium heat until it's steaming, then allow it to cool for 10 minutes.
In a big bowl whisk the eggs, flour, sugar and the salt together. After that's mixed well, add in the vanilla extract and Disaronno. Then slowly add the hot milk and melted butter.
Cover the batter and refrigerate for at least 2 hours, it can sit overnight if you want. This might be a good time to start on the filling.
Now to make the crepes! Bring the batter to room temperature. Place a nonstick 9-inch skillet over medium heat, and grease the pan with the no-stick spray. You don't have to grease the pan before each crepe, just as needed. I did it once at the beginning, and once half way through.
Pour a little less than 1/2 cup of batter in the pan and swirl it around so it covers a nice the bottom of the pan. You'll have about 5 seconds from when the batter hits the pan to make a nice circle before it won't move anymore, so act fast!
Cook until the sides of the crepe start turning brown, about 1 minute. Then flip the crepe and cook for another minute or so. This is pretty tricky. I actually put some wax paper on my counter, and flipped the whole pan over the wax paper so the crepe would fall onto it. Then I picked up the crepe with my hands, and placed the uncooked side on the pan to continue cooking.
Place the finished crepe aside.
Repeat until the batter is gone ( I made 16 crepes).

Cream Filling
Ingredients
2 cups whole milk
4 large egg yolks
1 cup sugar
½ cup cornstarch
1 tbsp softened butter
¾ cup cream cheese
¼ cup mascarpone cheese
2 cups heavy cream
4 tbsp confectioners sugar
⅔ cup Disaronno
2 tsp vanilla extract
Instructions
Warm the milk over medium heat until you see tiny bubbles form, then take off the heat and let it rest for 10 minutes.
In a medium pot, whisk egg yolks with sugar together so they are well combined. Gradually stir the cornstarch into the pot.
In a separate bowl, whisk the butter, cream cheese, and mascarpone together until smooth.
Slowly add the warm milk into the egg mixture, one cup at a time, stirring constantly, until it's all combined.
Place the pot over medium heat and cook the mixture, whisking constantly (this is paramount) until the cornstarch starts to thicken.
Once the mixture has the consistency of pudding, remove from heat and quickly strain it into the bowl with the butter and cheese mixture. Stir the cream until it's smooth and well combined.
Chill for at least 4 hours covered with a plastic wrap placed directly on the surface of the cream. This prevents a weird skin from forming.
After about 3 hours and 50 minutes you can start making the whipped cream that you'll combine into your cream filling. Whip the heavy cream, confectioners sugar, and extract with a hand mixer for a few minutes until it starts to thicken. Add in the Disaronno, and continue to mix until the cream holds peaks.
Put about 2 cups of the whipped cream aside (you'll use it to frost the cake later). Take your filling out of the fridge, and gently fold the rest of your whipped cream into it, adding a half cup of whipped cream at a time.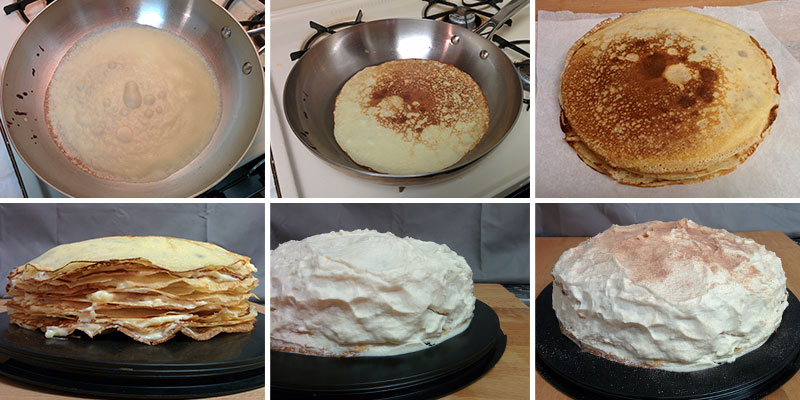 Final Touches
Lay 1 crepe down on a plate. Using a spatula, cover the crepe with a thin layer of the cream filling. Place another crepe on top, and repeat until all your crepes are used.
Take the extra whipped cream you put aside and frost the outside of the cake (I'm really bad at this simple step as you may be able to tell from the photos).
Chill for at least 2 hours, and set out for 30 minutes before serving.
Optionally, you can dust the cake with some cocoa powder (just for looks), or drizzle with Nutella (this is actually really good, we discovered it after eating a few pieces, and it adds to the Italian-ness).
Oh, one more step… INDULGE!
Check out more great, international dishes inspired by our travels, and eaten abroad, here! Also, if you have any great recipes, send them to us ASAP. We're always hungry for something delicious. Merci!