A Local's Food Guide to Boston's South End
The South End is one of those neighborhoods only locals seems to know about. To the visitors of this great city, consider this your private invitation to step beyond the invisible tourist fence and frolic in my 'hood. It's a bit off the Freedom trail, so don't expect to find another souvenir tee or Paul Revere impersonator. But if it's palate satisfaction you seek, this is the place to be, with thigh-smackingly good wings, heavenly sweets, fresh off the press sandwiches, and a pre-Prohibition era watering hole, brought to the hungry masses by kickass chefs and delivered with wicked awesome service. Here are my top picks for where to get your foodie fix in Boston's South End. And don't forget to tell them Shannon from C&C sent you!
Click the icons to jump!
Tremont 647
While it may not be the shiny new penny, Tremont 647 sure has the new kids on the block watching their backs. Holding down the corner of Tremont and Brookline for 19 years now with casual confidence, it takes something special to not only remain, but thrive. My hat goes off to the cuisine, prepared by a rock star, female-driven kitchen staff, attentive servers, and all around good vibe. The driving force behind it all is executive chef/owner, Andy Husbands, with a vision and passion for food that just won't quit. We had the pleasure of dining by the open kitchen with Andy as expediter that night, punctuating unidentifiable kitchen code with laughter and wit, as he divulged a bit of his philosophy with us. At his core, a desire to make really good food that hits the spot and makes you beg for more. "One bite should lead to another," defines his quest as a chef and creator. He'll put his burger against any restaurant patty out there (Do I smell a challenge?), and has crushed it in the world of BBQ in his spare time (rib pun… sorry). From apps to dessert, we gave our thumbs up, but it's really the whole package that garners this place a round of applause. I think I might just become a regular.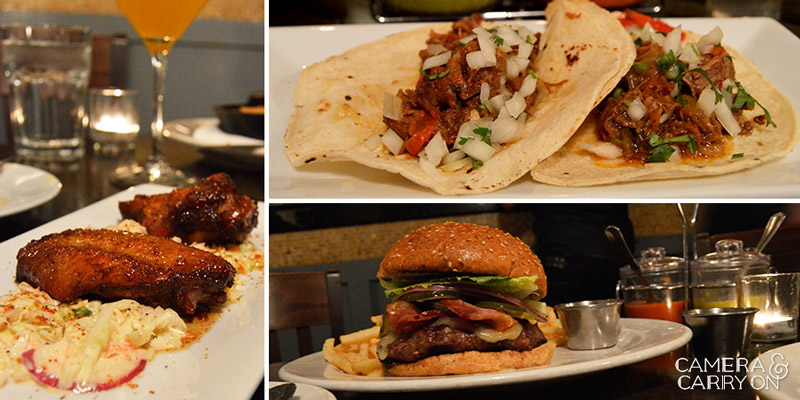 Favorites: Wings, Beef Dumplings, Confit Chicken, and Bacon Bark • Insider Tip: Small plates are great for sharing, and even a few of the mains comes in half portions, for the smorgasbord route • Go: They do a fun pajama brunch (pjs encouraged!) on the weekend and Taco Tuesdays are a lively night • www.tremont647.com
Blunch
At just 400 square feet, this unassuming sandwich shop is more than meets the eye. No frills and little seating, some of Boston's best meals between two slices of bread come from behind the counter of owner Nikki's pint-sized brick and mortar. "The best part of a good meal is the sandwich you make from the leftovers," she says, and that's exactly the concept behind what's happening at Blunch. Part breakfast, part lunch, this sandwicherie has been slicing and pressing crowd pleasing sammies for years with a strong local following. Not only do they kill it with thoughtful, developed flavor combos that pack a punch, every sandwich is pressed (aka awesome). And where some cafes claim it's all about the bread, Nikki takes the opposing view, saying they tried "fancy" at one point, but it's the simple goodness of local baker Quinzani's bread that takes to the heat best and lets the insides shine. There you have it: sandwich perfection. One last thing? Do yourself a favor and bring home one of the in-house baked goods. You won't regret it.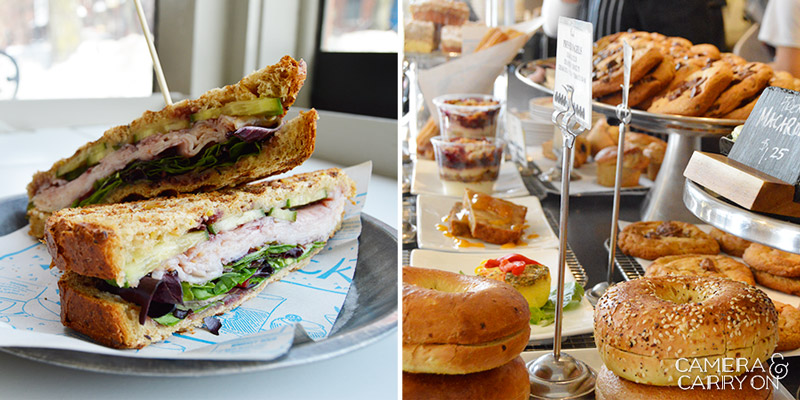 Favorite: The Colonial (it's all in the preserves!) or the "Whim" of the Day • Insider Tip: They've been catering to the gluten free community for years, with special prep and ingredients to ensure there's no cross contamination (a big plus for anyone with a real allergy). And, YES, Blunch has been featured on Diners, Drive-Ins, and Dives • Go: Breakfast or lunch (either all day!) • www.eatblunch.com
Blackbird Doughnuts
Doughnut. Is there no word sweeter in the English language? This craveable treat, loved by old and young, is brought to new heights by Blackbird Doughnuts. Self-proclaimed "Boston's finest gourmet doughnut," I found no reason to doubt the bold claim. While you ponder over risen vs. cake, peek through the massive window to the kitchen and you'll see these guys know a thing or two about making carbs as good as they can be. Open for just a few months, Blackbird has quickly advanced to neighborhood staple status. With a kaleidoscope of ever-changing flavors, from classics like vanilla glaze and chocolate cake, to showstoppers Irish coffee, salted toffee, and buffalo frito (yeah, I said it), there's no chance for taste bud boredom. What crazy flavor comes next? I don't have the answer, but I leave it to these dough mavens to dazzle us with their next made from scratch daily creation.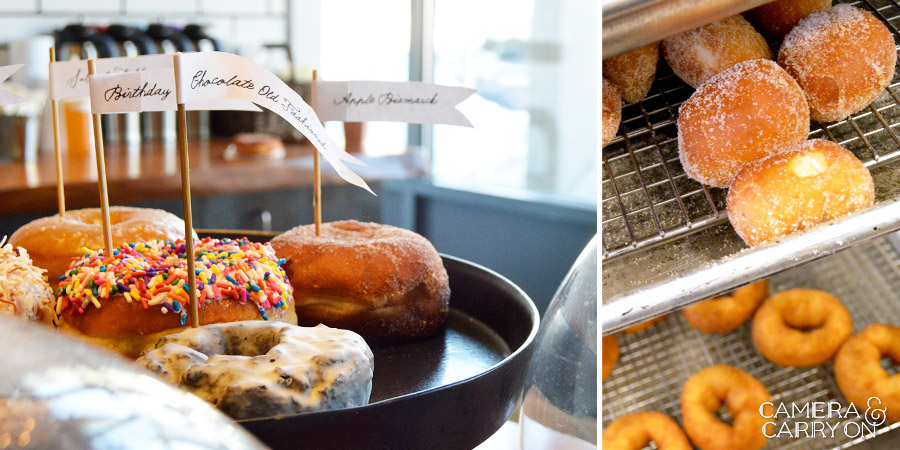 Favorites: Pineapple Habanero and Pepperoni Pizza (Oh, yeah) • Insider Tip: Grab a coffee to go with those doughnuts. Sourced from JP's Fazenda, Blackbird has their own, special blend. And ask your Pizza doughnut to be warmed • Go: Before they run out! • www.blackbirddoughnuts.com
Orinoco Kitchen
I opened the door to Orinoco and was instantly met with sultry, slow-cooked scents that enveloped and ushered me into a Venezuelan frenzy. Like a hungry pup to the dinner bell, my mouth began to water and I longed to know the taste of what my nose insisted I try. And try, I did. Amidst colorful decor and photos from owner Andres' family from Valencia, the food took on my hunger with mighty force. How I wished it was a warm, sunny day and not a wintry mess. I pictured myself in a sundress, bathing in the golden light on the patio with my zesty caipirinja in one hand and an empanada in the other. Instead, I cozied into the booth and drowned my cold weather blues with a few more almond/bacon dates and second helping of chicken adobo, because good food makes everything better.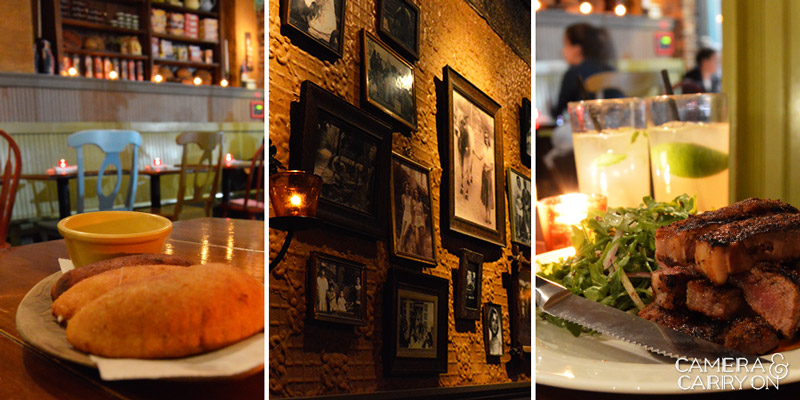 Favorite: Empanada trio with [crack?] sauce (seriously, I have no idea what's in it but I wanted to put that stuff on everything) and the Mojito Cojito (the tropics in a glass) • Insider Tip: Come thirsty and ready for a good night, because the drinks are stiff and sassy • Go: While the prix fix is offered, or when the warmth comes to stay a while • www.orinocokitchen.com
Appleton Bakery & Cafe
Bright and sunny, in looks and disposition, Appleton is lovely for take away, but begs you to come in and stay a while. Cozy cafe tables are bathed in natural daylight, making for an ideal spot to enjoy a lunch break, meet up with a friend, or read a book and savor a sweet snack. A melange of healthy breakfast and lunch options catering to the veggie lover as much as the must-have-meat eater are handwritten on the chalkboard menu. Freshly baked goods line the display case instigating a little indulgence, because, why not? Warm and friendly smiling faces greet a mixed bag of patrons, from grandma with her smallest grand baby, to the handsome novelist typing away, to the bricklayers working on the house down the street; this is a neighborhood affair. To wrap it all in a bow, the staff are just the sweetest, lightening even the dullest of moods. And if you ask me, that's all it takes to turn a good place into a great one.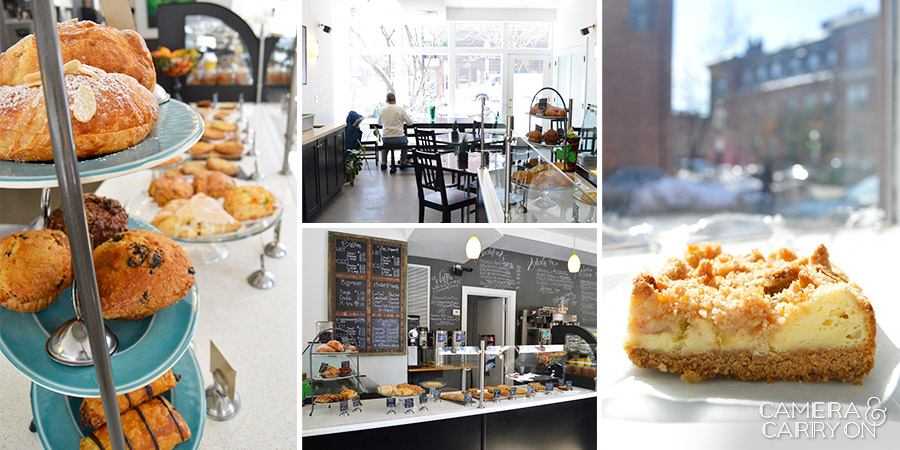 Favorites: Latte of the Day and Apple Pie Cheesecake Bar • Insider Tip: Check in for menu updates reflecting the change in season, and specials daily • Go: Pancakes anytime (score!), and the waffle maker comes out on the weekend • www.appletoncafe.com
The Elephant Walk
With my infatuation for Southeast Asian cuisine, it's a wonder Cambodian is foreign to me. At least it was until The Elephant Walk. With flavors bolder than Chinese but less aggressive than Thai, I thank Nadsa, sweet chef and master of the kitchen, for making my first time a memorable and eye-opening one. In the swanky dining room, I sipped a glass of wine and took my time perusing the selection. The menu is extensive and varied, boasting an impressive French-with-a-twist selection, but it's the other of the spectrum that hooked me. Crisp spring rolls, a colorful julienne salad, caramelized beef tenderloin… We dined on a spread fit for a king, taking a note from the traditional style where many plates make a well rounded meal. A range of taste, color, contrast and vibrancy that can only be described as uniquely Cambodian, consider me a fan.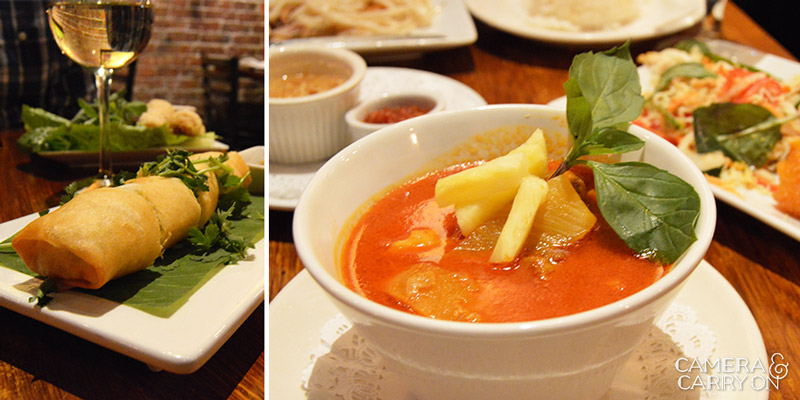 Favorites: An out of this world pork/coconut dish called Keing M'Noa and tuna spring rolls • Insider Tip: Portions are a good size, but a sampling of plates gives your mouth the rainbow treatment • Go: Break up the weeknight routine for a casual affair with zing • www.elephantwalk.com
Cafe Madeleine
It's all about the butter at Cafe Madeleine. Take their croissant, for instance. As one might expect from a pretty, French bakery, they certainly look the part, but the taste, the experience, that's where the magic happens. One flaky mouthful in and the heartbreaking melody of La Vie En Rose fills my ear, a suave gent with a smirk and a cigarette walks past, and fireworks pop in the silhouette of the Eiffel Tower. Paris, is that you? 84% butterfat is where it's at. The desserts are no exception in the hands of world renowned pastry chef, Frederic Robert, as he and his skilled pastry chefs gives the American classic an elegant, French makeover. Silken, smooth, and creamy beyond belief, thanks to a sousvide style method, shortbread crust, and (you guessed it) the most decadent dairy spread Vermont has to offer. The concept of a neighborhood bakery, where anyone can pop in for a good croissant and cup of coffee, is a humble one wherein results far exceed ambitions. I found the answer to the age old mystery of why ladies of France stay so svelte; there's not need to overindulge when you're so fully satiated. But just in case, there's always the expertly caramelized canele to fill that last bit of real estate.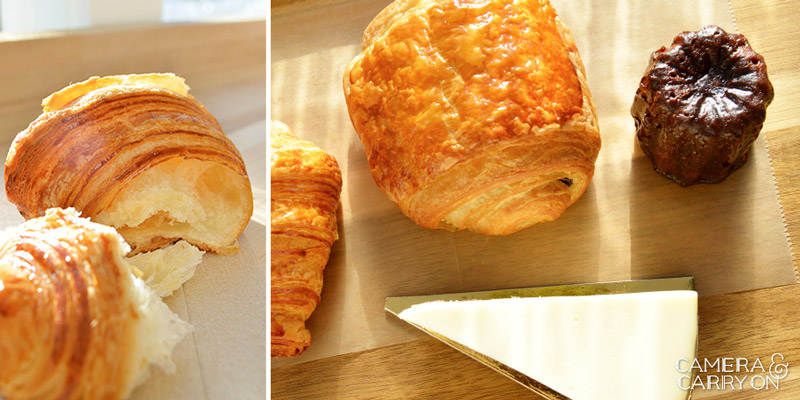 Favorites: Plain croissant and Canele • Insider Tip: Make sure to pick up the fresh fruit puree to balance the rich butter flavor of the cheesecake • Go: Pick up dessert for your Friday Night Soiree and a signature baked goodie to nibble on for the walk home • www.cafemadeleineboston.com
J.J. Foley's
If walls could talk, they'd speak of family ties, change, the importance of tradition, and how regardless of the here and now, a good pint never goes out of style. Not just another Irish tap house, this has been a local landmark for over 100 years and favored pub of famed personalities and unknown alike. Pony up for a glass of Guinness and plate of bacon and cabbage or shepherd's pie, fit for sharing, because here you're among friends. A family affair, the business has been ushered down the generations, carried with modest pride and strong sense of heritage. The feeling at the bar is as familiar as stepping into an old pub in Ireland: warn, wooden decor, bartenders that double as confidantes, and a genuine, convivial spirit. It's a timeless nod to yesteryear and holds down the foundation of Boston beneath an ever evolving landscape.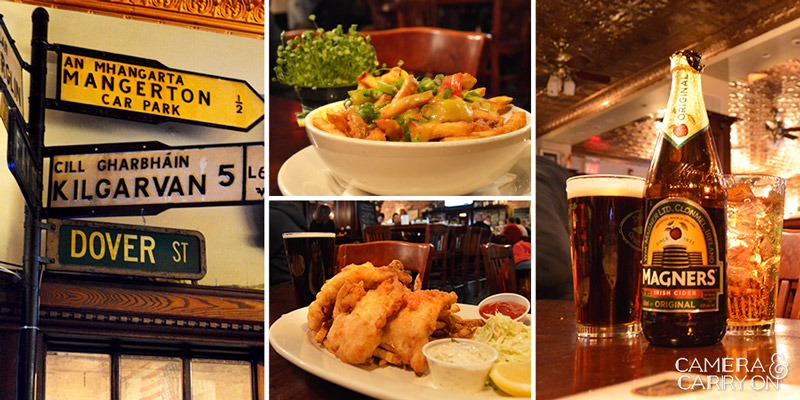 Favorites: Curry Chips and a proper pint of Cider • Insider Tip: The wall art reflects the rich history and events over the last hundred years, with J.J.'s at the heart of it; fodder for deep conversation over equally deep glasses of the dark stuff. • Go: After work drinks and a taste of what you'd get from the Emerald Isle • www.jjfoleyscafe.com
Cinquecento
Conceived as a spot where anyone can stop in for a nice meal wherever they're going or coming from, I have to say, this far exceeded my expectations. Cinquecento is more than just another restaurant group restaurant. Or "Italian joint." The food here is delicious, period. As for the servers, not only are they knowledgeable about what goes into the cuisine and how it's prepared, they are willing to take the time to make sure your experience is as good as it can be; a mark of quality and longevity. Cinquecento is newish to the South End, with 2 years under its belt and no sign of slowing down. The space is very uncommon for the area: huge, open, modern-meets-rustic, Roman trattoria vibe, and yet maintains a sense of intimacy. It's got class, panache, and a pretty killer menu with wide appeal, whether you're up for a glass of wine and sharing a plate at the bar, or prefer to do the whole multi-course, big night out thing. I came with an open mind and left a believer. Now, if I could only get my hands on some more of that ricotta toast…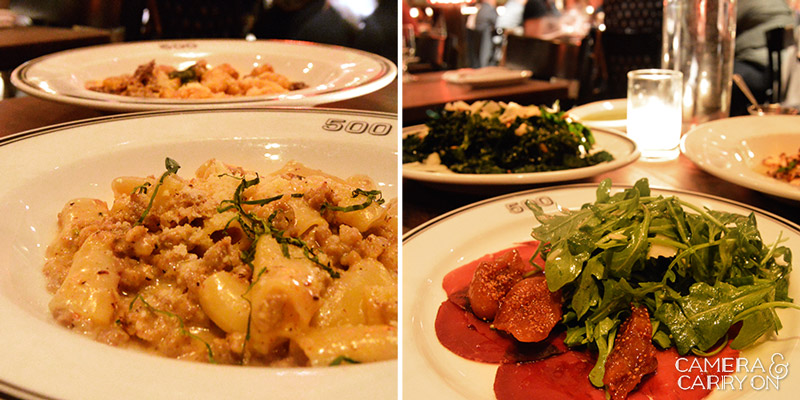 Favorites: Ricotta fresca, Rigatoni alla Norcia, and Bresaola with Figs • Insider Tip: Request a corner booth and ask for Bill • Go: After work drinks or a dressed up Saturday dinner • www.cinquecentoboston.com
Merrill & Co.
(update: unfortunately Merill has closed it's doors)
Grab some friends, throw on your finest pair of skinny jeans, and hit up Merrill & Co. for some elevated diner food. I say that with love and mean it in the best way possible. How so? The staff is super cool, laid back yet attentive, serving up food that feels both new and nostalgic. Let your hair hang down as you jam to "Pumped Up Kicks" on the sound system and dip your pizza rolls to the beat, because groovy tunes have that effect. The mood is upbeat and fun, so all you stiff, no-good-time Charlies might as well stay home. I don't often associate dinnertime with a seat dancing. Satisfying, pleasant, nice, sure, but Merrill & Co. changes everything. This spot is all about comfort food taken up a notch with a feel good vibe. Some nights feature a DJ, others trivia competitions, and, oh yes, brunch!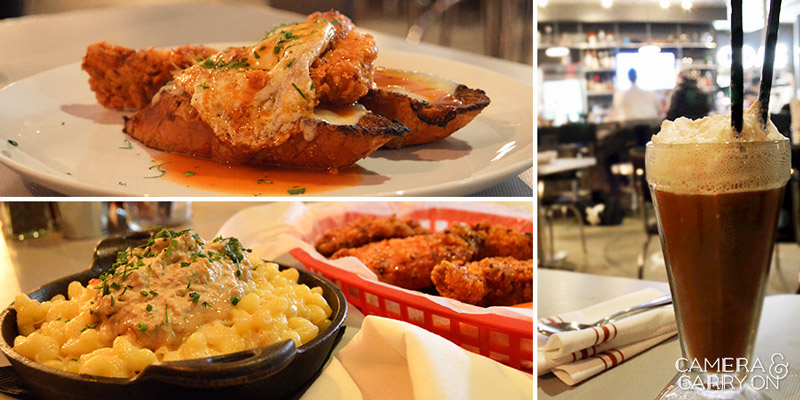 Favorites: Open faced buffalo chicken sandwich, Mac & Cheese, and Root Beer Float • Insider Tip: Show up with your best buds and hunker down for some good times, or just make a friend at the bar• Go: Trivia Night! Or post-work out to negate all those burnt calories. • www.merrillandcoboston.com
Find these 10 restaurants in the South End
BONUS: Cookie Monsters!
Blunch, Cafe Madeleine, and Appleton Cafe & Bakery have just the thing to curb your afternoon sweet craving. These giant, chocolate chip creations are perfect for sharing, or rewarding yourself for being so darn awesome, all are baked in house and will give your mama's winning recipe a run for its money.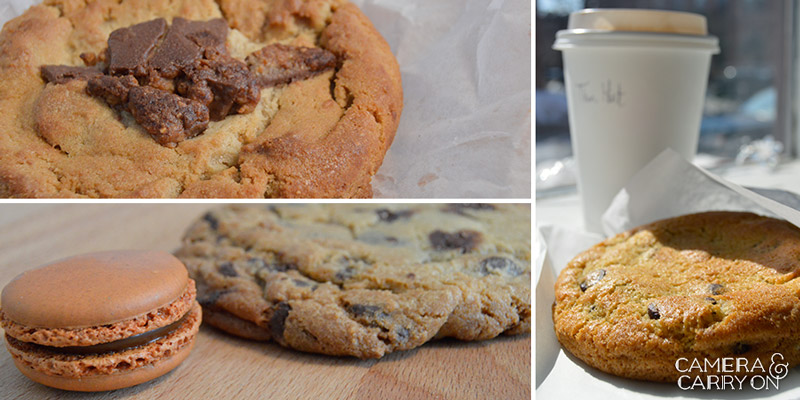 Have you tried any of these eateries? What's your favorite? Share your South End picks in the comments below!
•••••
A big thank you to Tremont 647, Blunch, Blackbird Doughnuts, Orinoco Kitchen, Appleton Bakery & Cafe, The Elephant Walk, Cafe Madeleine, J.J. Foley's, Cinquecento, and Merrill & Co. for welcoming and hosting us with delicious food and beverages.

As always, all opinions, text, and images are my own.  See our ethics page for more information. Thank you for supporting the sponsors that make life a little better here at Camera & Carry On.