Roasted Sausage + Potatoes Recipe: Simple for Travel!
I'm all about food, guys (as you may know from here, here, and here). Eating. Cooking. Dining in. Dining out. Snacking. Grazing. Midday noshing… Cuisine is a huge part of world culture and trying out local restaurants as a visitor is a great way to get to better familiarize yourself with wherever it is you are. That said, I don't always eat out when I'm traveling. Here's why:
It can get expensive. It doesn't have to be, but if you're eating moderately well, three times daily, it adds up.
Day after day, deciding where to eat breakfast, lunch and dinner becomes more of a chore than a pleasure.
Sometimes you would rather curl up with a bowl of [something tasty here] in your favorite sweats than venture out in the world. Know what I mean?
When I have a taste for something that I can't find on a menu but could whip up myself.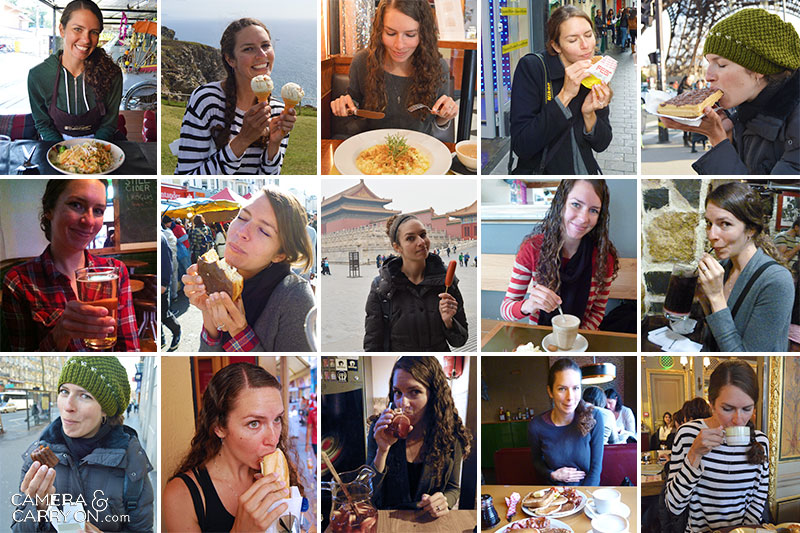 Because of this, we've purposely stayed in apartment style rentals equipped with kitchens or kitchenettes whenever possible so that we could eat at 'home' some. The biggest issue has been that not all kitchens are created equal, nor are they furnished with what I'd consider the essentials. On more than one occasion I've gone grocery shopping with the idea of making something specific, only to find half of the cooking tools I needed to prepare the meal weren't available to me. A little frustrated but wanting to turn experience into expertise, I was inspired to collect a few recipes that would work well for other travelers like me, wanting to make something tasty and filling in their homes-away-from-home, but when there are just the basics to work with.
Today, I'm sharing a go-to favorite of mine — Roasted Sausage + Potatoes. Not only do I think this is ideal for a traveler's kitchen, but it's something that often pops up in my weeknight reportoire when I'm home home. Super simple + easy substitutions + basic utensils/cookware + über tasty = WINNER. While I usually keep the flavors close to the traditional sausage/peppers/onions, the recipe below is perfect for autumn, with some subtly sweet notes and a hint of spice. Enjoy!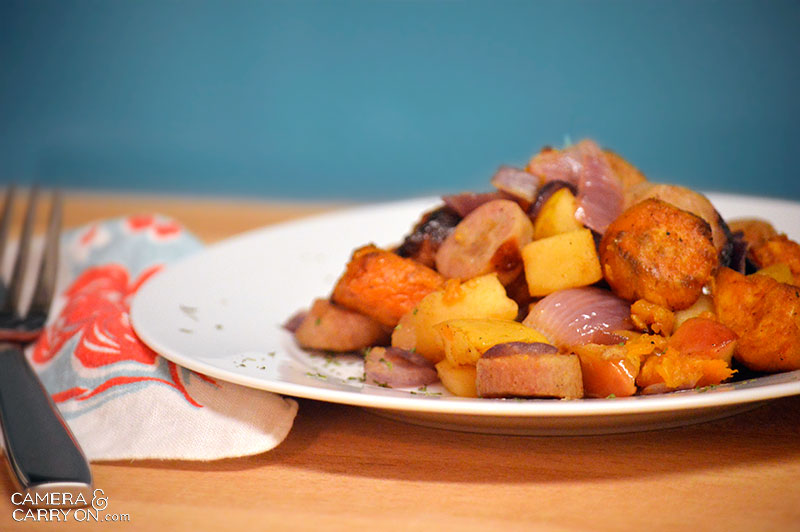 Sausage + Potato Casserole
Serves 2 very hungry travelers (with leftovers) • adapted from Skinnytaste
Ingredients
1 lb sausage, apx 4-5 links (Chicken & Apple is great for this) – sliced into 1/2″ pieces
2 medium sized sweet potatoes – washed and diced into 1/2″ pieces
1 large, sweet onion – peeled and chopped
1 honey crisp apple (red and yellow apples are best, Granny Smith is too tart) – washed and diced into 1/2″ pieces
2 tbsp olive oil
salt and pepper, just a pinch
a sprinkle of cinnamon (optional)
honey mustard (optional)
Kitchen Needs

cutting board
sharp knife
serving/large spoon
casserole dish or baking sheet
Method
Preheat oven to 400°.

*

Chop potatoes, toss in a drizzle of olive oil, salt, and pepper, and spread evenly in a large casserole dish. Place in the preheated oven and cook until slightly tender, apx. 20 minutes.
Mix sliced sausage with chopped onions and apples in a bowl with a little more olive oil, salt, pepper, and a dash of cinnamon (I find this enhances the sweetness, but totally up to you). Once the potatoes are tender, add mixture to the casserole dish, toss all ingredients, and return to the oven.
Roast until the onions and apples have softened and the sausages are getting slightly browned, apx. 30 minutes.
If you're like me and you like the edges to be a bit crispy, you can turn the broiler on for a few minutes at this point. Just keep an eye on things so as not to overcook.
Plate and serve as-is, or with a a drizzle of honey mustard.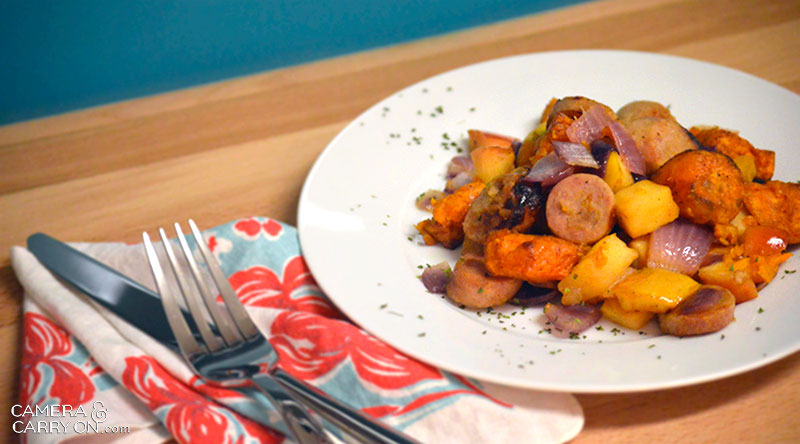 *All ovens are different, and this will certainly be true for using one in a kitchen you are unfamiliar with. The roasting times are approximate, as is the temperature of the oven, so I recommend keeping an eye on the dish as it roasts. Check to make sure everything is cooking evenly – you may need to give a stir half way through, or adjust the temperature for even doneness.