Packing for a Week in the US Virgin Islands
Warm weather, beaches, hiking, rum cocktails, driving in a jeep, afternoon showers: these are the things I considered when packing for a week in St. Croix. Part of the US Virgin Islands and sleepiest of the 3, St. Croix provided a much needed respite from the mighty Northeastern winter we'd "survived," and more importantly a reset for our minds & spirit. I admit I put off packing til the last minute (nearly 11pm the night before our 9:30am trip, to be exact), but packing in a carry on comes pretty easy when the only item on the itinerary is soaking up vitamin D.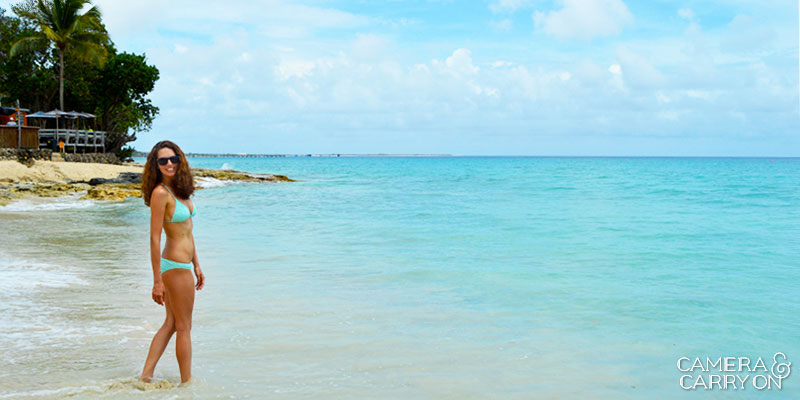 Packing for a Week in St. Croix, USVI
I kept it pretty simple with black and white as my base, but used a good amount of color, too! This is the Caribbean, after all, and bright pinks, blues, and yellows go so well with the sun, sea, and sand. If you want to shop these and similar items for your next trip, check out the links below!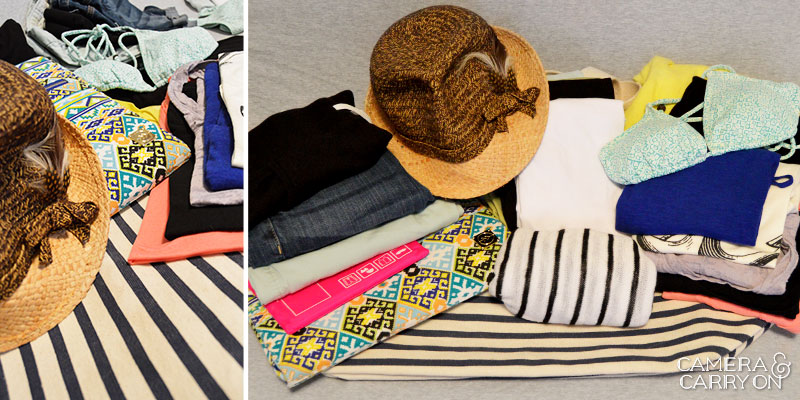 Carry On • Sailor Stripe Weekender Bag | Suit Bag & Case • Wet Suit Bag & Multi Color Carrying Case | Swimsuit • Havana Soul Bikini | Tops • 4 Tees, 5 Tanks, 1 Striped Sweater, 1 Jersey Dress | Bottoms • 1 Chino Pant, 2 Shorts (Jean & Cotton), 1 Skirt | Hat
Not pictured • Shoes (1 Pair Sandals, 1 Pair Sneakers), Undergarments (2 Bras, 10 Underwear, Nightie, Socks), Accessories (Purse, Daypack, Earrings), Electronics (Nikon camera, Kindle, Laptop, Headphones, Cell Phone, Chargers), Toiletries (Sunscreen, Hair Product, Toothpaste/brushes, Comb, Mascara, Lip Gloss, Chapstick, Hair ties, Headband, Deodorant), Light Jacket
Shopping List: carry on | suit bag | case | swimsuit | plain tee | graphic tee | plain tank | racerback tank | sweater | dress | chino | jean short | cotton short | skirt | sandals | sneakers | hat |earrings| jacket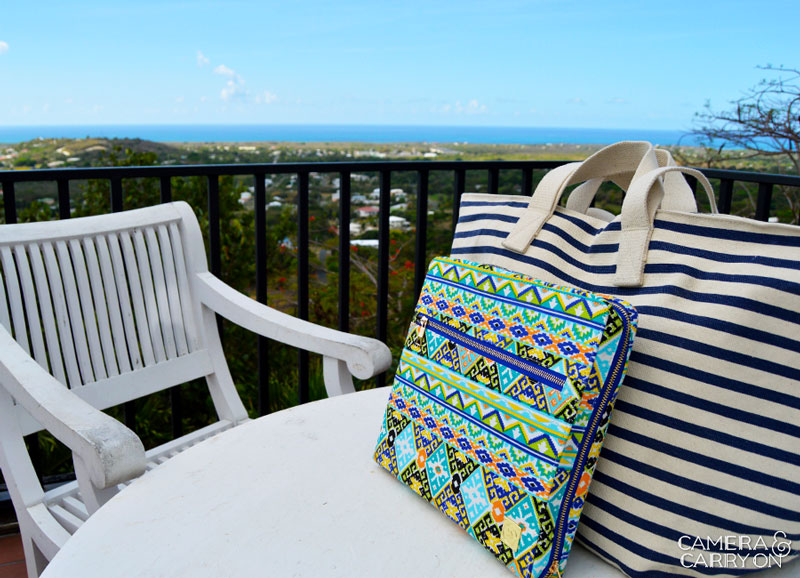 A Few Looks
In beachy destinations like the Virgin Islands, you don't have to worry about getting too fussy even to go out for dinner at night. In St. Croix, casual clothes are good for most every occasion. Here are a few ideas for mixing and matching pieces for the beach, a night out, and travel days.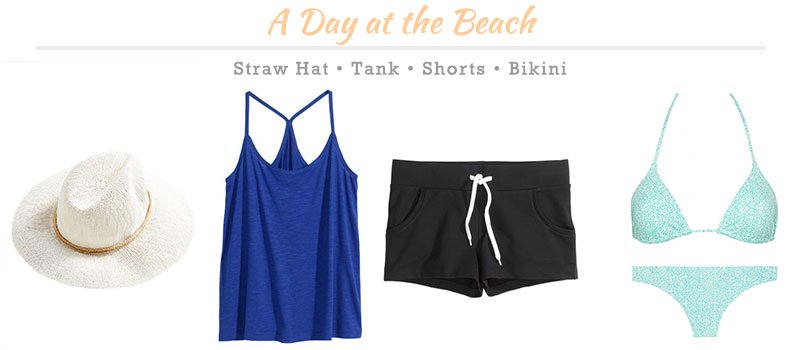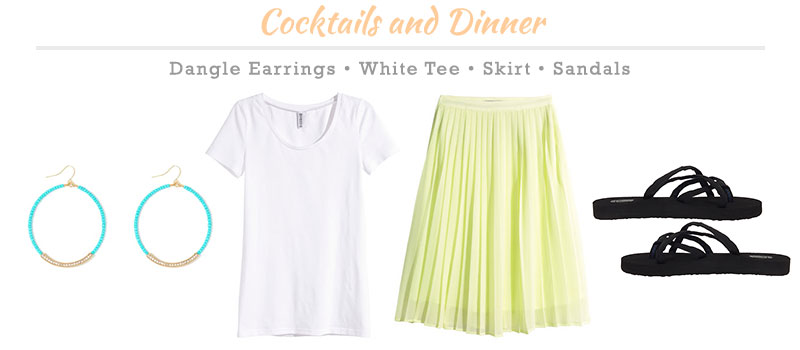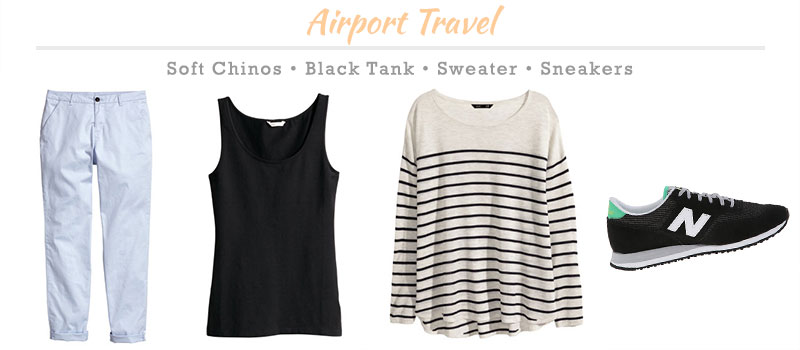 Needless to say, I had everything I needed for my warm weather getaway. I left room in my bag for souvenirs but as expected, didn't spend much time shopping anyhow. Let's just say I was preoccupied with coconut drinks and lounging in the sand. 🙂 More on that here. And thanks to the wet suit bag, I was able to take a final splash in the ocean before heading off to the airport.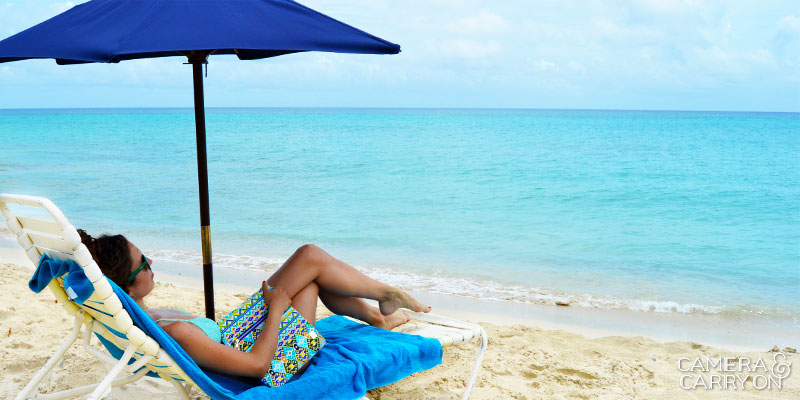 •••••
A big thanks to We Travel Far and Forty Winks for sponsoring this post. Check out their online shops for travel gear and lingerie & swimwear.

As always, all opinions, text, and images are my own.  See our ethics page for more information. Thank you for supporting the sponsors that make life a little better here at Camera & Carry On.