Packing Q&A: Travel Essentials + Oddities
A little over two weeks ago, I attended my very first travel/blogger/women/awesomeness event right here in Boston. I'm not sure how I found out about the Women in Travel Summit (WITS15) to begin with – insignificant detail – but I met the basic profile (female, travel nut, writer optional), did a happy wiggle when I saw the location, selected "1" and clicked "purchase." Ready to amp up my game, make connections, soak up expert knowledge, and rub elbows with some famed names in the community put a sparkle in my eye. The doors opened to reveal 300 extra-strength doses of estrogen (slightly overwhelming!), but once we were given the green light to mingle, the feeling was nothing short of positive, supportive, and enthusiastic. Hallelujah!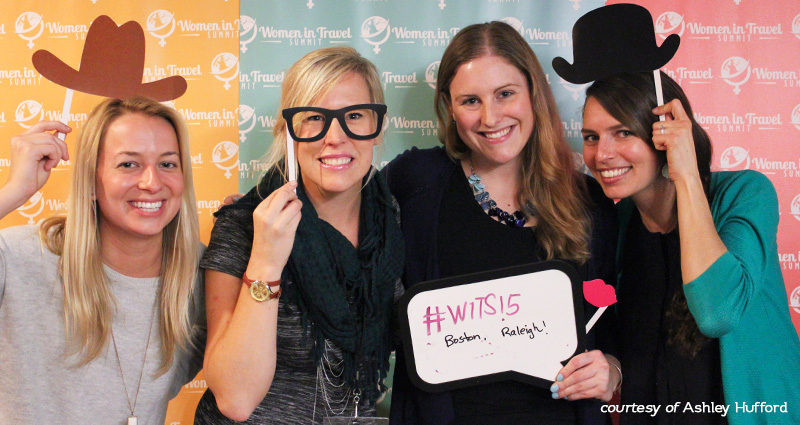 So many personalities, so many perspectives, so many adventures and places explored! Questions. I must ask questions! I wanted to know more: where they were going, where they'd been, how/why they travel… and yes, the luggage! Bags are sacred spaces, and packing for travel is such a personal thing. I wanted to know how these travelistas tackled the challenge. No doubt thanks to my natural charm and wit, several ladies agreed to answer my inquiries and overwhelmed me with responses. Some insightful, some quirky, and some I could totally relate to. Secrets revealed, here are the essentials and oddities in my traveling friends' bags!
What are your travel essentials – anything you can't leave home without?

Bag ladies, unite! I'm a fan of them, big and small, because you never know when you might need one.
Of course my new We Travel Far carrying case. Also, you would find a plastic bag, holding more plastic bags. I am a freak about making sure my 3oz liquids do not spill on anything! I once had shampoo explode and coat everything in my bag… so, I now double bag my liquids and pack extras to re-pack in fresh bags at the end of the trip. I call it "genius!"
Tiffany Moorhead, We Travel Far
Little bags. Everything I travel with is packed into smaller bags so that I can just grab and go. For example, I throw all of my adapters, chargers and cords into a zipper pouch that goes in my backpack. OTCs, bandaids go into another. My clothes get squashed down into a compression bag and shoes with dirty bottoms slide into old TWA pillowcases I scored when the airline was absorbed. I'm never frantically searching for anything and I can be on the move quickly. I like stuff from Flight 001, LeSportSac and eBay.
Juliana Dever, Clever Dever Wherever
When I'm traveling for a longer amount of time but only want to bring a carry-on, I've started organizing by using jumbo sized clear ziplock bags! It allows me to rummage through my bag and grab something specific without making a complete mess of everything else. I organize them by type of clothing; such as one for sweaters, one for pants, one for shirts, etc. I've also found that if I need to do laundry in the sink, they serve a double purpose!
Sara Weiskotten
Cameras and electronics keep these gals on point and ready to capture the moment.
My travel essentials are iPhone and portable charger, quality camera – sometimes I shoot film with a twin lens. Also, a toothbrush, hair ties, Oil of Olay face cloths, baby wipes and broken-in shoes. Depending on local, I often bring a hammock, too.
Crystal Martin, Midlife Break
I always have way too many electronics (iPhone, point and shoot camera, SLR camera, laptop, iPad, sometimes my underwater camera – the life of a travel blogger!), a water bottle to refill at the airport, granola bars, neck pillow, and warm cardigan/sweater/hoodie.
Andrea Marlowe, Andrea on Vacation

In addition to the basics (travel docs, currency, dslr, etc.), this pensive traveler brings something from within.
Passport/ID, travel documents, credit card/cash in the correct currency, laptop, and always my cameras (compact, DSLR + lens options, and depending on the place, my GoPro)… Most importantly, remembering a smile, open mind, and patience.
Alyssa Setia, AlyssaSetia.com
Armed with tools of the trade to get busy whenever the creative mood strikes.
I'm a journalist by trade, so it's a force of habit to never leave the house without a notebook and pen. You can't guarantee that your phone or iPad will have enough power to record that conversation with a city local, or type up those notes about that cafe with the amazing coffee, so having an old-school back-up is always a good idea.
Katie MacLeod, Stories My Suitcase Could Tell
I never leave home without a travel journal, and the few supplies that go with it (a glue stuck, waterbrush, pencil & pens). Beyond that, lip gloss, individually wrapped hand wipes, tissues and a scarf.
Kristin Crane, KristinCrane.com
Gotta keep the lips smoochable!
To be honest, there's really only one thing: Burt's Bees chapstick. I can live without absolutely anything else….just not my Burt's Bees!
Kristin Winet, Bon Touriste
Small cross-body purse (I downsize from my regular purse when I travel – this one is so much lighter) and Chapstick; always, always, always need the Chapstick. I would lose my mind without it. And last fall I bought a great hard case, Samsonite spinner carry-on (at TJ MAXX for way cheap) and it's like a dream come true. It's super maneuverable and I love it, but during my round the world trip I will probably opt for a backpack.
Rachel Sasser, Trailing Rachel
If I took a peek in your bag, what odd thing would I find?

This gal keeps a healthy snack handy at all times, even if it's a touch risque.
An avocado. 🙂 I'm a vehemently healthy eater (local, organic, grass-fed everything), and it's hard to fill up when I'm traveling for long stretches of time. I'd rather eat nothing than eat plane food. My body runs really well on healthy fats, and if I have an avocado I can put it on anything: salads, sprouted bread, veggie sticks, even eat it alone with a little bit of sea salt. Once when I was younger and experimenting with being raw vegan, I would sneak avocados into restaurants when they didn't offer them. I'm a rebelle like that.
Amy Segreti, Live All of You
It seems stitch and hook hobbies are popular! Two globe trotters claim to keep their supplies in easy reach!
My cross-stitch supplies. It seems weird to bring sewing on the road, but it's such a great and satisfying activity on long plane flight.
Stephanie Yoder, Twenty-Something Travel
Probably my crochet hook. Last summer when I was abroad, I wanted to make a gift for someone, but I didn't have my crochet supplies, so now I always carry one around with me just in case I have a "crochet emergency!"
Alana Simpson, Adventure Spices
The awards for most unexpected and whimsical goodies go to…
The rainbow tutu, bunny ears and bow ties are a must. Literally they take up about 1/6th of my space and I'm 100% ok with that! I also travel with a lacrosse ball; it helps with sore muscles after carrying my bag for a long period of time. I use it to massage my shoulder muscles normally.
Adrian Hollingsworth, Adrian's Travel Tales
Because I pack light, I mostly pack the expected necessities — not much out of the ordinary in my bag! Although lately I've been a bit of a diva and putting slippers in my purse to change into during flights. I feel really fussy doing it, but it makes such a difference during long flights, especially overnight ones.
Theresa Christine, Tremendous Times

And some other oddities that keep these travelers smiling and moving.
You might be surprised to find two liquid glitter eyeliners by Urban Decay: Midnight
Cowboy (gold) and ACDC (purple). I'm really into makeup and these definitely aren't your typical items — but they look great on everyone and add a little bit of pizzazz to any night out. I lend them to my girlfriends all the time.
Kate McCulley, Adventurous Kate
A tiny 3D printed truck that the bf made.  Just a funny keepsake. 🙂 Becca Barnett, BringFido.com
Miscellaneous gift cards my husband has received from parents for being a soccer coach (Starbucks, Chili's, Olive Garden, Dunkin' Donuts, etc.). You never know when you're going to be out, whether traveling or in town, and could use one since they all have multiple locations across the country.
Erin Gifford, Kidventurous
These days, travels rely on digital photographs more than ever, but I still carry printed photos of my family. Passing my pictures around is one way I can connect to every culture as we share the people most important to us and remember we have something in common.
Becky Pokora, The Girl and Globe
So many, many thanks to the amazing women that were gracious enough to answer my silly questions. I'm huge fans of theirs, and if you don't follow/read their work yet, you absolutely must! Do you have any oddities in your bag? Or what things can you not travel without?