The Amalfi Coast // On My Radar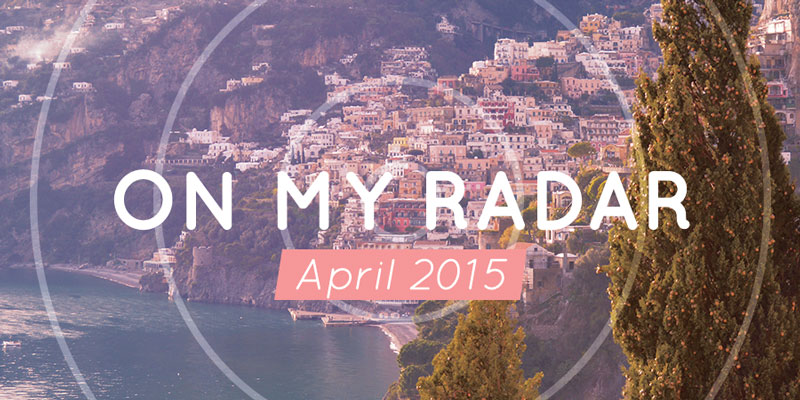 It's official – Spring is here and I couldn't be more jazzed for sunshine, chirping birds, and al fresco dining. You can't see me, but I'm doing a happy dance that involves a fierce wiggle, "woot woot," noises, and jazz hands. It's spectacular what a little sunshine and rise in temperature does for the soul. Big breaths of crisp air and heavenly blue skies have me dreaming of all things Italy, a departure from last month's On My Radar when I was all about the tropics. I still haven't shared the details of our 3 week jaunt from Amalfi > Alberobello > San Marino > Venice > Rome > Florence > Cinque Terre > Lake Como (and a zillion stops along the way)… one day, I promise! There's always a good story for another time it seems. {Enters "Italian Roadtrip" on the upcoming blog post list}
I wouldn't mind revisiting a few of those places, particularly the Amalfi Coast, with its stunning Path of the Gods hike, limoncello tastings, ease of living, and dirt cheap pizza. Alas, no ticket booked yet, but I'm well on my way to a very convincing case on why we should return to Italy on the quick. Here are the goodies on my radar for April, inspiring me and fueling my desire get out and enjoy these bright, sunny days.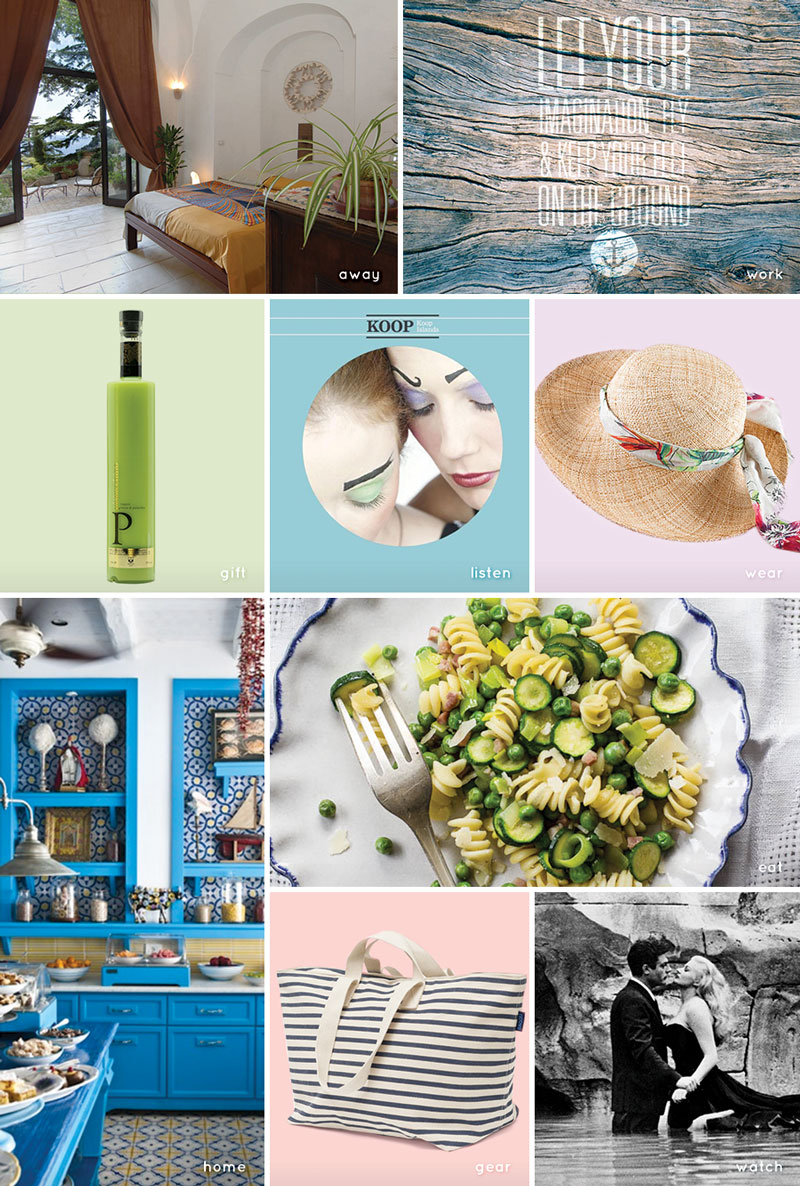 Away • This conversion of a 17th century convent has a certain allure and markings of rich, Italian history. Check out the view the gorgeous master room with sweeping ceilings, floor to ceiling glass doors, and a lookout from the terrace that just won't stop. Take me there!
Work • Rustic, nautical, inspiring desktop wallpaper to start the work day off with positivity and good thoughts. "Let your imagination fly and keep your feet on the ground."
Gift • I knew of fruity, Italian liqueurs, but not the cream varieties until we walked the streets of Amalfi. We sampled several small bottles and I've had a taste for them ever since. Not a common beverage in the states, this pistachio liqueur is a real treat.
Listen • My favorite song on the album is "Koop Island Blues." I put the track on, close my eyes, and instantly feel a sunny glow on my face. A breezy intro and seagull caw give way to dreamy melodies over a subtle backdrop of waves lapping on the shore. A perfect match for a day by the sea.
Wear • Channeling my inner Mediterranean bombshell, this wide brim hat offers the balance of sun protection and style to keep my curls out of my way, whether I'm eating a panini or strolling along the streets of Positano. Perfecto!
Eat • Light, bright, simple, versatile. Especially as the temperatures rise, I'm all about quick and easy meals with tons of flavor, like this pasta with a generous helping of fresh zucchini. An ideal for lunch or an early dinner outdoors.
Home • Cerulean cabinets and blue/yellow tiles pop on crisp, white walls. This kitchen is oozing with personality and culinary inspiration. I'd love to prepare a feast for friends and family in this gorgeous space.
Gear • Nautical strips never go out of style, especially in this weekend bag. Wouldn't this be so casually chic with a pair of boat shoes and a crisp linen shirt? Visions of yachts and Vespas and pastel villas dance in my head…
Watch • They say it's a Fellini masterpiece. Who is this Sylvia, and why is she wading through a fountain seductively? And who is the dark and handsome man not far behind? Time to find out.
Sources: villa | wallpaper | liqueur | koop | straw hat | pasta | kitchen | weekender | film
Have you heard? The Euro is at a mind-boggling low right now. I want to say the conversion rate is something like 1 USD = .94 Euro. Tempting, no? I bet you're having a really tough time trying to figure out why you can't possibly take that Italian vacation you've been lusting over for years. Maybe now's the time. 🙂 Just a friendly voice over your shoulder, here. A lovely thought indeed. In fact, if you're on board, I urge you to comment and help me convince Mr. Healey that Italian Roadtrip Part 2 is a brilliant idea.
Are any of my radar finds making your eyes sparkle? What are you wanderlusting after this month?