The Tropics // On My Radar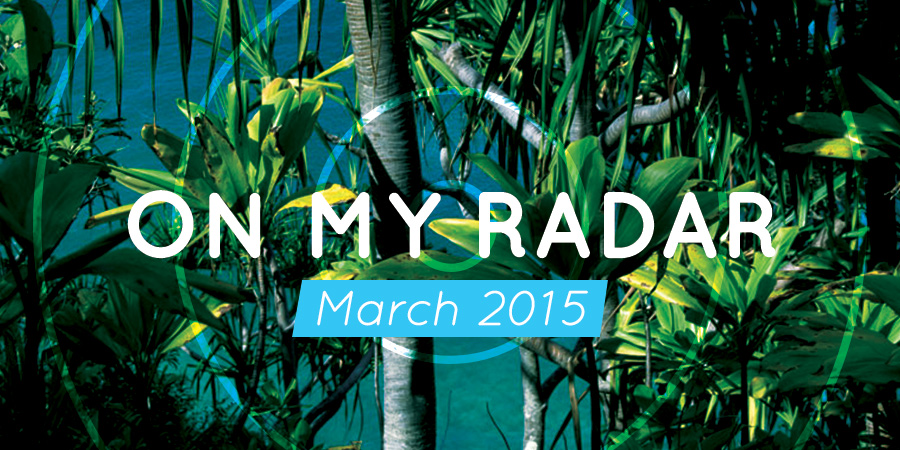 With spring on the horizon (go away you ginormous piles of snow and ice!), my wanna-get-away brain takes me to the tropics where temperatures are balmy, clothes are skimpy, and rum drinks flow in endless supply. Picture crystal-blue water, swaying palms, and, hark! Is that the faint ping of steel drums I hear? Or were those soft-strumming mandolin strings? Instigating hours of daydreaming, these finds are on my radar this month.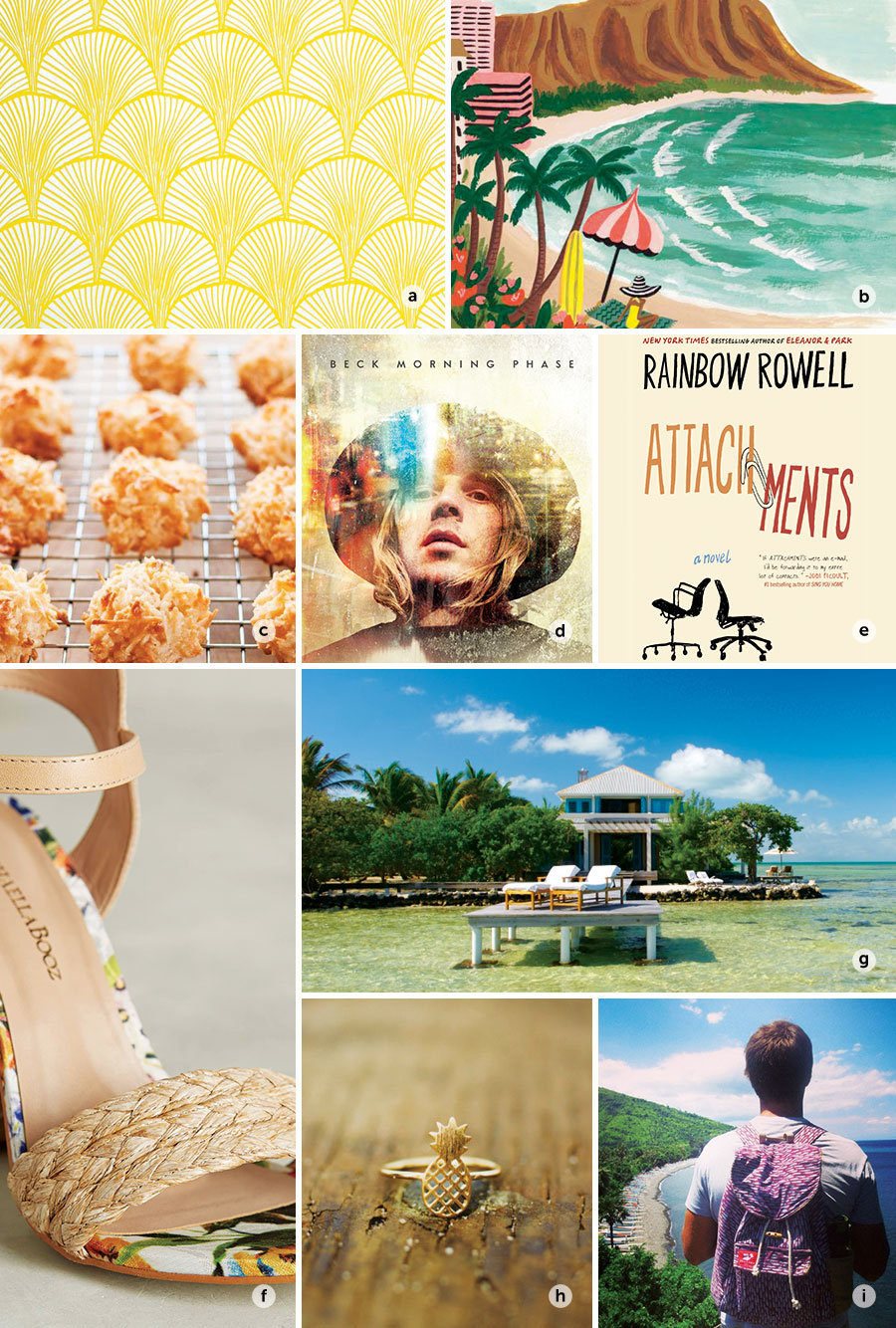 Home (a) // Sunshiny yellow + a nod to palm fronds, this is a happy punch of color fit for a feature wall, small space, or bookshelf backing for a bit o' whimsy.
Work (b) // Making productivity pleasant, the darling Bon Voyage line is just the cutest for notebooks, calendars, and prints.
Eat (c) // Crunchy, chewy, coconutty; the trifecta! I wouldn't mind nibbling on coconut macaroons anytime of the day.
Listen (d) // For the whole Beck v. Beyonce fiasco at the Grammys last month, I checked out the former 90s hit maker's new album and was digging it. Time to download the full she-bang and give it a permament spot on my playlist.
Read (e) // Not the usual thing I'd go for, but after finding this on a list of "12 Romance Books For People Who Hate Romance Novels," I realized it was just the light kind of reading I could get into these days.
Wear (f) // My feet have been restricted to winter boots for 6+ weeks now and they're eager to see the sun in something pretty like these heels! Rafia and florals are warm weather chic.
Away (g) // A private island in Belize sounds like just the respite I'm dearly in need of. Well, maybe not in NEED, but oh, how I covet seclusion in paradise…
Gift (h) // How sweet is this dainty pineapple ring? I can picture just about all of my girlfriends in utter delight with this golden accessory.
Gear (i) // Not only does it totally scream, "I love to travel the world!" but it's perfect for the beach, a hike, or going just about anywhere you'd rock flip flops and board shorts.
Sources: wallpaper | print | macaroon | album | novel | heels | villa | ring | backpack
I don't know about you, but I am seriously inspired to find a beach chair, a big ol' straw hat, and settle under a palm tree with the above mentioned read in one hand and a fruity adult beverage in the other. This would of course make page turning a challenge, but I'd probably wind up tucking the book in my tote anyway, you know, to give my undivided attention to postcard worthy surroundings. St. Croix is on the calendar for me in May (YAY!!!) and from what I hear, will fit the bill to a T. Still 2 months to go, but the upside? Plenty of time to find that new swimsuit…
How about you? Are you loving any of these, too? Share what on your radar in the comments below!