REAL LIFE Frozen: Québec City's Hôtel de Glace
Do you marvel at the beauty of falling snow? Or ponder the scientific perplexities that cause ice to take up more volume than liquid water? Perhaps you're a fan of a little animated flick known as Frozen (or you've had enough and just wish Anna would build the damn snowman herself already)?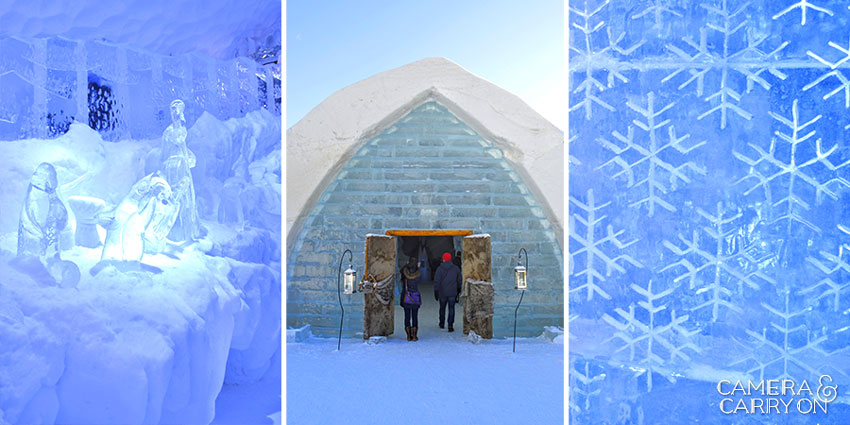 Elsa with her rope-like braids and ice power makes for an enchanting tale, but that's kid stuff. What if I told you there was a place that channels all that winter, princess magic into real life splendor? Would you go there? It exists, it's amazing, and it's called The Hôtel de Glace in Québec City.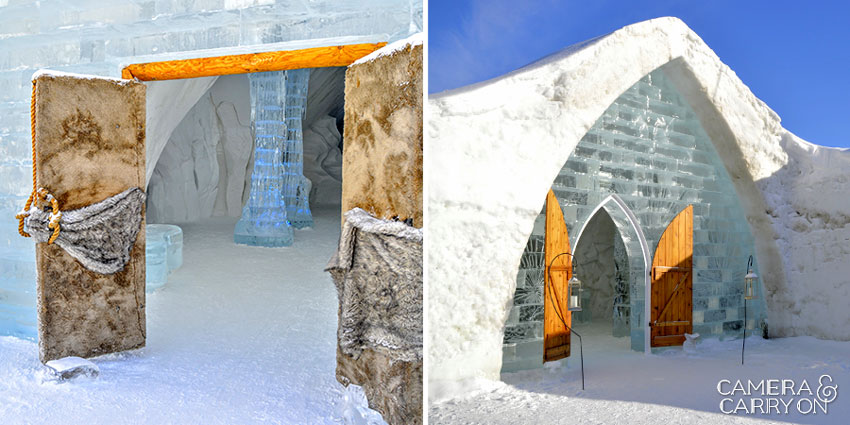 You have arrived. Pick a door – any door. Yes, one of them is furry.
What's cooler than being cool? Québec City's Hôtel de Glace.
If you had answered, ICE COLD you would have also been correct and received 20 points for the Outkast reference. But I'm talking about architectural curiosity on the outskirts of QC, so more on that… For starters, it's a hotel, made of freakin' ice and snow, crafted from the ground up year after year by incredibly skilled artists and craftsman. Bravo! Magnifique! Incroyable!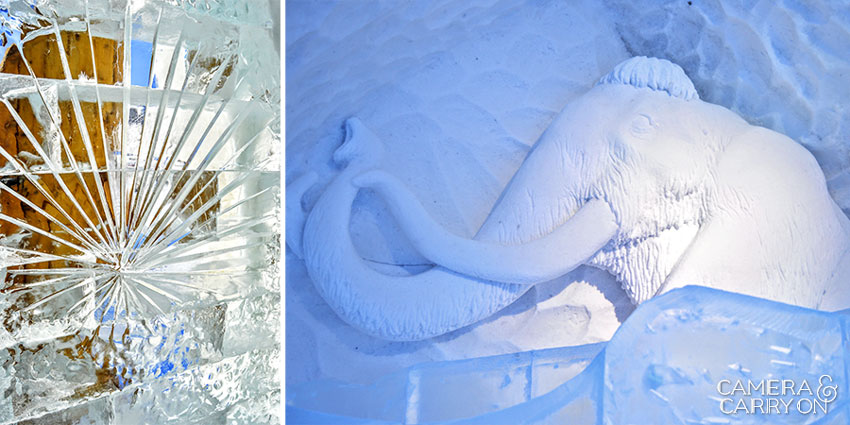 Some of the most beautiful, crystal clear ice I've ever seen. Aaand a mammoth.
It's Rock & Roll, Baby.
The ice hotel is snazzier than the average bear, er, hotel — though there are in fact polar bears, carved from crystal clear ice at the foot of a bed in an arctic themed suite. Faaaan-cy. Everywhere your eye lands, gorgeous carved and stacked details flow throughout. This year's theme is Rivers, and yes, I made a water pun back there. From the minute you enter through the massive doors, the sheer magnitude is overwhelming.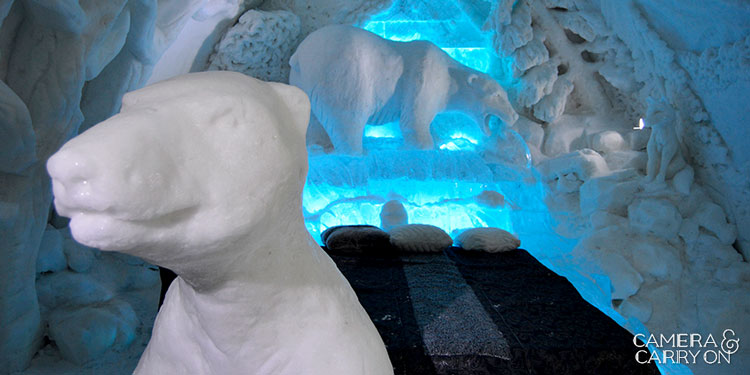 A couple polar bears, a fox, snow owl, fish… what else can you spot in this swanky suite?
There are 3 ICE BARS, an ICE SLIDE, ARCTIC SPAS (aka hot tubs to warm up before zipping up in your sleeping bag for the night), a MAPLE SHACK, TUBING, heat-free FIREPLACES (because they're for looks, not melting), an ICE CHAPEL, and unlimited amounts of chilllllllaxin.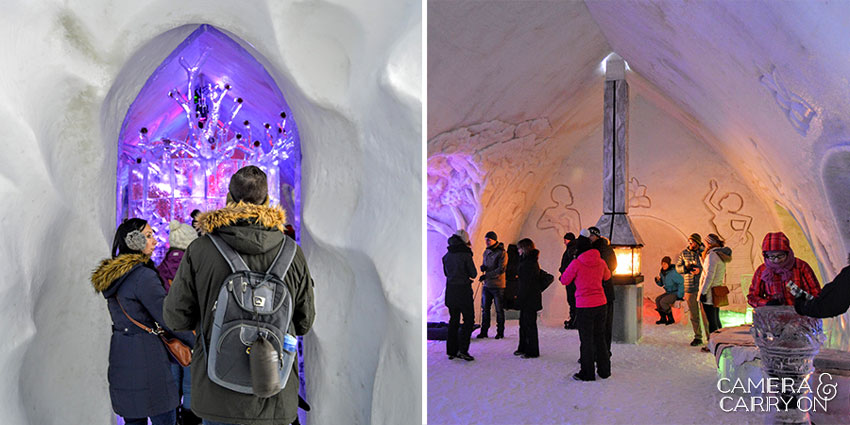 Just a tad cooler than the everyday watering hole. 😉
Behind the Scenes
We took a nifty Behind the Scenes tour where we got to learn the ins-and-outs of ice hotel building (in case we decide to embark on such an enterprise ourselves one day… ummm, no). That also meant we manned power tools to hollow out our very own ice glasses.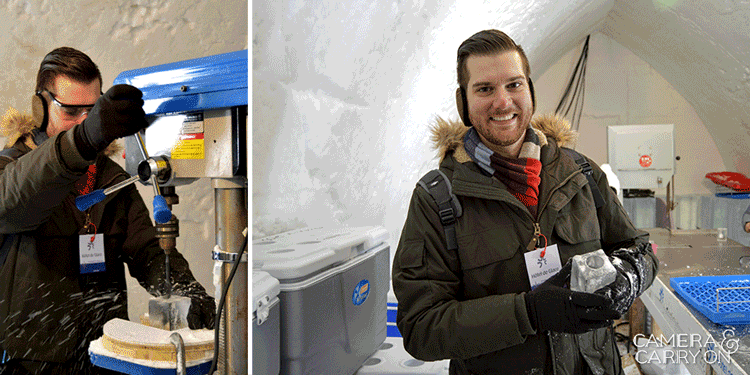 Would ya look at that! Someone just made his very own ice glass.
Ok, so dey is just beeg ice cube wit hole in middle (spoken like dis guy), but we stand proud of our creations. Most importantly, they held obnoxiously delicious, adult beverages like amarula & maple liqueur at the bar. And through the work of ice masters, zero humidity in the ice itself meant no tongue/lip stickage. Ha. Can you imagine?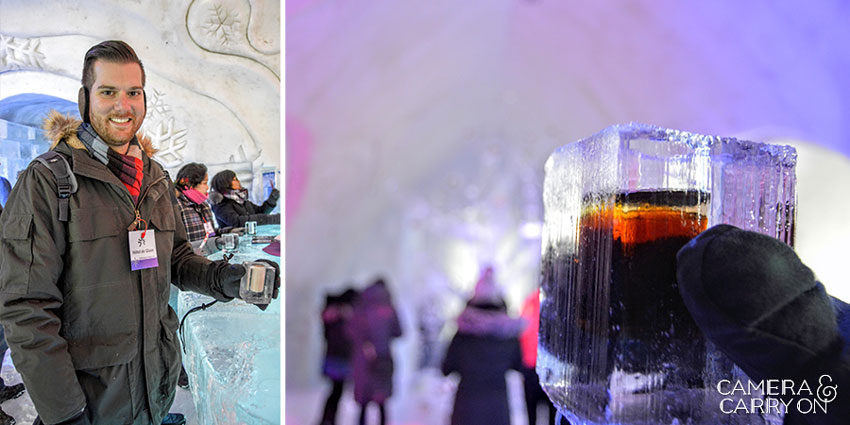 And now it's time to put that puppy to work. Bartender… fill 'er up!
And did I mention we weren't alone on this adventure? Our blogging friend Ashley (of the marvelously entertaining site My Wanderlusty Life) and her hubs were our traveling partners for the weekend. They, too, crafted frosty cups, braved to touch the ice with bare hands, and zipped down the human ice luge super slide. You can read all about her take on the Hôtel de Glace here.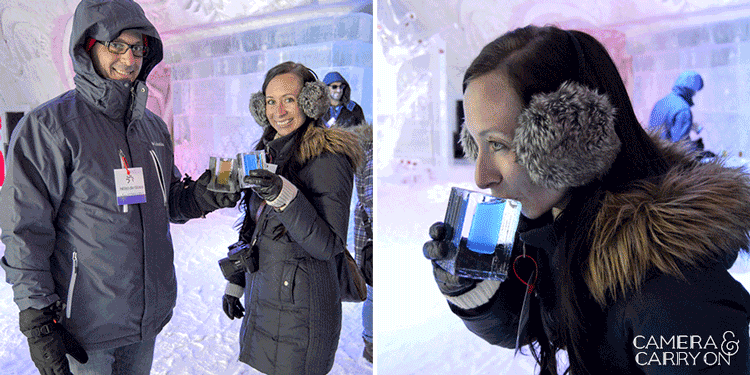 Meet our peeps, Ashley & Mike. I guess windshield wiper fluid doesn't go down smooth.
Awesome! What else?
The structure is so strong that one year, in an effort to streamline demolition, the construction team tried to run a bulldozer over top of it. But instead of crushing the hotel, as one might imagine, the mechanical beast happily coasted over the roof line. Totes amaze!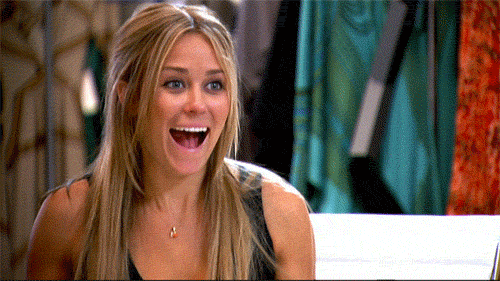 Constructed with 500 tons of ice and 30,000 tons of snow, it's one heavy mother. And a pricey one at that, coming in at nearly $1M to construct this year over the course of about 6 weeks. Yowza.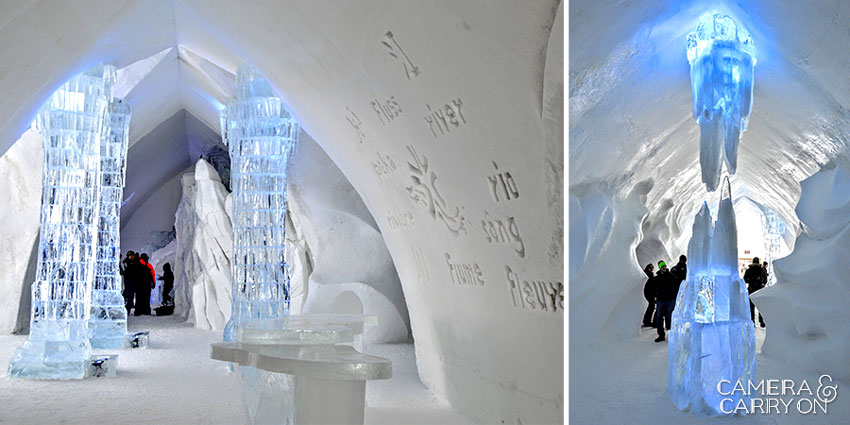 It's the only one around. You'll have to fly to Sweden for the next closest snice (snow + ice) creation. 🙂 And the maple shack… I know this isn't the major selling feature, but seriously, how have I not had this before? And is it wrong that I kept dipping it in the snow? #maplesyrupforpresident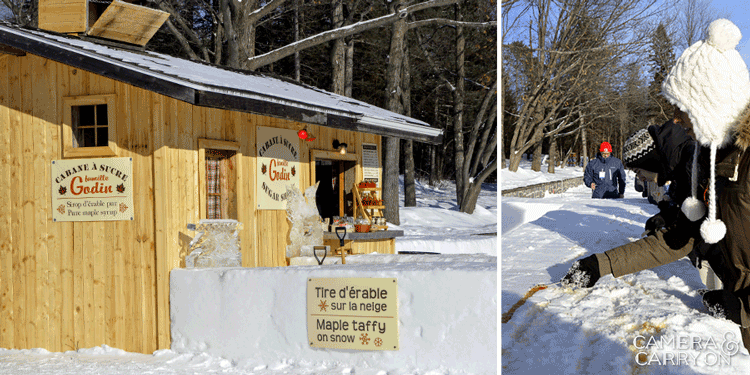 1. Place stick in syrup, 2. Roll, 3. Enjoy, 4. Wish for extra stick
If you're down for spending the night – because it's a hotel after all – that's totally doable. Rooms range from standard to extra-special suite, but they all have one thing in common: they are made of ICE, and by default are cold. If you plan to spend your day lounging with a laptop, think again. This is a one of a kind experience not for the faint at heart.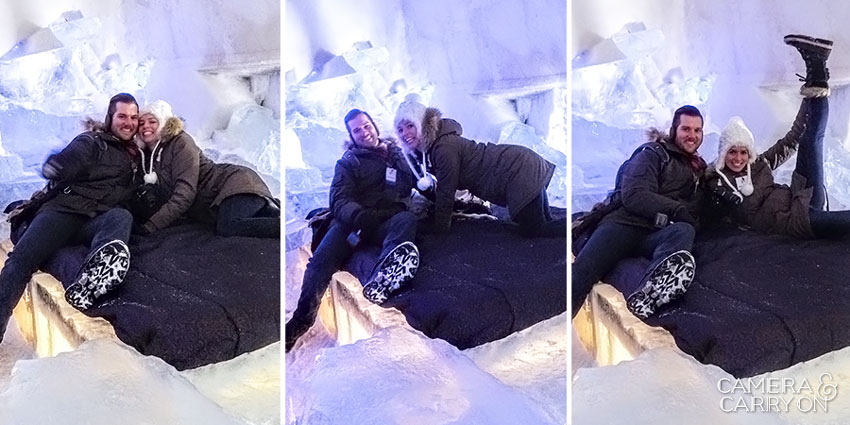 This is where things get a little freaky. *power off camera*
I hear it's the best night's sleep you'll ever have – dark, cool, and silent, snuggled in a sleeping bag-on-mattress-on-ice situation – but only overnight guests can really say. We just went for a day of winter fun, then slept like normal people at our warm, city hotel in our birthday finest. 😉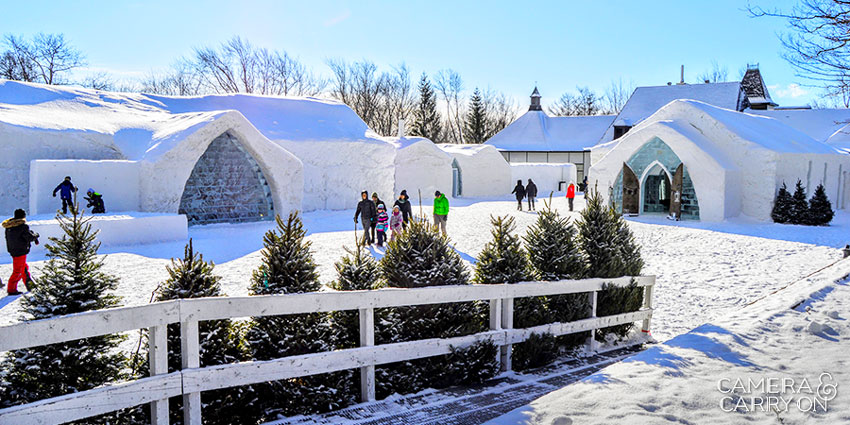 •••••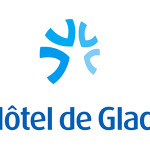 Many, many thanks to Hôtel de Glace for the extra-special Behind the Scenes tour and sponsoring this post. We've never experienced anything like it and loved seeing a new side of winter.

As always, all opinions, text, and images are truthful and our own. See our ethics page for more information.