Video: Enjoying the Snow in Charlevoix
I like to think that Charlevoix was first "visited" by an asteroid 15 million years ago.  Surprisingly, I couldn't find any concrete facts to back this up, but I think the story goes something like this:
Long before you or I ever set foot on this planet, there was an energetic asteroid named James, floating zillions of miles above the Earth.  James was a great traveller, and he had seen many planets, galaxies, and stars, but one day a particular spot on Earth caught his eye.  The asteroid thought to itself, "That place looks amazing! I must take a closer look!"  James proceeded to fly towards Charlevoix, as quickly as he could.  Faster and faster, excitement began to overwhelm him.  Before James could stop, he slammed into Canada, creating the Charlevoix Crater.
About 34 miles in diameter, Charlevoix was built on part of this crater (the other part lies under the Saint Lawrence River).  This gives the region an amazingly unique topography, perfect for my three, new, favorite winter activities: snowmobiling, skiing, and snowshoeing.  For being so close to the New England states, and just about an hour from Québec City, Charlevoix could be a world away.
Snowmobiling
With over 340 miles of trails, Charlevoix is known as one of the best snowmobile destinations in North America.  Amateurs and professionals alike flock to the area to cruise through the mountains and along the river.  You won't be hard pressed to find a tour that fits your needs.  Every January, Charlevoix is home to the Grand Rassemblement des Motoneigistes (Great Gathering of Snowmobile Riders).
Skiing
There are two great mountains in Charlevoix; to the east, Mont Grand-Fonds – also known as the sun mountain, and to the west, Le Massif – the highest vertical drop east of the Canadian Rockies.  We took to the west, and enjoyed the better part of a day at Le Massif.  The slopes appear to dive into the Saint Lawrence with great perspective.  Aside from skiing, there's of course snowboarding, cross country skiing, and an incredible 7½ km long sled run.
Snowshoeing
There's certainly no shortage of fresh powder in Charlevoix, and unless you're in the neighborhood of 8ft tall, you probably can't run around in it for too long.  Enter the snowshoe. Shannon and I like to get out and explore our surroundings on foot, so this worked out just great for us!  There are literally hundreds of miles of trails in Charlevoix on the mountain sides, around the river, and in the woods.  However, two of the places we stayed at had great jaunts right outside our doorstep — Hôtel Le Germain and Our Tiny Cabin.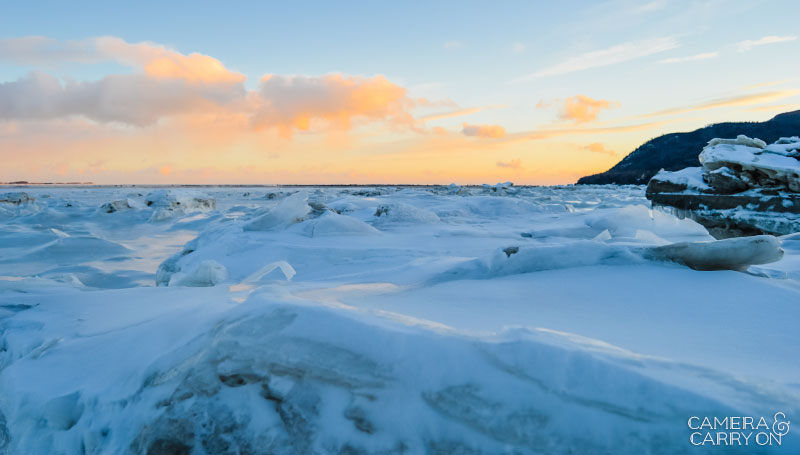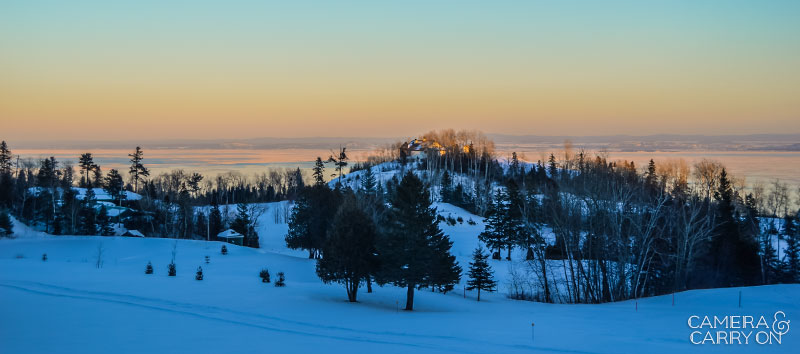 •••••
Thanks again to Québec Tourism and Tourisme Charlevoix for showing us around, and sponsoring this post.
As always, all opinions, text, and images are truthful and our own. See our ethics page for more information.