Home Style with Travel in Mind
For those of us with an insatiable wanderlust that we can't always feed (me! me!), a good option to soothe the itch between trips is to bring the world abroad in, with travel inspired decor and furnishings. By incorporating style elements that evoke an atmosphere of places you've been, or someday wish to go, your home can also be your getaway. You can go big with themed rooms (beachy bathroom, perhaps?), or keep it subtle with small pieces here and there (cute catch-all dish). Here are a few idea for designing your very own, delightfully global abode.
Furniture + Decor
It's not just about functionality and comfort, but mood. Think about the feel you want your room/home to have. Then location. Do you dream of the tropics, or are you more interested in a wilderness safari? Or maybe you prefer a less defined, more wanderer-of-the-world look. Also consider texture, color, pattern, climate, durability and trendiness (probably not a good idea to invest in big pieces you'll tire of in a year or two).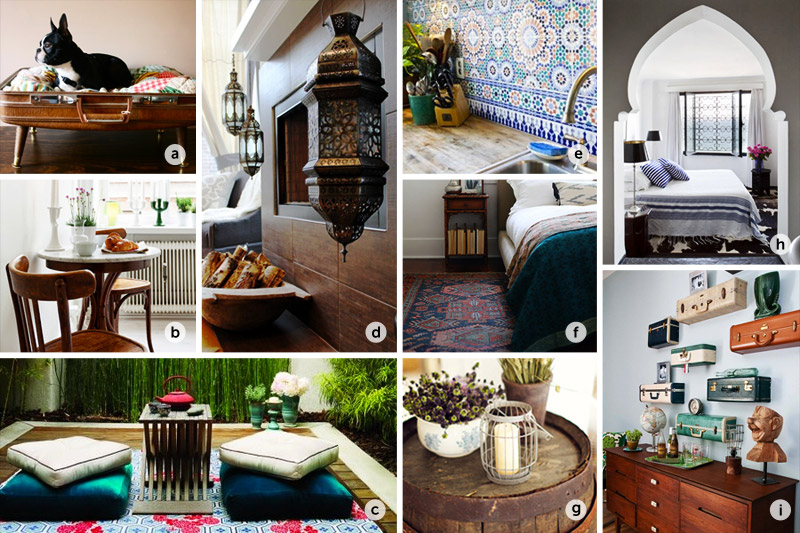 a) Suitcase converted to plush pet bed
b) The look of a Parisian café with a bistro table + chairs
c) Zen patio for green tea and yoga
d) Moroccan lanterns
e) Middle Eastern inspired back splash tiles
f) Rich and vibrant tribal print rug
g) Rustic wine barrel side table
h) Scalloped archways create an exotic look
i) Worn hand luggage becomes shelving
Art + Tchotchkes
Wall art, decorations, and other nick nacks are a fun and temporary, if you wish, way to give a space some personality. Photos are the BEST. I take tons of pictures when I'm traveling and chances are I'm not alone. Find some beautiful frames and create a gallery wall which can easily be updated. Travel posters are awesome, too! Other items to hang or display are not limited to 2D art: masks, statues, wooden figurines… if you like it, show it.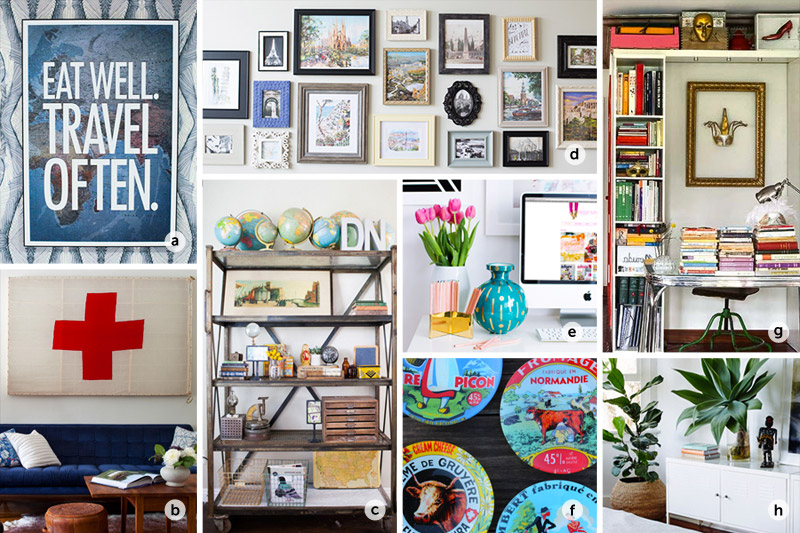 a) "Eat Well Travel Often" graphic print
b) Swiss flag as art
c) Shelf display with souvenir collections
d) A well-traveled gallery wall
e) A touch of Dutch with a vase of tulips
f) French graphic cheese plates
g) Venetian masks artfully displayed
h) A subtle nod to Africa with this wooden figurine
DIY Projects
I won't try to convince you to start getting crafty if that's not your thing. Not everyone's into DIY and that's okay. But if it is, go for it! Personalizing your space with something handmade made can be very satisfying, so don't be afraid to get a little hands on with some projects. Creating something uniquely yours doesn't have to be uber complicated or time consuming (i.e. these coin magnets are about as simple as it gets).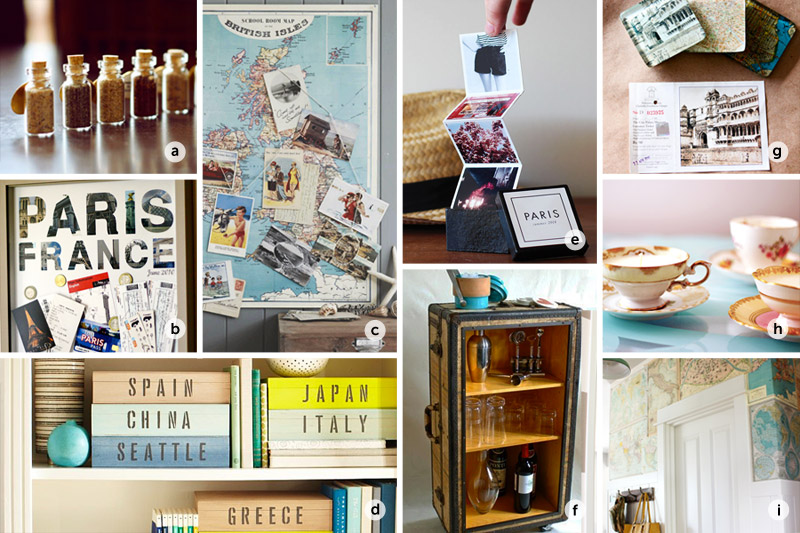 a) Showcase places visited with dirt in tiny bottles
b) Shadow box with mementos
c) Vintage map with travel pics from the trip
d) Brightly and clearly labeled keepsake kits
e) A tiny print book
f) Trunk conversion to bar cart
g) Decoupage paper weights
h) Create one of a kind candles from collected teacups
i) Maps are wallpaper genius
Some of my favorite places to find things for home
West Elm – Gosh, I just can't get enough of this store. In person, online, in catalog form — I'm hooked on West Elm. Oh, and I pretty much want everything. I think so many of the pieces they offer could work well in any home and can create a worldly, collected feel without too much effort. A one-stop-shop for enviable style.
World Market – From Balinese sheers to leather poufs, and everything in between, go for decor and leave with a jar of pesto. World Market can keep me entertained for hours, nurture my need for exotic (moderately priced) furnishings, and even solve a dinner dilemma (have you checked out the international food + beverage section?!).
Etsy – Everybody and their brother knows about Etsy by now. I love the variety, but it can be dangerous. I've been sucked into an Etsy frenzy on more than one occasion – start off by searching for a birthday gift for my sister and 3 hours later I've moved onto vintage suitcase dog beds. Needless to say, it's one the coolest sites for artisan and craftsman goods.
Flea Markets – Local and around the globe, I'm always open to something that catches my eye. While I can't bring home a chandelier in my carry on, little things like an absinthe spoon from Paris, antique pulley from Geneva, and ceramic knobs from Amsterdam – just to name a few – didn't require a shipping crate and were easy to bring home.
Craigslist – The trick here is knowing what you're looking for, and often times be willing to invest a little sweat equity. A dingy dresser can go a long way with a lick of paint and some ingenuity.
Fab.com – A tad pricey depending what you're after, Fab.com showcases some unique items in home goods & furniture, among other things, that are often specialized to the region they're made in. I've seen some beautiful Scandinavian furniture, African print pillows, framed travel prints, and so on.
Pinterest – While not an actual shop, it's my go-to for inspiration and brainstorming! 'Nuff said.
You can follow our Global Home Pinterest board for more great ideas and beautiful, travel-inspired design inspiration!!!