A Voyage of Discovery: To Pincho or Not to Pincho?
A guest post from Paula Cipolla. Paula is a freelance photographer-writer who lives in Seattle. Her passion for travel is augmented with her altruistic bent, a desire to compassion through charitable work overseas. In a span of over two decades, she's volunteered on over 25 humanitarian teams in about a dozen countries, maintaining an annual commitment to Guatemala. There's always a "first" at something. Below she shares with us her newbie food experience in Spain, enjoy!
---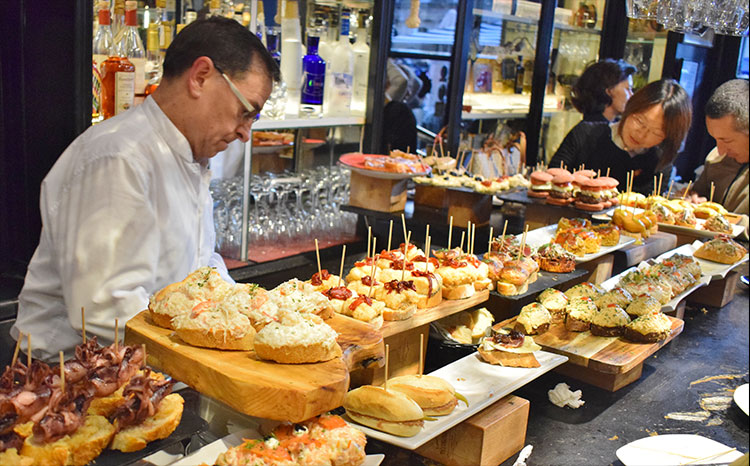 The art nouveau inspired doorway beckons me in. Not unlike cavernous circus wall openings I'm seduced inside a "taverna", tavern-bar, by a cacophony of laughter and chit-chat. My eyes alight upon artistically composed delicacies atop plates melodically arranged in a tiny marching parade, reclining upon the long counter. Mesmerized, my body aligns like a magnet towards the queue of plates and platters.
Of course, I'm undecided like a kid in a candy shop! I debate. Which to try? And, how to get started?
The waiter approaches. Hesitantly, I blurt out in Spanish, so…. "how do I do this"? Mental logistics take over. How much are they? Where's a plate? Do I help myself? Order here? Sit or stand?
He smiles, pausing in his hurriedness, then shrugs as if to say 'whatever you like.' I'm in Bilbao at the Victor Montes Bar tossed into the pincho cultural experience, dog-paddling in unknown waters.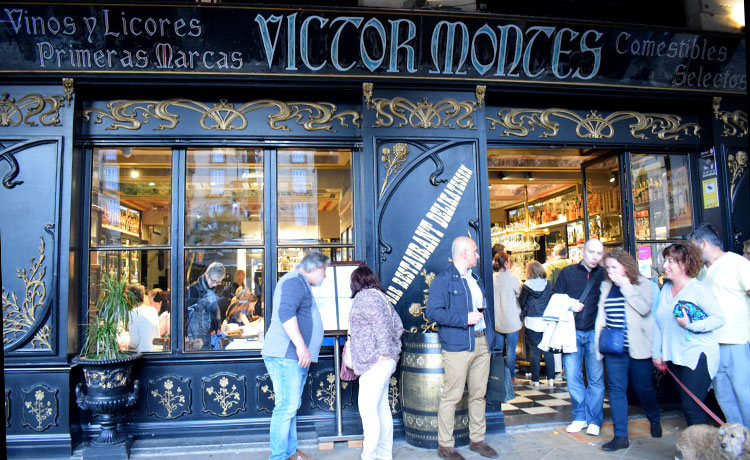 Pinchos, locally, "pintxos" is a Basque version of the ubiquitous Spanish tapas on steroids. Consulting my husband, Steve, with wild abandon, we point to several selections aboard soft bread rounds. The waiter gathers up all our decisions into small, individual dishes, handing them to us. Starting with a delicately breaded fish capped with a red pimiento, we then select some crustacean stabbed along with a cluster of green olives whose tiny red tongues wag gaily.
A hash-brown looking potato "cup" grabs my attention. Encased inside is what looks like caramelized mushrooms in a brown sauce, topped with slender noodles, finalized by a jolt of local jamón, "ham" it's all I can do to contain myself from licking the plate clean.
I wash this down with a local Rioja wine while Steve sips his beer. A couple more selections, we nod at each other, satisfied. Done? Done. The total cost? 12 euros!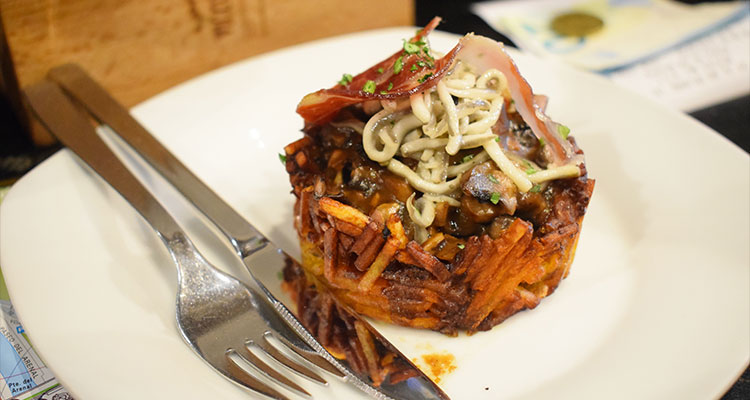 Four days later, I take on a bigger test in San Sebastian (also known by its Basque name "Donostia"). Under the guidance of Tenedor Tours, my husband and I arrive first at Taverna Txepetxa where we try a pincho starter of tender white asparagus, a delicacy of the region, drizzled with a ribbon of mayonnaise followed by a pincho of hake, another local specialty. We sample leisurely, eyeing some languidly draped sardines marinating in an olive oil bath atop long wooden picks pricked with tiny, skinny green peppers called "guindilla" and green olives.
At Casa Urola, our next destination, we dig into an olive oil based platter of fleshy, mature tomatoes capped with chunks of tender bonito fish, softened onion curls and chopped guindilla.
I had planned to nibble just one final morsel of a brioche dessert, sopped in milk, cream, and egg called "torrijas" which was sidelined with a dollop of coffee ice cream. Did I say, 'nibble'? Not! I devoured the entire plate!!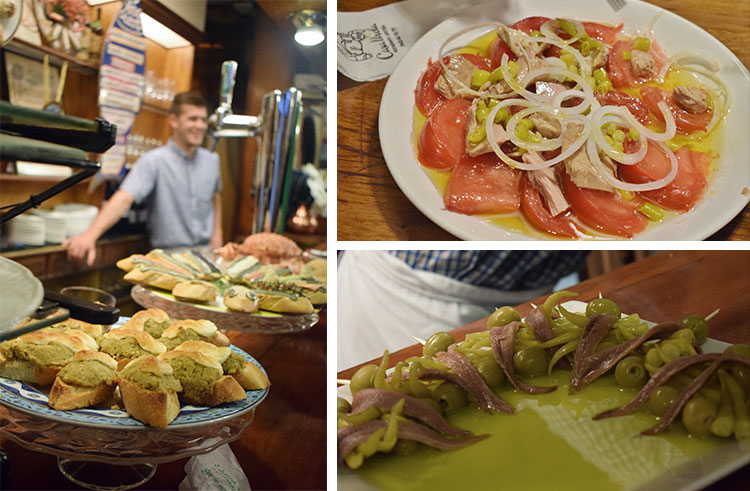 Generously assembled, pincho bites are typically more half-sandwich sized than bite-sized tapas with an array of topped options. They can also be a small-plate sized sampling without bread.
I learned that while pinchos can be a pit stop before dinner, they can also be a delightful evening of pincho-hopping the night away at multiple places with friends, much as the locals do. This mostly savory Basque experience will delight the senses.
To pincho or not to pincho? No! The question is Which pinchos to pincho?