A Scrumptious Chocolate Journey in Bruges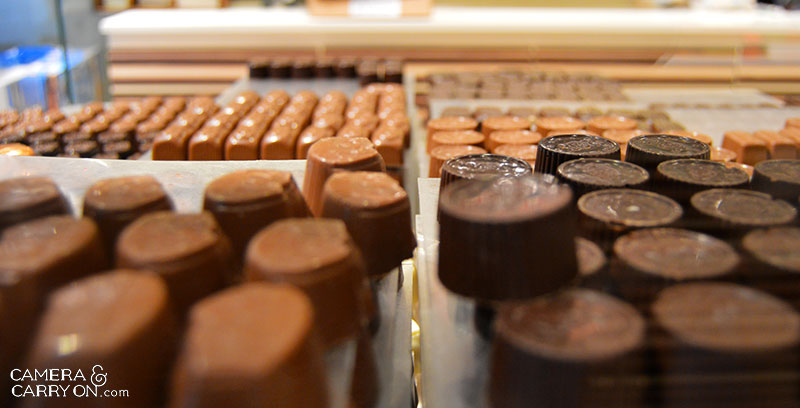 Over the course of two days in the fairy tale town of Bruges, we made it our personal mission to find, sample, buy, and ultimately, discover what we believe to be the "Best of the Best" of Belgian chocolateries. It was a tough job, but we were up for the challenge. You're welcome.
Prices for chocolates were generally between 50 cents and 1 euro each. A few shops had a weight minimum for purchases, so we might have indulged in a dozen few more chocolates than you'll find listed below. Oh, and in case you're wondering if Belgian chocolate really is as good as they say, I'll spare you the suspense. Yes, yes it is. Even the chocolates we found at the bottom of our list were much better than the common chocolates found in the States (sorry, Dove and Hershey). Feel free to cut to the end for the nitty gritty, or take your time going through our delicious research data. You may or may not wish to have a bar of high quality chocolate nearby to quiet your sweet tooth's cries through the read. Just sayin'.
The Chocolate Shops
DUMON — high quality, super creamy chocolates, goodness in every bite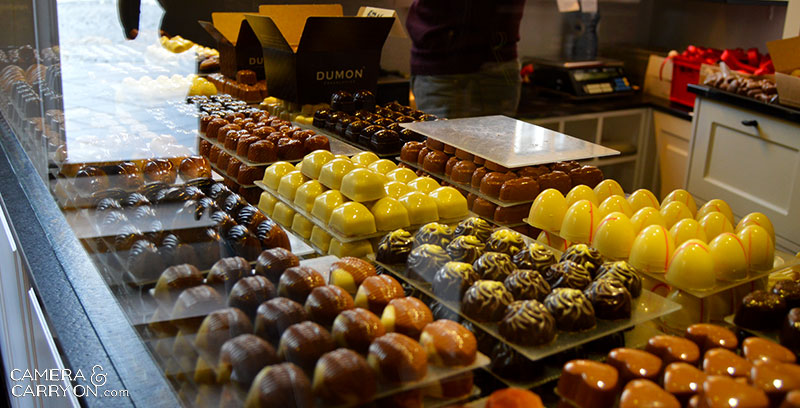 raspberry white chocolate: yogurty, creamy inside with a beautiful outer shell. lovely.
amaretto milk chocolate: very smooth and light amaretto flavor. classy.
hazelnut milk chocolate: suuuuper creamy
GALLER — deep flavors and nice quality, for the pure cocoa lovers
gingerbread milk chocolate: slightly grainy texture with gingerbread flavor.
pistachio marzipan milk chocolate: meh… bad pick on our part. marzipan not is not my favorite.
"the island" dark chocolate: nice for a dark chocolate, but too rich for our taste buds.
LEONIDAS — not a luxury brand, these are good everyday chocolates
praline milk chocolate:  a dense chocolate, but the whole nut on top gets a thumbs up.
coffee milk chocolate: needed more coffee flavor, and a bit thick.
STEF CHOCOLATES — good quality and classic flavors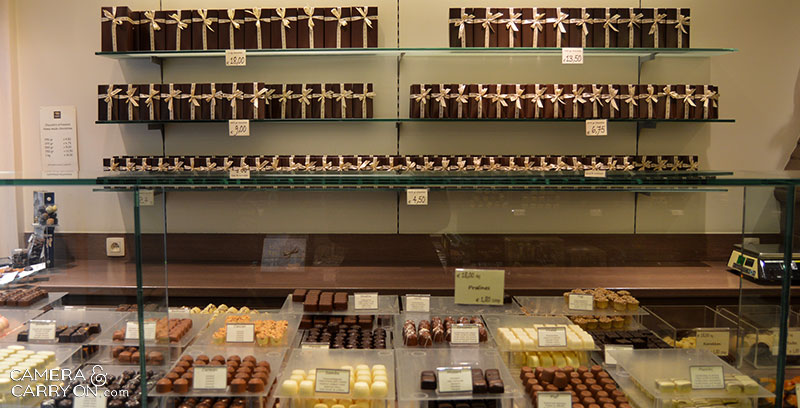 "concerto" vanilla cream and caramel: mighty sweet and creamy center.
"pop" praline with caramelized nuts: nutty texture, a little heavy, but still nice.
VERHEECKE — middle of the road in quality and taste
irish cream milk chocolate: not overpowering flavor, subtle, creamy.
strawberry cup white chocolate: filling is a little too jammy for our liking, but the cup and chocolate were yummy.
THE OLD CHOCOLATE HOUSE — if you're up for something super sweet, this will do the trick
marshmallow caramel milk chocolate: strangely familiar to those egg shaped chocolates you can find around Easter in Walgreens. kind of guilty pleasure good.
cookie crunchies inside milk chocolate: a little heavy, but the texture is good with lots of crunchy bits.
DEPLA — beautiful chocolates with wonderful flavors and textures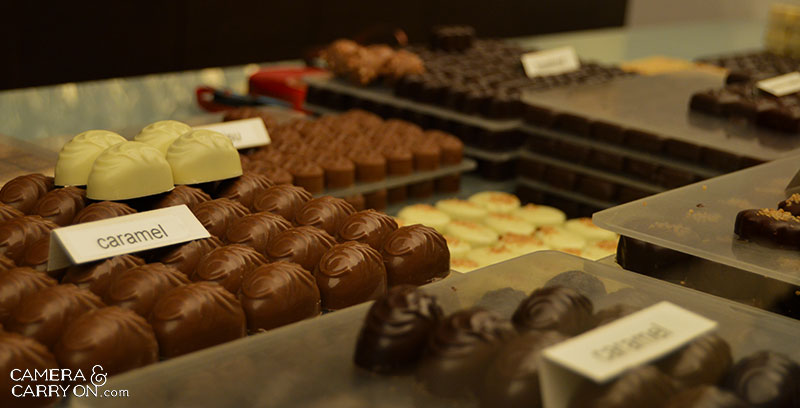 salted caramel milk chocolate: perfect salty/sweet balance with uber smooth chocolate
cointreau – very smooth flavor and soft center.
praline with cookie milk chocolate: so many crunchies! delightful texture.
MARY — in a word… perfection
"paola" vanilla fresh cream on praline base: fluffy, light, and airy. unlike any cream chocolate before. yum!
"florentine" milk chocolate mousse garnished with nougatine: the top tastes like a miniature lacey cookie with a center that just melts around it. complex flavor and texture. VERY good.
milk chocolate with caramel: a simple classic.
"fabiola" milk chocolate with coffee mousse: the perfect balance of chocolate and coffee flavors.
TSJOKOREETO — butter for dessert… who knew?!
"room" fresh cream and white chocolate: the first words out of my mouth were, "almost like butter," so that's that.
champagne truffle: also very buttery with a slight champagne flavor
PRALINETTE — pralines, truffles, and more at this 'largest' chocolate shop in Bruges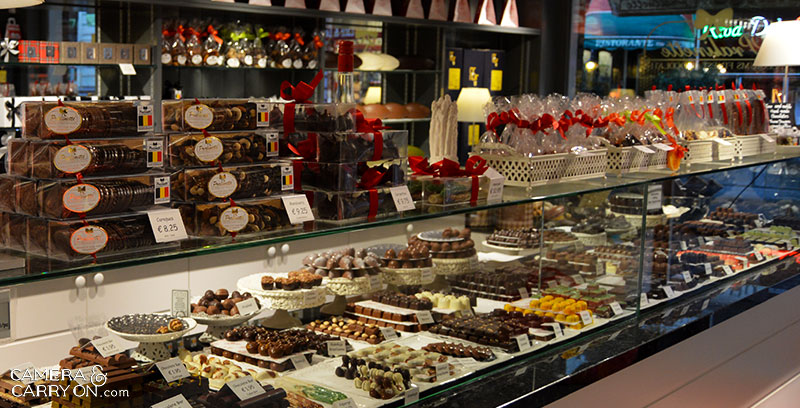 pumpkin: totally missing the pumpkin flavor, but the texture was smooth as can be and light as a praline should be.
rice crispy praline mousse: pop rock surprise! good stuff.
CHOCOLATERIE DE BURG — these heavy chocolates will fill your belly up in no time

praline bresiliene: very dense center and the chocolate was a little 'cheap' tasting.
strawberry: thick outer shell and the inside was a bit too sweet.
JAN DE CLERCK — lots of flavor options here, but choose wisely or it's a miss
cappuccino: nice coffee flavor and pleasant texture.
banana: strong, artificial banana flavor (think banana runts), and a little too gooey.
CHOCOHOLIC — a chain chocolate shop with a little something for everyone
speculoos milk chocolate: thick outer layer of milk chocolate with a gritty, speculoos (cinnamon cookie) center. yummy!
lemon ganache dark chocolate: bright and drippy tart center, but the dark chocolate was a touch too strong and quashed the flavor.
The Results
Friendliest shops: Dumon, Galler, & Mary
They gave samples, said hello with smiling faces, and were happy to engage in conversation.
Tastiest: Mary, Dumon, & Depla
While a pretty box and edible art may win over our eyes, it's the taste buds that have the final say. Funny enough, these guys have the whole package.
Russell Stover Doppelgangers: The Old Chocolate House, Stef Chocolates, & Chocolaterie De Burg
Need a sugar fix but nothing too fancy? These shops have you covered.
Overall Winner: Mary
Taste, quality, and beauty… this gem takes the cake!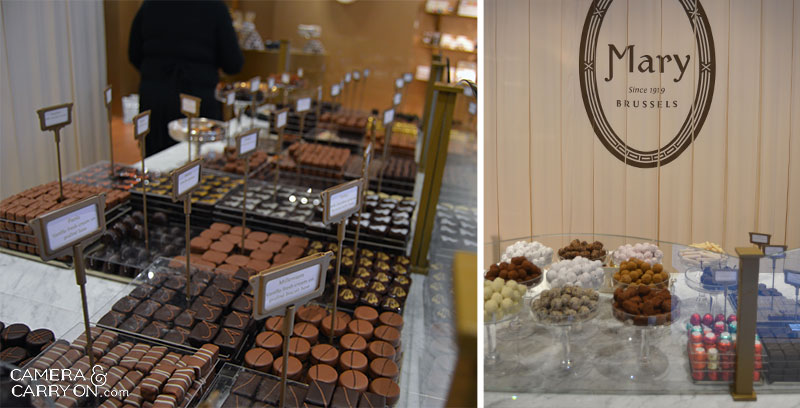 On a separate occasion, in Brussels, we passed another Mary chocolates and couldn't resist stepping inside to ogle at the precious confections. We walked away with one of their AH-MAZING chocolate marshmallow teacakes. I could have died. At nearly 5 euros a pop, we decided to share one, but I was instantly regretful for not getting one for each of us. Shame. While I pondered gobbling it up in a few quick bites, Michael swooped in for his share before I had the chance to devour it.
The map below shows the locations of the chocolate shops we visited in Bruges. Or, you can always wing it! There are chocolateries around just about every corner. Simply follow the smell of melted milk chocolate and you'll find the way. 😉