10 Reasons Why I'm Head Over Heels for Koh Yao Yai
We've traveled to our fair share of tropical getaways. Heck, I'm a Florida girl, so I know my way around a beach and the salt water. But time and again, Thailand has come out on top for me as far as warm weather destinations go. The exotic beauty is more than just a pretty face, with oodles of culture, mouth-watering cuisine, and varying landscapes. But the real gem is in the Andaman, and it goes by the name Koh Yao Yai. In a word… paradise, or the closest thing to it. Oh yeah, I've got it bad. Real bad.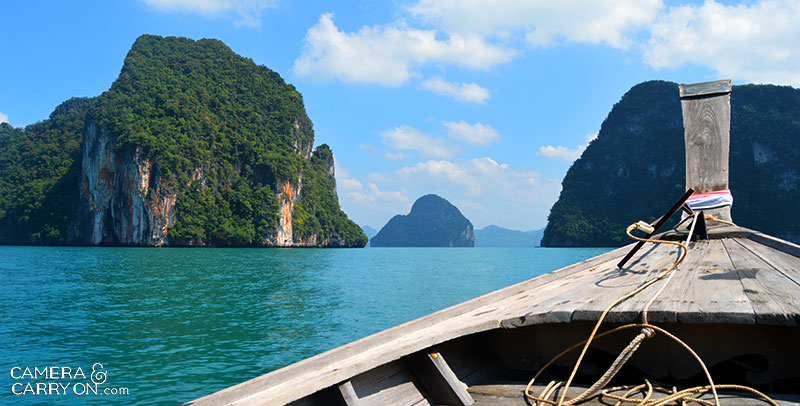 Unparalleled views. Looking out across the glistening, turquoise water, islands dot the horizon as far as the eye can see. There is no other place that looks quite like this, not that I've seen with my own eyes anyway. I'm constantly in awe of the natural splendor.
The seclusion. Going to Koh Yao Yai is a real getaway. You won't find any tourist shops, jet ski rentals, or street meat vendors. It's quiet, off the beaten path, and there isn't much "to do" per se, making it highly desirable for a little rest and relaxation. A good book and lounge chair are sometimes all you need.
My tan was amazing. I am all about sunblock, but my little melanin producers jumped out of hibernation and had a party. I soaked up that sunshine like it was going out of style, because sometimes, being bad feels so good.
Bungalow at the Betterview. Essentially 5 star for 1 star pricing (woo hoo, Thailand!), our hideaway was probably the nicest place I've ever stayed. Little details and creature comforts made it a truly luxurious stay. As soon as I put on that plush robe, I felt like a queen. Oh, and the shower. Wow. Super hot, high pressure, waterfall style, with a skylight. And don't get me started on the bed… I honestly never wanted to leave and considered asking how much it would be to extend the stay for a month, or two, or six…
Food, food, food. Amazing tropical fruits – check. Delicious, flavorful curries – check. Creamy, coconut smoothies – double check! The list goes on, and my taste buds savored every morsel. Thai food is one of my favorites and I never tire of it, especially when it's local and fresh.
Sleeping under a mosquito net. Why I have never owned a mosquito net is now a wonder to me. I'm making that priority #1 upon return to the States; buy mosquito net, hang above bed, and pretend to be on vacay. At the Thiwson, our bungalow had a rustic bed with this mosquito netting draped around to protect us from the pesky biters. It not only excelled in practicality, but the element of fun! I felt like a kid building a tent in the living room with the furniture and a few bedsheets.
Friendly locals and staff. Everyone we encountered was helpful and welcoming. Being off the mainland, the language barrier is a little more of a challenge, but warmth and smiles go a long way.
Love is in the air. The ingredients are all there, and with the right person, the experience can be most romantic. Lucky me 😉
Private long-tail boat for a day. Snorkling, cruising the open water, island hopping… when you have a private boat, your wish is the captain's command. We spent a full day out on the water, bouncing around little islands, swinging from trees, and claiming a beach in the name of Camera & Carry On.
Peace and happiness. Rarely can I say I have not a care in the world. But here… it all melts away. Big stuff, little stuff, it no longer exists. It's just me, the breezy coast, and a cool drink in my hand.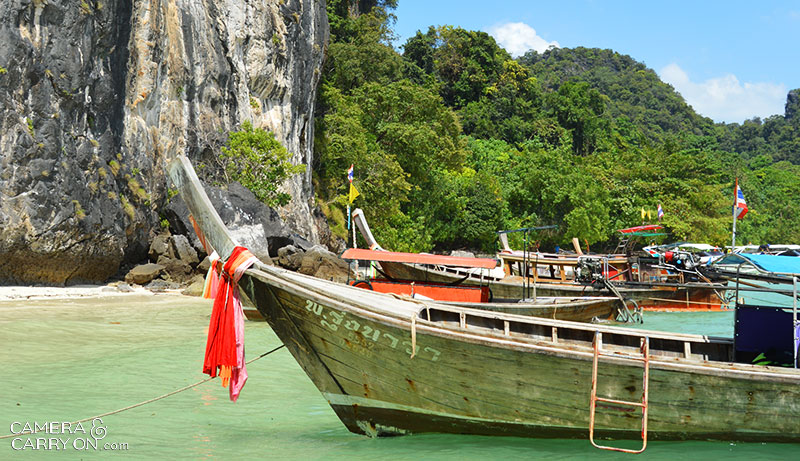 I found it incredibly difficult to say farewell – because I couldn't bring myself to say goodbye. Even now, as I write, I recall those feelings of sadness as the island faded into the distance. Better to have loved and lost? I think of it more has having loved and gained; leaving with beautiful memories and knowing of the perfect spot to return to someday…