Caribbean Destination Inspiration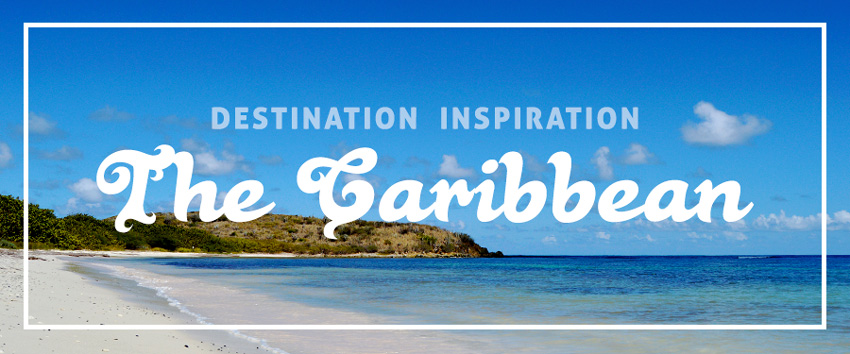 I'm still living in la la land. I may be back in Beantown (it's true… no one that's from here calls it that, but whatevs — beans are the bomb) but I'm still swaying to the memory of island music and balmy breezes. Gotta keep that vacation spirit alive! Even though I get sideways glances wearing my Roxy board shorts and anchor tank to walk my dog on my tree-lined brownstone street. Hey – It's hot, and my choice of ensemble is totally is temperature appropriate (I'm talking to you, over-dressers). So I'm brainstorming a few ways to incorporate the Caribbean into my everyday – until my next destination obsession, that is. 😉
Did you miss the part about us going to St. Croix recently? Catch up with these posts on shopping for a swimsuit, packing, rolling in the sand, and kickass water sports videos. Got it? Ok, let's move on to the post-travel stuff, and how I'm bringing the tropics home.

Sunrise Papaya Smoothie
Guava, Pineapple, Banana Smoothie
Coconut Pancakes
Blackened Mahi Tacos
Jamaican Jerk Chicken with Coconut Rice and Beans
Hot and Fruity Caribbean Coleslaw
BBC aka Bailey's Banana Colada Drink
The Painkiller Drink
Coconut Sugar Caramelized Plantains

Warming Sun – Dirty Heads
Three Little Birds – Bob Marley
Santeria – Sublime
Rhythm of Love – Plain White T's
Island – My Bubba
Riptide – Vance Joy
Jump in the Line – Harry Belafonte
54-46 Was My Number – Toots & The Maytals
Compliment Your Soul – Dan Croll
Breakdown – Jack Johnson
Every Morning – Sugar Ray
Last Request – Paolo Nutini
No Way No – Magic!
For the full she-bang, check out my Island playlist here.

Wide Sargasso Sea – Jean Rhys
Robinson Crusoe – Daniel Defoe
Cinnamon and Gunpowder: A Novel – Eli Brown
Islands in the Stream – Ernest Hemingway
Forgetting Sarah Marshall
Pirates of the Caribbean
Cocktail
Jurassic Park
The Swiss Family Robinson
•••••
What's on your Caribbean inspiration board? Or maybe you don't have one for the tropics but are dreaming of another destination. Don't stay up late at night, drooling on your keyboard while you get tendonitis scrolling through Pinterest. Incorporate those ideas into today, tomorrow, the weekend. Make the most of your time at home when you can't get away, and take note of what to do/see/eat when you do!